---
by Susan Elliott Blashka (J92)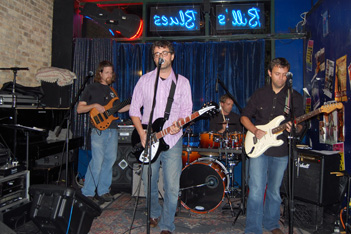 Listen to Lime Credo's "Waste My Time."
Even beyond the doorway you could hear the excited buzz of the crowd gathered inside Bill's Blues bar in downtown Evanston that Saturday night in late October. Almost 120 Northwestern alumni and friends had descended on the little club from as far away as California and New Jersey to witness a momentous homecoming event: Two decades after its formation on campus, Lime Credo was reuniting to rock Evanston again.
Sure, not everything was the same when the band took the stage this time around. Bill's Blues was a Harvest Blend Coffee shop when Lime Credo began playing its first shows at fraternity parties and the Norris University Center's Gathering Place in 1989; the members didn't have wives — or the beginnings of wrinkles — back then; and their fans simply had to trek across campus to hear the group play. (Editor's note: Bill's Blues closed in November.)
Other than that, though, it was the Lime Credo of memory making its triumphant return 18 years after its last performance with all four original members. Playing two hours' worth of original compositions and cover songs by bands including the Connells and the Replacements, the group proved that its popularity on campus in the late '80s and early '90s was well deserved.
Lime Credo was formed in 1989 by three members of the Pi Kappa Alpha fraternity — James Erdmann (WCAS91), Geoff Melkonian (BSM92) and Marc Drenning (WCAS93) — and Craig Matarrese (WCAS92), a Theta Chi. The band broke up after graduation and real-world responsibilities took the members on separate paths. Today Erdmann, the drummer, is a former lawyer turned automotive master technician at a Porsche dealership near Minneapolis; lead singer and guitarist Melkonian owns and runs Breadwinner bakery in Atlanta; guitarist and backup singer Drenning is the marketing director for a computer company in Ann Arbor, Mich.; and bass guitar player and backup singer Matarrese is a philosophy professor and department chair at Minnesota State University in Mankato. Melkonian and Matarrese are the only two who continued to play music over the years; Melkonian actually recorded and toured with the Josh Joplin Group, a Georgia-based national recording artist.
A fan and friend of the band, Fiona Murphy (WCAS93), planted the seed for the reunion concert in May of this year, asking Melkonian, "What would it take to get Credo back together again?" Apparently, not much. Securing a promise of Buffalo Joe's hot wings, Hecky's ribs, a stage to play on and an audience of fans, Melkonian contacted the other band members and quickly got them onboard — even Erdmann, who was supposed to be on his honeymoon in Italy the weekend of the concert.
"At first I wasn't sure everyone was going to want to put it back together for just one show," Melkonian said. "I mean, we're all in different parts of the country doing domestic things like working, getting married, having babies and trying to be mature adults. But apparently we all wanted to rock again."
Through phone calls and e-mail messages the band narrowed down its set list for the concert, and the four began to practice in their respective locations — after Erdmann and Drenning purchased instruments, that is. The band finally met at Matarrese's home in Mankato for a rehearsal weekend in August.
"For about three years we were together almost 24/7, and I was slightly concerned that there would be some sort of awkwardness," Drenning recalled of the rehearsal weekend, "but we picked up right where we left off in terms of both music and friendship. It was incredible to reconnect with these guys, leave behind the everyday pressures and play music again for the first time in a very long time."
Matarrese concurred. "Playing together after all those years was exceedingly interesting: As we retrieved our memories of the music, we were also conjuring up our former selves and re-creating a new band identity out of the old one — too many layers of history and experience to process, to be sure — but it also felt surprisingly effortless and familiar."
After one more group rehearsal on Friday, Oct. 23, Lime Credo was ready for its show the following night. From the opening notes of the first song to the last ones of the encore, the band had the crowd on its feet, with many die-hard fans singing along with the group's original lyrics.
"I was extremely pleased by how well we played; part of the fun of performing is that there is always that possibility of a total train wreck, and that danger — and avoiding it — is a unique rush," Erdmann said. "The crowd was very responsive; it wasn't just a polite response, as it would have been out of sympathy and nostalgia had we just been adequate. It was loud and affirming. That response let us know we were doing fine, and about two songs in, I felt us relax and find that 'lock' that happens between band mates."
Spurred on by its fans and the pure enjoyment of playing together again, Lime Credo tentatively plans to write and record new music and to play one or more concerts next year. In addition, Northwestern student Cooper Carter, a Weinberg College of Arts and Sciences junior who filmed interviews with the band as well as the concert, is making a documentary about the group, which he and the band hope will take Lime Credo's music and story to an even larger audience.

Susan Elliott Blashka (J92) is a freelance writer and editor based in Solon, Ohio. She became a Lime Credo fan back in the day and had been waiting — somewhat patiently — for this reunion show ever since.
Lime Credo performance photo above courtesy of Susan Elliott Blashka.