---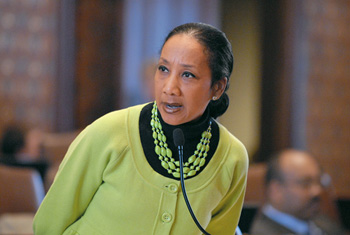 When Illinois state Sen. Jacqueline Collins first came to Evanston for a prospective student interview in spring 1968, she felt culture shock.
"I'd never seen homes as large as you see on Sheridan Road," recalls Collins (J72), who was born in McComb, Miss., and grew up in a single-parent household in Chicago's Englewood neighborhood. "I had never encountered that kind of wealth and privilege. It was very intimidating."
She wasn't intimidated for long. Inspired by the 1968 Bursar's Office sit-in that eventually led to the creation of the African American studies program, Collins spent most of her days at the University in protest lines. She also joined For Members Only, the African American student group on campus responsible for the sit-in.
Questioning the status quo came naturally to Collins. The first one in her family to go to college, she pursued investigative journalism at Northwestern after reading Upton Sinclair's The Jungle.
"I've always been drawn to writers who raise challenging questions about society," says Collins. "I feel that journalism is a field that serves the public interest best by informing, educating and sometimes inspiring."
After leaving Northwestern in 1972, Collins discovered advocacy journalism while covering issues such as redlining and housing discrimination at the Citizen Community Newspapers on Chicago's South Side. From there she went to WBBM-AM radio and finally to CBS-TV, where she was an Emmy Award-nominated editor for almost 12 years. Eventually Collins began to feel dissatisfied with the lack of investigative journalism in broadcast news.
"I think we lost our way," she says. "It became more of a bottom-line industry, where the most important thing was whether the person before the camera was able to draw people in the ratings game."
Collins began to feel the pull of politics. During her time at CBS, she worked on the voter registration drive for Chicago Mayor Harold Washington (L52) and served as a press liaison to Jesse Jackson at the 1984 Democratic National Convention. She craved a career where she could educate the citizenry and pursue her passion for social justice.
Inspired by the religious rhetoric of Martin Luther King Jr., she returned to school to study public policy and theological studies in 1999. She earned a master's degree in public administration from Harvard University's John F. Kennedy School of Government in 2001 and a master's in theological studies from Harvard's Divinity School in June 2003.
Elected to the Illinois General Assembly in 2002, Collins serves Chicago's 16th District, which includes a number South Side neighborhoods and southwestern suburban communities. She represents more than 210,400 constituents in a district that she has called home since childhood.
Her early legislative successes included a law prohibiting public utility companies from disconnecting lowincome customers during winter months, a law allowing more Illinois senior citizens to qualify for a state property tax exemption, the landmark Sudan Divestment Act and a resolution to create a commission to study and document racial and gender discrimination in hiring or contracting on state construction projects.
As a result of her work Collins received the Best Voting Record Award in 2003 from the Independent Voters of Illinois.
Issues of mortgage fraud and predatory lending are now foremost for Collins, the Senate financial institutions committee chair. However, she says the greatest challenge for the legislature is school funding reform.
In August 2008 the Chicago Urban League, led by then-president Cheryle Jackson (WCAS88) (see "Forming a New League," fall 2007), filed a lawsuit against the state of Illinois and the Illinois State Board of Education. The lawsuit calls for the state's current school funding system (districts receive funding from local property taxes, and wealthier neighborhoods generate more property tax revenue than poorer communities) to be deemed unconstitutional and in violation of the Illinois Civil Rights Act of 2003. The lawsuit also declares that the state discriminates by race, thereby denying minority students a good education. Last April, a Cook County Circuit Court judge ruled that the lawsuit has merit and should be heard in court.
"I find it deeply troubling that something as fundamental as paying for our children's education should have to be decided in a court of law," says Collins. "It is well past time that we establish a sustainable funding system that meets the educational needs of all children, irrespective of race or zip code."
 — Elizabeth Weingarten (J10)
Do you know an alumnus who deserves to have his or her story told? Tell us why. Send the news to letters@northwestern.edu.