---
Henry Bienen's Legacy
Jay Pridmore's wonderful retrospective, "The Bienen Years" [winter 2008], noted that when President Bienen was selected to lead the University in the mid-1990s, alumni "were eager to see Northwestern's profile and prestige continue their upward rise."
I am fortunate to travel across the country, meeting with and representing the alumni of Northwestern University. It is clear to me that the excitement and renewed passion with which my fellow alumni talk about their alma mater is due largely to President Bienen's extraordinary leadership. It represents more than an appreciation for the University's rise in the various rankings and goes to the vision he articulated for Northwestern that will reap benefits for generations of students and alumni to come.
Thank you for a fascinating look at President Bienen's remarkable accomplishments. (And how fortunate for the law school and the University that Leigh Buchanan Bienen was part of the package!)
Leslie Donavan (L82)
President, Northwestern Alumni Association
Lincolnshire, Ill.
I was saddened but, unfortunately, not surprised to read in a recent issue of the Chronicle of Higher Education that President Bienen received a total compensation sum of $1,742,560 (second to President David J. Sargent of Suffolk University).
President Bienen needs to be reminded of the fact that he heads a nonprofit institution whose members are engaged in the advancement of knowledge and the training of the rising generation. They are, in short, engaged in a form of public service and are for the most part earning far less than they would in the private sector.
Accepting compensation of this magnitude also undermines his leadership both within and outside the University community.
Let us hope that President Bienen's successor will have the courage to address this issue of excessive compensation and insist on a much smaller salary.
Charles E. Neu (WCAS58)
Miami
Thank you for the excellent winter 2008 edition. The cover story, "The Bienen Years," is a keepsake! For me, Jay Pridmore has nicely captured the essence of the person and the evolution of our beloved alma mater under President Bienen's stewardship.
Sam Sperry (McC65)
San Francisco
More than a decade ago I wrote to Northwestern's new president, Henry Bienen, about a questionable decision the University had recently made. His reply was immediate and brief. He wanted to visit me at my house near Tucson. I said that lunch would be at noon. We got off to a great start: He was 10 minutes early.
He liked my R. Brownell McGrew art collection and my 50 acres of oaks and junipers and seemed to enjoy my culinary efforts. He was forgiving when my short-tempered dog snarled at him. We talked about Northwestern University, Patrick Ryan [EB59], chairman of the Board of Trustees, and money.
I watched Henry build enough buildings to propel Northwestern into the 21st century with his focus on new research in fields such as nanotechnology. He can talk with anyone from the pope to a bulldozer operator. I often call him "my favorite schoolteacher."
In talking about the long pull, I emphasize that while he is doing an excellent job, there is much more to be done. I wish that he weren't retiring.
Mickey McArthur (C49)
Sonoita, Ariz.
Congrats to President Henry Bienen on the University's remarkable progress under his leadership.
But judging by his appearance on the cover of Northwestern magazine's winter 2008 issue, he needs a new tailor — quickly. That zoot suit–esque attire he's sporting might work for rappers like Jay-Z or Flavor Flav, but for the head of a world-class institution of higher learning?
I think not.
Ken Calvin (WCAS75)
Chicago)
Making Waves Over Neurofeedback Therapy
Thanks for the great article about Elsa Baehr ["On a Different Wavelength," winter 2008] and her groundbreaking work with neurofeedback as a treatment for depression. I would like to see the Feinberg School of Medicine set up a large center, especially for the treatment of children and adolescents, as well as for adults. If the statistics in the article are true — a 25 percent success rate in treating depression with medication and/or talk therapy, and a 75 to 80 percent success rate with neurofeedback — why wait? Think of all the children who would be prevented from becoming depression statistics and all the adults who would become productive rather than suffering the limitations of mental illness. And think of all the positive feedback and publicity it would generate if the Feinberg School were to become a leader in this field.
Martha H. Howard
Chicago
I encourage you to check out more carefully the quality of topics and authors that you decide to publish with experts on your faculty before accepting such articles as "On a Different Wavelength." The Feinberg School of Medicine's Department of Psychiatry and Behavioral Sciences (which gave me tenure years ago) has a new chair [John G. Csernansky (WCAS75), Lizzie Gilman Professor of Psychiatry and Behavioral Sciences], selected this year to lead that department in a neuroscience direction. Publicizing Elsa Baehr's work is a step in an opposite direction.
Using neurofeedback to change brain waves to treat depression is pseudoscience at its worst and does not warrant a serious discussion. The International Journal of Psychophysiology is peer reviewed by cultists, not scientists with any credentials. The International Society for Neurofeedback and Research supports such nonsense because there is money to be made, unfortunately by exploiting desperately depressed patients.
This sort of article (which offers a sad contrast with the fine University of Chicago alumni magazine) motivates me not to donate to my alma mater.
Peter Barglow (FSM56)
Berkeley, Calif.
Excellent article. Dr. Baehr has validated our school motto, that is, " … think on these things."
Hats off to writer Fern Schumer Chapman.
Harry Cleveland Grounds (McC59, GMcC60)
St. Paul, Minn.
Thanks for the great article on Elsa Baehr's work of battling depression with neurofeedback. How very frustrating that this process is not widely known and practiced!
Eugene Gordon (EB50)
Roseville, Calif.
1949 Rose Bowl Reunion
I enjoyed the Rose Bowl article on the web ["Return of the '49ers" — see Northwestern magazine's web site for this online exclusive story and video]. You need to do one on the Northwestern marching band that played at the 1949 Rose Bowl, of which I was a member. The band also blew away the crowds and media. One Los Angeles paper said it was bad enough that the Golden Bears lost the game, but did the Northwestern band have to destroy Cal, too?
I have a scrapbook of the band trip and would like to donate it to the University Archives.
Arthur Dewsberry (McC51, GMcC59)
Lees Summit, Mo.
Editor's note: Northwestern University Archives welcomes the donation of scrapbooks, photos and memorabilia that document alumni experiences as Northwestern students. For more information on making a donation, contact Archives on the web or by e-mail at archives@northwestern.edu or by phone at 847-491-3136.
Thanks to William Weinbaum and the editors for bringing me back so vividly to the sights and sounds of that storybook visit to Pasadena.
As a very lucky kid of 16, I was allowed to tag along to most of the events, several of the practice sessions, including the "look-around" in the Rose Bowl the day before the game, the team's Christmas party at the Huntington Hotel and the evening with Bob Hope. All of this because my dad, Waldo Fisher [EB28], was one of Coach Bob Voigts' assistants.
My father was in the press box during the game and later claimed to have sent the Tunnicliff play down to the field, but just before it reached the huddle, Don Burson called it anyway. Just one more example of great Northwestern minds at work.
The photos and interviews with Bill Forman Gaspar Perricone, Fatso Day, Burton Keddie and all those guys were terrific. It is stating the obvious to say that they look like they could still play, and I find this very encouraging, since they are a few years older than I am.
Dal Fisher (WCAS54)
Newton Center, Mass.
Give Crew Credit
As an emeritus member of the medical school faculty, I have enjoyed receiving Northwestern magazine. The fall 2008 issue contained an omission that should be avoided in the future. The photograph and caption on page 67 of the issue [Alumni News] showed eight women and one man with the "Northwestern crew team" members after their medal-winning performance. The alumni in the photo were all named, but the actual crew members were snubbed, with no mention of their identities. Granted, the article appeared in the Alumni News section, but the reason it appeared was the success of the young women who did the rowing! That's like omitting the subject of a sentence but filling in the remainder of a statement.
An additional comment: In sports reporting, a group of oarsmen/women should be referred to as a "crew" or "rowers," but "crew team" is not appropriate. A crew is a team!
Although I'm pleased to see the sport of rowing starting to gain some recognition here at Northwestern, I hope the reporting will be better in the future.
James C. Erickson III
Professor emeritus of anesthesiology
Lincolnshire, Ill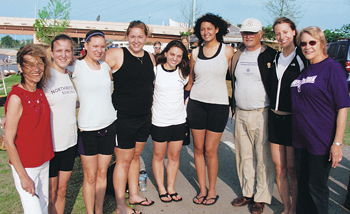 From left, Joyce Lundeen (WCAS66), Susan Gentry (McC08), junior Kristin Behrmann, junior Meaghan Beadle, senior Jessica Brady, sophomore Nadine Ibrahim, Frank Bolen (McC62, GMcC63), Stephanie Gravenor (McC08) and Meg Koerner (BSM62)
Memories of Deering Library
As a 17-year-old freshman in 1959 I found that Deering Library quickly became a focal point of my life. To my young and inexperienced eye, it looked ancient, and I assumed it was one of the original campus buildings.
The article on the 75th anniversary of the library ["Deering Library Anniversary," News on Campus, winter 2008] really captured my attention. I quickly calculated and realize now that the "old" library was only 29 years old when I first used it.
Though my architecture class at Northwestern encouraged my lifelong love of design, building and renovation, I find myself feeling amazed.
Thank you for continuing to feed my love of Northwestern.
Roberta "Robbi" Harris Boone (SESP63)
Canyon Lake, Texas,
The graduation of first class of the Navy V-12 program and Naval Reserve Officer Training Corps at Deering Library, Northwestern University, Evanston, Ill., November 1944
Michael Kapnas (WCAS48)
Carlsbad, Calif.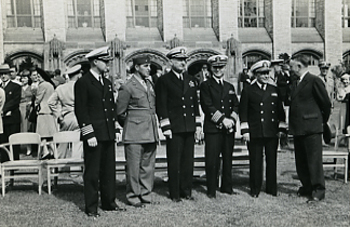 Michael G. Kapnas, a member of that first class of the Navy V-12 program, from July 1, 1943, to November 1944, donated this photo to University Archives.