---
by Fred R. Shapiro

We recently asked Fred Shapiro, editor of The Yale Book of Quotations, to pull together a few choice examples. Shapiro's tome is the first major quotation book to emphasize modern and American sources, so he's in a unique position to marshal the riches of Northwestern eloquence. Here he presents some of the most notable sound bites of our alumni and faculty.

Many of these quotes belong to the political realm, where Northwestern has produced individuals of towering importance.

For example, William Jennings Bryan (L1883) was a secretary of state and a three-time candidate for president of the United States, a populist leader for decades and among the greatest orators in American history. A historically pre-eminent moment in American political rhetoric was Bryan's argument against the gold standard in the U.S. monetary system in 1896:

"… We will answer their demand for a gold standard by saying to them: You shall not press down upon the brow of labor this crown of thorns, you shall not crucify mankind upon a cross of gold."
William Jennings Bryan, speech at the Democratic National Convention, July 9, 1896, Chicago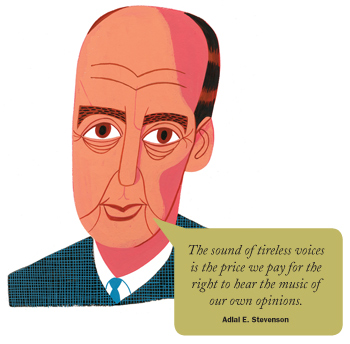 An equally significant and eloquent leader was Adlai E. Stevenson II (L26). Stevenson ran for president in 1952 and 1956 and set a standard for urbane public wit, matched only in recent memory by John F. Kennedy. His bons mots include the following:
"The sound of tireless voices is the price we pay for the right to hear the music of our own opinions."
Adlai E. Stevenson II, speech to the state committee of New York's Liberal Party, Aug. 28, 1952, on his acceptance of the party's nomination for president of the United States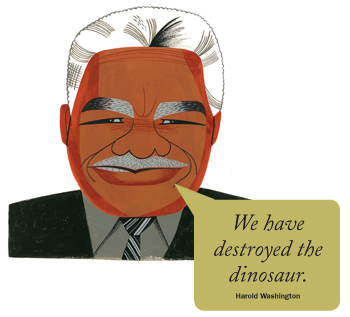 Harold Washington (L52) proved he had a penchant for pithiness after defeating the fabled Chicago Democratic machine by winning election as mayor of the city in 1983:
"We have destroyed the dinosaur."
Harold Washington, Time, March 31, 1986
Moving from politics to law, Northwestern has been home to many celebrated jurists. One of the most important scholars in American legal history was evidence authority John Henry Wigmore, a faculty member at the School of Law from 1893 to 1943 and former dean, who wrote:
"[Cross-examination] is beyond any doubt the greatest legal engine ever invented for the discovery of truth. ... Cross-examination, not trial by jury, is the great and permanent contribution of the Anglo-American system of law to improved methods of trial-procedure."
John Henry Wigmore, from A Treatise on the System of Evidence in Trials at Common Law (1904–05)
Kenesaw Mountain Landis (GL1891) was a judge today remembered as the first commissioner of baseball whose strict rule restored integrity to the game after the "Black Sox" scandal:
"Regardless of the verdict of juries, no player that throws a ball game, no player that entertains proposals or promises to throw a game, no player that sits in a conference with a bunch of crooked players and gamblers where the ways and means of throwing games are discussed, and does not promptly tell his club about it, will ever again play professional baseball."
Kenesaw Mountain Landis, announcement made in August 1921 after a Cook County jury found eight members of the Chicago White Sox not guilty of fixing the 1919 World Series
The two Northwestern alumni appointed to the U.S. Supreme Court had the following to say:
"... No system of criminal justice can, or should, survive if it comes to depend for its continued effectiveness on the citizens' abdication through unawareness of their constitutional rights. No system worth preserving should have to fear that if an accused is permitted to consult with a lawyer, he will become aware of, and exercise, these rights."
Arthur J. Goldberg (L30, H63), Escobedo v. Illinois (1964), majority opinion
"Although we may never know with complete certainty the identity of the winner of this year's presidential election, the identity of the loser is perfectly clear. It is the nation's confidence in the judge as an impartial guardian of the rule of law."
John Paul Stevens (L47, H77), Bush v. Gore (2000), dissenting opinion (see our cover story, "A Justice for All")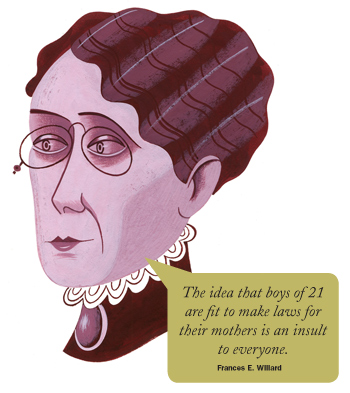 Politics and law shade into issues of race, gender and sexual orientation. Northwestern faculty and alumni have been prominent in activism and scholarship related to these issues:
"The idea that boys of 21 are fit to make laws for their mothers is an insult to everyone."
Frances E. Willard, Northwestern dean of women (1873–74) and suffragist and temperance advocate, to the Illinois Constitutional Convention, February 1870, Springfield, Ill.
"Will all the adulterers in the room please stand up?"
Laura Kipnis, professor of radio/television/film and cultural and media critic and video artist (see "Agent Provocateur," winter 2004), from Against Love: A Polemic (2003)
In the same chapter, Kipnis writes:
"Good relationships may take work but unfortunately, when it comes to love, trying is always trying too hard: work doesn't work. Erotically speaking, play is what works."
"This is our basic conclusion: Our nation is moving toward two societies, one black, one white — separate and unequal."
Otto Kerner Jr. (L34), former Illinois governor and 7th U.S. Circuit Court of Appeals judge, Report of the National Advisory Commission on Civil Disorders (1968)
"We wanted to give blacks a new sense of somebodiness, a new sense of self-respect. We wanted to tell them who they were and what they could do. We believed then — and we believe now — that blacks needed positive images to fulfill their potentialities."
John H. Johnson (H74), former Northwestern student (1938–40) and publishing executive, on the founding of Ebony magazine, Ebony, November 1995
"These young women have had four years of very special space. ... This has been special space. This has been safe space. But when they graduate, they will begin to deal on a daily basis, all day long, month after month, year after year, with the realities that still haunt our nation."
Johnnetta Betsch Cole (G59, 67, H92), president of Spelman College, a historically African American, all-female institution, from On Campus with Women, spring 1993
Former sociology professor Charles Moskos, a Northwestern faculty member from 1966 to 2003 (see "All That He Can Be," spring 2002), coined a key slogan describing a suggested policy toward gays in the military (originally in a letter to Sen. Sam Nunn, circa January 1993):
"Don't ask, don't tell."
Charles Moskos, Chicago Tribune, Jan. 31, 1993
Quotable Northwestern alumni in the arts include an acclaimed writer and a leading Broadway songwriter:
"The pitcher cries for water to carry
and a person for work that is real." Marge Piercy (G58), poet, novelist and social activist, "To Be of Use" (1973)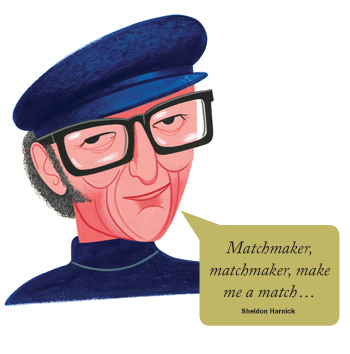 "Matchmaker, matchmaker, make me a match,
Find me a find,
Catch me a catch."
Sheldon Harnick (BSM49), lyricist (see "Words Into Song," summer 2004), "Matchmaker," Fiddler on the Roof (1964)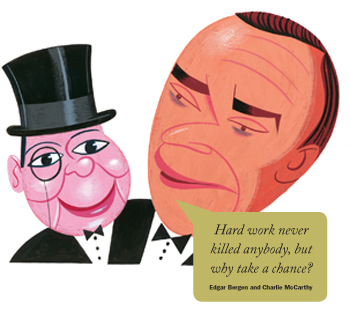 It is in the area of film and television, however, that we find what may be the most iconic quotes of Northwestern folks. The following popular saying seems to have been introduced by ventriloquist Edgar Bergen (C27):
"Hard work never killed anybody, but why take a chance?"
Edgar Bergen, catchphrase of dummy Charlie McCarthy, quoted in Robert Byrne's The Other 637 Best Things Anybody Ever Said (1984)
The American Film Institute list of the top 100 movie quotations in American cinema has an alumnus uttering No. 41:
"We rob banks."
Warren Beatty (C59), actor and director, as Clyde Barrow, Bonnie and Clyde (1967)
Another alumnus actor, Charlton Heston (C45), has No. 66 on the AFI list and, from the same movie, a second line that is not on the listing but is arguably even more culturally resonant:
"Get your stinking paws off me, you damn dirty ape!"
Charlton Heston as George Taylor, Planet of the Apes (1968)
AFI quote No. 77 is also a Hestonism:
"Soylent Green is people!"
Charlton Heston as Robert Thorn, Soylent Green (1973)
Terry Southern (WCAS48), also a novelist and essayist, was the principal screenwriter for the 1964 movie Dr. Strangelove, which immortalized many quips including this one, No. 64 on the AFI list:
"Gentlemen, you can't fight in here. This is the War Room!"
President Merkin Muffley, played by Peter Sellers
Television accounts for two quotations, one about the medium and one a TV catchphrase:
"I invite you to sit down in front of your television set when your station goes on the air. ... Keep your eyes glued to that set until the station signs off. I can assure you that you will observe a vast wasteland."
Newton N. Minow (C49, L50), attorney and former chair of the Federal Communications Commission, speech before the National Association of Broadcasters, May 9, 1961, Washington, D.C.
"We were on a break!"
David Schwimmer (C88), actor, as Ross Geller, Friends, Feb. 20, 1997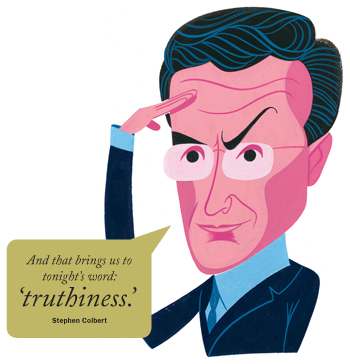 One other quote comes from the premiere of The Colbert Report in 2005:
"I will speak to you in plain, simple English. And that brings us to tonight's word: 'truthiness.'
"Now I'm sure some of the 'word police,' the 'wordinistas' over at Webster's are gonna say, 'Hey, that's not a word.' Well, anyone who knows me knows I'm no fan of dictionaries or reference books. I don't trust books. They're all fact, no heart. And that's exactly what's pulling our country apart today. 'Cause face it, folks; we are a divided nation. Not between Democrats and Republicans, or conservatives and liberals, or tops and bottoms. No, we are divided between those who think with their head and those who know with their heart."
Stephen Colbert (C86) (see "A Funny Man of Good Report," winter 2005), The Colbert Report, Oct. 17, 2005
Fred R. Shapiro, of New Haven, Conn., is the editor of The Yale Book of Quotations (Yale University Press, 2006).
Tell us what you think. If you have any questions or comments, please e-mail the editors at letters@northwestern.edu.