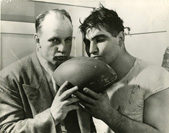 Rose Bowlers Return
Sixty years ago Northwestern celebrated its only bowl victory, a 20-14 win over California in the 1949 Rose Bowl. We caught up with some of the heroes of that win when they came to campus for a reunion in October. Read about the team's march to the Rose Bowl and the razzle dazzle that helped win the game.
More Risky Business
Find out what drives entrepreneur Guillermo Trias to bring the best of Spanish food and culture to the United States. Check out our video interviews with Trias and some of Northwestern's other alumni entrepreneurs.
Mud and Bubbles

Students enjoyed summer pleasures at Dillo Day 2008. See the sights and hear the sounds.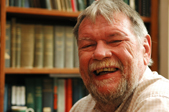 Archivist's Northwestern Days Are History
After more than 30 years as University archivist, Patrick Quinn has collected quite a few stories. He shares a few in our video interview.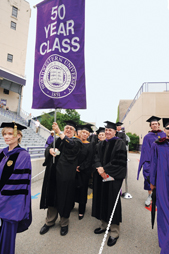 A Half-Century of Memories
The class of 1958 holds the distinction of being the 100th class to graduate from Northwestern. During their visit to campus for Commencement, we interviewed a few of the 50-year alumni and asked them to reflect on their days at Northwestern and how the University has changed. See what they had to say.
A Happy Marriage?
Former Northwestern lecturer and matchmaker George W. Crane (WCAS22, G23, 27) created a marriage rating scale in the 1930s. Times have certainly changed. See how you and your spouse rate.