Regional Clubs
---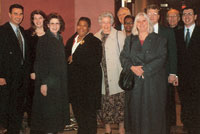 Members of the NU Club of Detroit, pictured at their holiday party, are set to attend the Chicago White Sox-Detroit Tigers baseball game on July 13.

Young alumni from the NU Club of Chicago put on their bowling shoes in March to support the 2002 Dance Marathon and Friends for Steven, this year's Dance Marathon charity. In April members enjoyed gospel music and brunch at the House of Blues. Upcoming summer events include a Chicago architectural boat tour and trips to Arlington International Racecourse and the Ravinia Festival.

The NU Club of Columbus (Ohio) revved up for the men's basketball game against Ohio State in February at the Buckeye Hall of Fame Café and then cheered on the Wildcats from a luxury box at the Value City Arena of the Jerome Schottenstein Center.

The brand-new Greater Piedmont NU Club of North Carolina, led by president Michael Jones (GSESP71), is hosting a student reception for incoming students in September in Winston-Salem.

In March nearly 70 members of the NU Club of Sarasota/Manatee (Fla.) honored two of their own. Benton Wood (SESP51) received the club's Alumni of the Year award for his service as past vice president and newsletter editor, and Barbara French Sanderson (WCAS46) was given the President¹s Award for her contributions at club events.

Members of the NU Club of Switzerland will be sharpening their golf skills with a golf pro on Aug. 18 at the Golfclub Schloss Goldenberg in Zurich. They'll also be hiking in the forest near Basel in October to learn about and collect mushrooms.

A number of alumni clubs hosted Northwestern faculty speakers in February. Penelope Peterson, dean of the School of Education and Social Policy, shared insights with the NU Club of Washington, D.C., on the future of education. Wildcat head football coach Randy Walker joined the NU Club of Coachella Valley (Calif.) for a golf outing, and Georgi Derluguian, assistant professor of sociology and international studies, addressed the NU Club of the San Francisco Bay Area.

In March Lee Huebner (WCAS62), professor of speech communication studies, met with the NU Club of Western Michigan in Grand Rapids.