Kellogg School of Management
---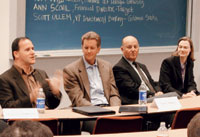 From left, Tom Williamson (WCAS81, KSM82), Mark Shapiro (KSM80), Ellis Goodman, a Dean's Advisory Board member, and Lee Ann Scovil (KSM91) discussed career strategies at a Kellogg panel presentation last January.

Photo by Thom Duncan

Who knows better how to ride out a recession than the good folks at the Kellogg School? Members of the Kellogg Alumni Advisory Board and the Dean's Advisory Board offered practical advice and strategy to alumni at a panel discussion at the Donald P. Jacobs Center last winter.

Panelists offered lots of useful advice to job seekers, which included taking advantage of Kellogg's Career Management Center and the alumni network at www.kellogg.northwestern.edu/alumni, continuing to develop their job skills and being selective about the companies they target for interviews.

Kellogg alumni across the Atlantic are keeping connected through Kellogg's European Alumni Clubs' Web site, europealumni.kellogg.northwestern.edu. It includes information for new expatriates and Kellogg events and services for members in France, Germany, Italy, Spain, Switzerland and England.