Ahead of Her Time
Edna Johnson Girton (WCAS17),
one of the University's oldest alumni, has led an active, interesting life on and off campus.
---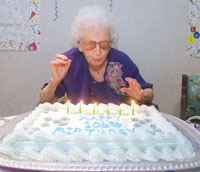 Edna Johnson Girton (WCAS17) was a junior in high school when the Titanic sank, a sophomore at Northwestern when Harris Hall opened and a senior when the United States entered the war to end all wars.

In that year, 1917, tuition was $110, and the cost of a first-class stamp went up from two to three cents.

At the age of 106, Girton is one of Northwestern's oldest alumni, having attended the University at a time accessible to most people only through yellowing photographs, diaries and the memories of individuals like her.

Girton, who resides in an assisted-living facility in Ponte Vedra Beach, Fla., continues to be as outgoing as she was in college. She participates in every activity at her retirement center and enjoys watching old movies.

When Girton was at Northwestern, it was a vastly different place for women. Many came to campus largely to refine their social graces. There were ample teas and parties for mingling and needless to say, studies would often take a backseat to parties.

But change was in the air. A women's edition of the Daily Northwestern started in 1912, and female students began to participate in activities like debate and oratory.

Drama, too, was a relatively new outlet. Though she majored in English, Girton's avid interest in speech and theater prompted her to act in several student plays — one of which must have been a memorable performance.

"I was at a party with mother in Ponte Vedra when a gentleman we met who had attended Northwestern asked her if she had acted in a particular play," her daughter, Suzanne North, recalls. "And wouldn't you know, she had, to which he replied, 'I saw that play! I've been looking for you all my life!'"

However, Girton's stage career came to an abrupt end. Her father disapproved of his daughter's theatrical aspirations. In fact, without a generous University scholarship and her feisty mother, Girton might never have attended Northwestern.

"Mom's father asked what was the use of my mother going to college," Girton's younger daughter, Margaret Graves, relates, "at which point her mother slammed her fist on the table and said, 'Edna got a scholarship. Edna is going to college.' "

Indeed, Girton excelled on campus as a leader of her sorority, president of the junior class and member of the Student Council.

When Girton was a junior, she caught the eye of Delbert George Girton at a campus fraternity party. The University of Illinois alumnus proclaimed prophetically to his friend: "That's the girl I'm going to marry."

Her husband's job with Swift & Co. took them to Paris, London, Germany and Argentina, where they raised their three children. He died in 1973.

Over the years, despite the distances from Evanston, Girton stayed in touch with her Northwestern friends and managed to attend her 60th reunion party on campus at age 82.

While she is healthy now, Girton battled colon cancer when she was 50 — a time when very little was known about the disease. "Mother had a terrible operation in 1945," before much sophisticated medical technology was available, says Graves. "It's all the more testimony to her toughness."

In fact, Girton's children jokingly call her a "tough old bird." They feel that at 106, she's earned the title.



— Molly Browne (J04)



Editor's note: Although Edna Johnson Girton is in excellent health, her advanced years prevented a direct interview for this story.