Heading to Havana
by Dillon Smith and Jay Mastin
---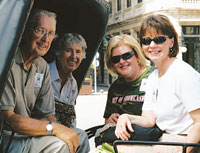 Albert (EB42) and Marion Cobb, left, with Gerri Lee Ornstein Frye and Elaine Murphy in Old Havana.

Last October the Northwestern Alumni Association sponsored a six-day trip to Cuba, making it among the first alumni groups in the country to rediscover the Caribbean's largest archipelago.

For decades Cuba has been closed to U.S. travelers, so would-be visitors had to rely on the works of such writers as José Martí and Ernest Hemingway for images of the land and its people. But in 1999 the U.S. government relaxed travel restrictions to Cuba to allow specially licensed groups to visit the country for educational and cultural purposes.

Gerri Lee Ornstein Frye (S67) recalls her anticipation as our group began its trip in Montego Bay, Jamaica, the day before going to Havana. "I had always wanted to see Cuba, and I had no idea what to expect," she says. "When we arrived in Havana, we found the country to be an extremely surprising mix of the modern and the traditional."

The Parque Central, located in the heart of historic Old Havana, served as our home for the trip. Its rooftop provided panoramic views of beautiful Spanish colonial buildings. The streets were a throwback to earlier decades — mixed in with modern vehicles and mini-taxis were an abundance of U.S. cars from the 1950s.

The educational component of the program brought us interesting lecturers from the University of Havana. We learned about contemporary arts in Cuba, Cuba's agricultural industry, the development of modern Havana and modern Cuban literature before departing for excursions related to those topics.

As the local guides led us through Old Havana, talented singers and musicians playing guitar, cello, flute and percussive instruments serenaded us with delightful Afro-Cuban melodies and rhythms. Everywhere we went we were surrounded by music. The Cuban people are extremely friendly, and as we walked the streets, they were eager to talk to their "American friends."

Our walking tour began in Cathedral Square and took us past the Hotel Ambos Mundos, where Hemingway made his home in the 1930s. We also toured the Palacio de los Capitanes Generales, the seat of government for Cuba¹s colonial governors, and took horse-drawn carriage rides along the waterfront.

Throughout our visit we enjoyed authentic Cuban cuisine, often chicken, rice and bean dishes. Mojitos, a rum drink with mint, and daiquiris tasted especially good during the humid days outdoors that even in October were in the high 80s. Some of our alumni travelers, including Jill Budzien Shindelman (WCAS60) and Carmen Alden Cunningham (WCAS56), made separate trips to paladares, which are private restaurants in homes.

Our second full day in Cuba took us to Las Terrazas, a model commune where we toured a coffee plantation, and the commune's school, where the children sang and danced for us. From there we traveled west to Pinar del Río and its breathtakingly beautiful Vinales Valley.

Back in Havana, while lunching at Hemingway's favorite haunt, La Bodeguito del Medio, we gazed at the hundreds of signatures that fill the walls of the grain dispensary-turned-restaurant.

That evening we stepped out to the world-famous Tropicana, an open-air nightclub dating back to 1939. Again we were enveloped in Afro-Cuban rhythms and enjoyed lavish music and dance numbers by sequined, ruffled performers. The Tropicana showcases Cuba's best musicians with 200 dancers and a 20-piece band.

Our final day included a tour of La Corona cigar factory in Havana, where we bought handmade cigars — legally. (Those visiting Cuba on these specially licensed trips may bring back up to $100 in cigars for personal use.) We also visited Hemingway's estate, Finca Vigía, and traveled to his favorite fishing retreat of Cojímar. Our final memories of Cuba were made at the colonial-era El Morro castle and San Carlos Cabaña fortress, which featured beautiful cityscapes across the harbor.

Dillon Smith (J63, GJ64, L67) and Jay Mastin, NAA associate director for alumni education and travel, contributed to this essay.

For more information about NAA trips, including the next trip to Cuba, log on to www.alumni.northwestern.edu or call 1-800-NU-ALUMS.