At Home in Doha: The Expat Experience
Story Tools
Share this story
It's a little before 6 on a Monday evening when David Carr walks through the door. Before he has time to drop his satchel and kick off his shoes, 3-year-old Alexandra has him by the hand.
"Daddy, do you want to see a beehive?" she asks as she guides him through the front foyer, down the hall and out the screen door onto the patio. She leads him to the side of the house, where, in a climbing flower, a swarm of bees has made a nest.
For Alexandra, it's another novelty of life in a foreign land.
The Carrs live in their own colony of sorts.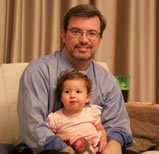 David, NU-Q chief information officer and assistant dean for operations, and his wife, Heidi, a former German teacher in the Glenbrook, Ill., schools, and their two daughters (the youngest, Johanna, above with David, was born in Doha) live in a spacious two-story, sandstone-colored house with large archways, a back patio and balconies, and heavy wooden doors. It's in an Education City housing compound, a gated community within a five-minute drive — down dusty, bumpy desert roads — of campus.
This particular compound has green space, a particularly appealing feature for the Carrs and other NU-Q expats.
"I think Doha is a fabulous place for kids," says Susan Dun, senior lecturer in communication and a member of the NU-Q start-up team who brought her family —husband, Sam (who runs a web-based business), three kids (including a 10-month-old baby) and a dependent parent — to Doha in 2008. "I like it much more than the States. I let my 7-year-old and 5-year-old go to the park by themselves. I just don't have that same sense of worry that I would in the U.S."
The Education City compound is one of two main concentrations of housing for NU-Q personnel — the other is in high-rises in Doha's developing West Bay area. And it's a very small world. The Carrs, who lived in Evanston and Lake Forest, Ill., before heading to Doha moved into their house after Tim Fournier (KSM94), who was then serving as NU-Q's chief operating officer, and his family moved out to another compound.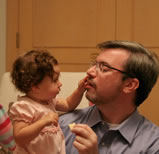 Beyond the compound walls, life in Qatar takes some getting used to, and that's after you've mastered the city's death-defying roundabouts.
"Everything and nothing is a surprise here," says Mimi White, the former senior associate dean for the communication program who recently completed her two-year commitment. "The prospects of living in a nation-state that is constructing itself for the future are very exciting. The daily realities of living in a place under construction are a little more stringent."
There are some unwritten rules: Yield to Toyota Land Cruisers, the car of choice for Qatari drivers — it's what the emir drives. Shop on Friday mornings, the Muslim day of worship. Keep daytime meals to a minimum during Ramadan, the holy month when observant Muslims fast from sunup to sundown. Give up allegiances to specific brands or American materials. And forget following your favorite pro sports.
"I don't know how many hours in a week I wasted for how many years sitting and watching NFL football," says Richard Roth, senior associate dean for the journalism program. "I haven't seen a game in two years. And you know what, I don't miss it. I've found more productive things to do with my time.
"That's the kind of thing that we, as Americans, expect to have that just isn't possible here. You get over it."
Roth says he's still trying to overcome the hurdles of time and space. Doha is eight or nine hours ahead of Chicago depending on the season. Plus the week in Qatar runs Sunday to Thursday.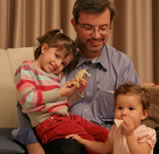 Internet video chats and other e-communication have made it easier to keep up with colleagues, as well as friends and family, says Roth, who has a "virtual relationship" with his son in the Chicago Loop and daughter in Indiana.
"Not everybody has the mindset to leave your friends and family 7,000 miles behind," says Fournier. "The first year is rocky. It's emotionally draining. It's psychologically challenging. And just driving in this town is a killer."
Eventually, Fournier says, the anxieties about relocating to and living in Doha become "more of the background noise for most people." He and his wife, Beth, have two children, Marc, 10, and Madeleine, 13, who attended the American School of Doha, "which in many ways is like a good quality suburban school anywhere in the United States," Fournier says, "with the exception that there are 60 countries represented. So her friends are from all over world."
As a family the Fourniers traveled all over the Middle East and beyond.
"That's one of the best recruiting tools we have," says Julia Wysocki (GSESP08), lead accountant at NU-Q, who has visited Bahrain, Morocco, Turkey, Jordan, Greece, Thailand, Dubai and Sri Lanka, not to mention Ireland and Amsterdam, since joining NU-Q. "It's pretty addicting. Plus, you think, 'When am I ever going to be here again?'"
Wysocki came to NU-Q without making a pre-employ visit to Doha. Her friends were skeptical, questioning her decision as a single Western woman to go to the Middle East.
"I have been extremely and pleasantly surprised at how comfortable I feel here," she says. "I don't feel that I can't be myself or I can't have a voice or an opinion. You're still the same person, you just probably don't want to wear a tank-top in the mall."
Wysocki admitted that she's had to work at building a social life, and that circle includes mainly fellow expats.
Becca Donaldson (C08), who recently completed her two-year commitment to NU-Q and left to work on a Fulbright to study community service in the United Arab Emirates, expressed some regret that she had not made many deep connections with Qatari culture.
"I feel like family, religion and language make it harder to be able to live in the same world," says Donaldson, who went to work at NU-Q three weeks after graduating from Northwestern. "We're still here. We're living in the same space, but we operate in different worlds."
In fact, the 2009 HSBC Bank Expat Explorer Survey ranked Qatar as the worst country in its survey of 26 nations in terms of expats' overall experience. According to the survey, "expats living in the Middle East, especially those living in Qatar, [United Arab Emirates] and Saudi Arabia, are the least likely to make friends with people from the local population."
That might be true, but you have to embrace the culture, says Dun, and get out of the ex-pat bubble. "And that's really hard in Doha," she adds. "In a very deep and fundamental way, one has to be willing to leave one's culture at home. And that's easier said than done. If you come here, you're going to a fundamentally different place."
In the end, though, Fournier says, despite cultural, religious, political differences, people "want the same things for themselves and for their children. That has been reassuring. People are people."