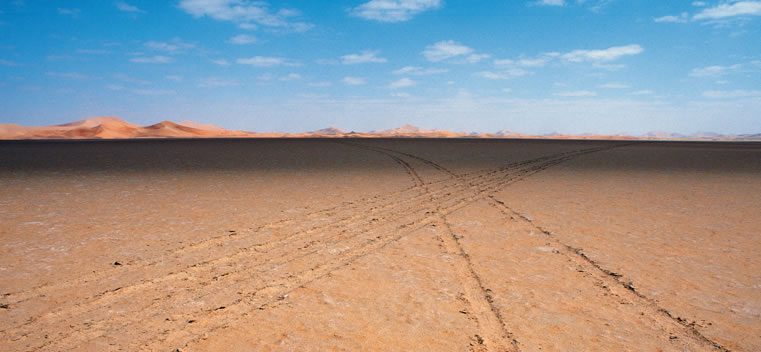 The Road to Qatar
Story Tools
Share this story
Northwestern's new campus near Doha provides a world-class education to students in the Middle East. There's no Arch and no Rock, but even on the other side of the world, Northwestern's campus in Qatar seems a lot like home.
Nearly everyone in the room is holding back tears as they watch a video of Ismaeel Naar, who talks about learning to waltz with his mother shortly before she died in 2007.
With mixed emotions, faculty and staff are watching a piece on breast cancer awareness that features Naar, then a freshman at Northwestern University in Qatar. The young Bahraini's story is part of a multimedia feature by Thouria Mahmoud (below, in blue abaya) and Zainab Sultan, now NU-Q juniors, on an often untouchable topic in the conservative Arab world.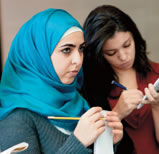 "I just love that these are Arab women who are doing this," Christopher Booker, assistant professor of journal­ism at NU-Q, says later. "These students are really brave. If you can figure out how to do journalism here, you can do it anywhere."
During the same faculty and staff session, Brian Cagle (GC06), a radio/television/film lecturer, shows Circle of Life. Produced by a team of sophomores in Cagle's cinematogra­phy course, the silent film uses a series of simple yet vibrant scenes of childhood pleasures — bike rides, birthday parties and chalk drawings — juxtaposed against images of a dying hospitalized patient.
"This would not only sit on the top of the heap on the Evanston campus," Cagle tells the NU-Q community, "but in terms of narrative, it's also one of the finest student pieces I've seen to rely solely on images to tell a story."
That's high praise, and the NU-Q students are literally just getting started.
THROW YOUR STEREOTYPES OUT THE WINDOW
Welcome to Northwestern University in Qatar — 7,000 miles and eight time zones from Evanston. It's 70 degrees and sunny in the dead of winter. And palm trees — not stately oaks — line the "green spine," the grassy, park-like path that cuts through Education City on the outskirts of Doha.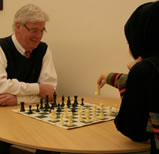 Richard Roth (above), NU-Q's senior associate dean for the journalism program, picks up on the comparisons. "We have around 250 acres in Evanston. We have more than 2,500 acres here. There, in the Great Lakes, we have 1/5 of the fresh water in the world flowing past our Evanston campus, and here we're in the desert. …  Most of the students in Evanston come from the 'Middle West,' and most of our students here come from the Middle East."
Despite the differences, there are remarkable similari­ties. Like Northwestern students everywhere, the NU-Q students are engaging and outgoing, overcommitted and deeply devoted to causes. They're certainly proud to be Wildcats. And, boy, do they love their purple.
"It took guts for these students to see an opportunity in becoming part of this brand-new university," says Robert Ferrin, the former NU-Q director of marketing and public relations who helped recruit and select the first class. "It was a big risk, and it's paying off big time. The students are learn­ing to express themselves, and in time, they will push the boundaries of society."
Starting from scratch, NU-Q has grown into a full-fledged university in two years, with 78 students total in the first two classes and another 36 expected to enter this fall.
NU-Q dean and CEO John Margolis says the benefits for Northwestern include an expanded global footprint, increased opportunities for Evanston students to gain familiarity with a "terribly important part of the world" and an enriched experience for faculty who may discover new research interests in Doha.
Northwestern joined Education City at the invita­tion of the Qatar Foundation for Education, Science and Community Development and its chair, Sheikha Mozah Bint Nasser Al Missned, the wife of Qatar's emir. The sixth U.S. university established at Education City, Northwestern offers programs in journalism and communication.
Education City is also home to Virginia Common-wealth, Georgetown, Weill Cornell Medical College, Texas A&M and Carnegie Mellon, which temporarily hosts Northwestern in its 2-year-old facility (construction on NU-Q's building will begin this year and be completed in fall 2013).
The campus sits a few miles west of downtown Doha, which rises from the desert on the shore of the Persian Gulf. Doha is the capital of Qatar, a nation roughly the size of Connecticut that juts like a thumb into the Gulf from Saudi Arabia.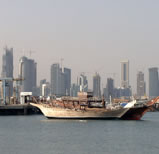 Here, the global economic recession has hardly regis­tered. Oil tankers ply the Gulf, while on land the building boom continues — construction crews pound away 24/7, creating opulent, ultra-modern towers for a population that has yet to arrive. With vast oil and natural gas reserves, Qatar — once a nation of nomadic shepherds and pearl divers — has the world's second-highest GDP per capita on a purchasing power parity basis ($121,700 in U.S. dollars).
The Qataris, though, know those finite resources won't last. The Qatar Foundation has created Education City to build a skilled workforce and move the country toward an education- and technology-based economy.
"We have an opportunity to help the Qatari people expand, adapt and prepare for the time when their economic bases — oil and gas — are marginalized or minimalized," says Timothy Fournier (KSM94), NU-Q's chief operating officer. "We're bringing programs — journalism and com­munication — that are perhaps only poorly understood in this part of the world, and yet they have the potential to provoke societal change."
IT'S ALL ABOUT THE STUDENTS
NU-Q is a true melting pot.
"I am a Canadian-Pakistani," says Omer Mohammad, who was born in Doha, moved to Toronto in the late '90s and returned to Qatar in 2005. "I've never really lived in Pakistan. It's just that my parents are Pakistani."
Then there's journalism junior Shannon Farhoud, who grew up in Kuwait but holds a Canadian passport. Her father was Syrian, and her mother is Portuguese-Indian. "I'm kind of a huge mix," she says.
Many among NU-Q's international student body were born and raised in Qatar but have roots elsewhere in the Middle East and throughout South Asia.
"NU-Q is an experiment in cross-cultural education," says Hamid Naficy, an Iranian-born cinema and media expert and the Sheikh Hamad Bin Khalifa Al-Thani Professor in Communication at NU-Q. "Most of these students stand astride more than one culture. And even those cultures are not as homogenous as they thought."
In a nation where men outnumber women by a ratio of at least 2-to-1, the NU-Q student population is overwhelm­ingly female, with only 13 male students in the first two classes. Among traditional Arabs, Naficy says, young men can gen­erally go abroad for education, while "girls" — the cultural name for young women in Arab Muslim societies — must stay closer to home.
"Education City offers exposure to the outside world without exposure to the dangers of the outside world," Naficy says. "And while some boys may go into the family business and become highly successful without higher degrees, university education provides the girls with a launching pad for a rise in their social status, career opportunity and even marriageability."
So who comes to NU-Q?
Ethar Hassaan (below), a sophomore communication major who moved to Doha from Egypt four years ago, came to study moviemaking. She wants to return to her homeland to direct indie films.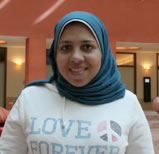 "I want to become a journalist," says sophomore Muneera Al-Buainain. "I want to represent Qatari women in a good way. Because we wear this garb [in her case, a full black abaya — a long, dress-like covering], maybe people think we're ignorant, and that men control us. But that's not true. Most Arab women are educated, and they play a vital role within their societies. I'm going into a career where I can reflect the real image of an Arab woman."
And they're taking revolutionary strides outside the classroom, too. Communication juniors Florent D'Souza and Mohamed Farid were among the founders of the Human Rights Student Organization, created to bring attention to human rights issues in Qatar.
In a nation of 1.6 million, there are only 300,000 Qataris. The rest of the population is made up of ex-pats — doc­tors, lawyers, engineers and oil industry professionals — and migrant workers, who come to Qatar from places such as India, Nepal, Sri Lanka and the Philippines to work in con­struction industries, factories or domestic services.
The HRSO, which started with just a few students in August 2008, sponsors an annual youth conference where university students address issues related to migrant workers, domestic labor, children's rights and women's rights. With help from major corporate sponsors, the conference develops tangible solutions to the issues these groups face.
CHANGING THEIR WORLD
Just 15 years ago in Qatar, government censors sat beside newspaper staffers while they worked, says Richard Roth. The emir, Sheikh Hamad Bin Khalifa Al-Thani, abolished that practice when he came to power in 1995 (by overthrow­ing his father in a bloodless coup), and Qatar's constitution guarantees freedom of the press, but there are questions about just how free it can be.
"The more conservative parts of the society here don't want a lot of the stuff in the paper that you might see in the United States," Roth says. "So the editors end up self-censoring a lot of things."
Jassim Al-Romaihi, a junior communication major and the son of a former Qatar TV exec and newspaper editor, says his country needs a stronger press. "It's not an option of that change being welcomed or not," he says. "It's a need of the country."
The fact that students are on the street, interviewing locals, is a sign of progress. Outside class, several NU-Q students have interned at Doha-based Al Jazeera, and next year the juniors will embark on their journalism residencies, with many headed for Chicago-area opportunities.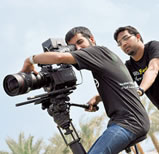 Communication students Omer Mohammad and Florent D'Souza (above) have already started working in Doha's media industry. They run the multimedia and social media efforts for the Doha Debates, a Qatar Foundation–sponsored pro­gram that is televised by the BBC World News.
"It's all application of what we study," says D'Souza, who hopes to find a career in new media communication. "I wouldn't be interested in these topics if it weren't for the spark of classes and these professors who keep triggering that interest."
Other communication students will help create new opportunities in film, a nascent industry in Qatar. Junior Rezwan Al Islam participated in the Doha Tribeca Film Festival Filmmaker Program this summer, and other NU-Q students submitted works to the Al Jazeera International Documentary Film Festival in April.
"We're helping to train people both for citizenship, in terms of understanding media and globalization of culture, but also for the growth and development of media industries," says Mimi White, senior associate dean for the communica­tion program. "I see us as training or educating the generation that will take leadership roles, conceptual roles in these areas."
GOING FORWARD
NU-Q will graduate its first class in spring 2012. And the administration is adamant that a degree earned in Doha will be equivalent to a degree earned in Evanston.
In the near future NU-Q students will have increased opportunities for educational exchanges with the Evanston campus. Sixteen NU-Q students visited the home campus in May, when they sat in on classes, toured Chicago, caught a Cubs game and had some face time with David Schwimmer (C88) at Lookingglass Theatre.
Having overcome the startup challenges, NU-Q faces new questions about how to attract and retain faculty and staff — though many come to Doha specifically for the pro­fessional challenge and several have extended their initial two- or three-year commitments — and how to maintain a sense of stability for students dealing with personnel changes.
These new questions will await a new dean. John Margolis, who joined the Northwestern faculty as an English professor in 1966 and has served the University in a variety of administrative roles, is retiring. His successor will start no later than summer 2011. A search is under way.
A REAL COLLEGE CAMPUS
Flooded with purple-garbed fans, the Qatar Academy gym was rocking to the beat of Arab drums and air horns.
After a pregame pep rally, most of the NU-Q student body and dozens of faculty and staff came to cheer on the Wildcats' women's basketball team in a showdown with Georgetown, NU-Q's biggest rival on and off the court.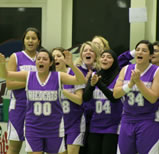 The game headed to overtime. NU-Q had possession trailing by two with 25 seconds to go. The Wildcats came down the floor, but Georgetown's defense smothered NU-Q's leading scorer, Dana Atrach, to seal the victory.
"They won by two, which was heartbreaking, but it was such a great game," says NU-Q coach Emily Wilson. "Our fans rushed us. There was lots of hugging and some tears."
Many at NU-Q say the success of the women's basket­ball team — an overall first-place finish among Education City institutions — boosted school spirit.
"It really felt like we, as NU-Q, established our identity during that game," Atrach, a communication sophomore, told the Daily Northwestern after the Georgetown game.
It's one indication of a growing sense of community. Earlier this year students held a Dance Marathon — though it was three hours, not 30, and included only female students. They created Oh Snap! (the student photography club), launched a yearbook and started the NU-Q Film Society. They also enjoyed Go Wild Week, a celebration of "what it means to be a Wildcat," says Becca Donaldson (C08), a student affairs specialist.
Years from now NU-Q students might remember that spirited showdown with Georgetown as a defining moment in what it means to be a Wildcat in Qatar.
"That just made it feel like a college campus," Donaldson says. "And it is becoming a campus in and of itself. We are helping to found something that, Inshallah [God willing], will go on to be a major influence not only in this country and in this region but also in these students' lives."