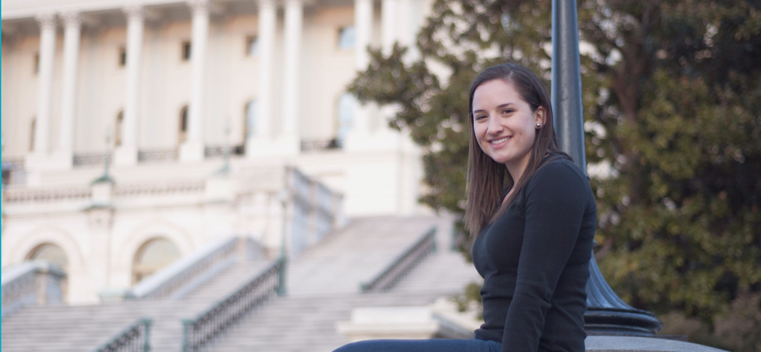 Photo by Emily Chow (J12)
Becca Portman
Story Tools
Share this story
Tell us what you think. E-mail comments or questions to the editors at letters@northwestern.edu.
Ever wonder about those strange designations we use throughout Northwestern to identify alumni of the various schools of the University? See the complete list.
Hometown: Chevy Chase, Md.
Major: Social policy
Big picture: Working closely with Northwestern's Center for Civic Engagement, Becca Portman set NU Votes into motion. The organization facilitates new voter registration on campus. The initiative was picked up at seven other universities and evolved into UVote, which registered more than 5,000 students across the country in the fall and earned praise from U.S. Rep. Jan Schakowsky on the floor of Congress last October. Beyond NU Votes, Portman was a four-year student coordinator with the Northwestern University Public Interest Program, an organizer for the Living Wage Campaign and a community consultant for CampusCATALYST, which provides pro bono consulting service to Evanston- and Chicago-area community organizations. Now Portman, who graduated in December, is a research associate with the Advisory Board Co., a health care and higher education consulting firm in Washington, D.C. She hopes to earn a law degree and a master's in public health. 
Why Northwestern: "I chose Northwestern because of its social policy program. The School of Education and Social Policy teaches you about making change in politics and government in a pragmatic and people-oriented way. My overall Northwestern career bolstered my passion for policy and showed me different ways of achieving change.
"The Living Wage Campaign, CampusCATALYST and my other activities taught me things that a textbook can't convey. Implementing real programs on campus and in the community helped me understand how ideas and theories from the classroom fit into a real-world context, even down to the importance of details like scheduling, finding contacts or looking professional."
On NU Votes: "I take issue when I hear that our generation is apathetic about voting. People our age do care, but there are systemic problems that get in the way. The voter registration system as it exists right now is pretty archaic. Most states rely on paper forms that you have to mail with stamps and envelopes. … These are things college students don't think about. NU Votes jumps those hurdles; we provide the paperwork and help students submit the forms. That's why I wanted to work on this. It seemed like an opportunity to make change and leave a meaningful legacy. From their very first day on campus, Northwestern students get the idea that citizenship and voting are not just important but a central part of being a college student."
On finding her passion for service: "I would like to help create a health care system that works for all people regardless of how much money you have. Working with the Living Wage Campaign really grounded me and helped direct my motivation and passion, particularly on the issue of economic inequality. I formed deep relationships with people who had experienced poverty, worked hard to make a minimum wage and were affected by complicated health policies. I want to work on health care because it combines innovation with a human rights issue that is central to the American ideal."