In this issue
Reader Feedback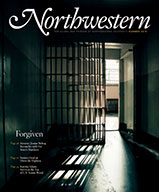 Rarely have I been as engaged or moved by a Northwestern magazine story as I was in reading "Forgiven" [summer 2015], a profile on Northwestern alumna and Cook County public defender Jeanne Bishop. Thank you for bringing this compelling story of faith and forgiveness to light. Jeanne Bishop inspires me with the way she treats her clients — even the toughest, grittiest ones — with respect and compassion, recognizing that no one is beyond redemption. But, of course, the fact that she was able to do the same with her sister's killer — to reach out to him, forgive him and form a relationship with him — demonstrates the greatest act of courage and obedience to Christ, truly faith put into action.
My hat goes off to Jeanne Bishop and to writer Barbara Mahany, who told the story so well. Thank you also, Northwestern, for bringing us a story of how our professional and spiritual lives can intersect and make a difference in a difficult world.
Esther Chapman '90
Sacramento, Calif.
Read more letters from our readers.
Class Note of the Day
Zachary Cuca '00 of Athens, Greece, is a diplomat at the U.S. Embassy, working as the assistant for special projects and cost containment. He arrived in Athens in May 2014 and started his position last September. Cuca is also conducting a long-term study of the Eurozone and Greek financial crisis. His wife, Alexi, is on active duty at the embassy as the U.S. Naval attaché. They will remain in Greece until 2017.