In this issue
Announcements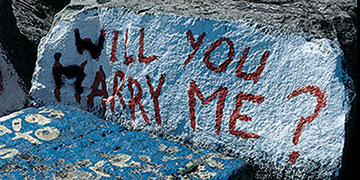 Did your partner pop the question on campus? Did he propose in grand fashion in the Shakespeare Garden? Did she profess her love in fresh paint on the rocks — or at the Rock? If you got engaged at Northwestern — or are planning to propose — we want to hear your story. Tell us all about it — and send us a photo — to letters@northwestern.edu.
Did you get a new gig? Tie the knot? Travel the world? Change zip codes? Tell us all about it. Send us a Class Note.
Join the Conversation
Tweets by @Northwesternmag
Reader Feedback
Mr. Anderson (Mailbox, winter 2015) rails against gay people as "notoriously promiscuous" and characterizes society's increasing tolerance of gay people and decreasing tolerance of homophobia as "calling good evil and evil good." He then laments that Northwestern has let "sin" distort its mission of imparting "wisdom" to students which, he assures us, comes only from the Bible.
As an example of anti-gay bigotry, this letter is almost a parody. But it obviously is meant to be taken seriously. Can there be any doubt whether a letter expressing, with similar virulence, anti-black and anti-Semitic attitudes would be printed?
Now, I assume you don't print every letter you get. The editors of Northwestern apparently selected this letter for publication for a reason. I'd like to know what it is — and I hope I'm not the only one.
Michael H. Morris '70
Los Altos Hills, Calif.
Read more letters from our readers.
Class Note of the Day
Rebecca "Becky" Brown '00 of Washington, D.C., an attorney with the U.S Department of Homeland Security since 2003, advises DHS investigations special agents on their criminal investigations and policy matters. In the fall she became the department's acting principal director for law enforcement policy. In her free time, Brown has been working on food-related projects for her cooking blog, "My Utensil Crock." Her blog led to her teaching a series of cooking classes designed for the practical professional.