In this issue
Reader Feedback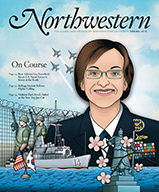 When I first looked at the recent spring 2015 issue and its cover, I was really puzzled. Why would someone of such stature — U.S. Navy Rear Adm. Lisa Franchetti — be pictured in this way? Are you trying for it to look like something from Saturday Night Live, or like a cartoon or comic book cover? It's not a very flattering caricature at that, and I doubt very much that she would have been pleased! In fact, I was not amused — but rather appalled. For a university as much admired for its institutional and intellectual integrity as Northwestern to print such a thing is pure travesty! I believe an apology is called for, both to her and to the rest of us.
Thankfully the accompanying article ["U.S. Navy–ROK Star," spring 2015] was informative and well done.
Patricia McFerren Davis '63
Rockford, Ill.

Read more letters from readers.
Class Note of the Day
Dale Taylor '67, '68 MS of Chicago, president and CEO of AbelsonTaylor, the world's largest independent medical advertising agency, and his wife, artist Angela Lustig, are supporting The Last Supper: 600 Plates Illustrating Final Meals of U.S. Death Row Inmates, an exhibit at Northwestern's Mary and Leigh Block Museum of Art. The exhibit, which runs through Aug. 9, features inmates' final meal requests painted on kiln-fired ceramic plates by artist Julie Green. In 1981 Taylor established AbelsonTaylor, growing the company from a three-person enterprise into an award-winning agency employing about 400 people. AbelsonTaylor, which specializes in campaigns for pharmaceutical and medical device companies, has won nearly 300 awards, including the honor for most creative agency at Med Ad News' Manny Awards 11 out of the last 16 years.