In this issue
Announcements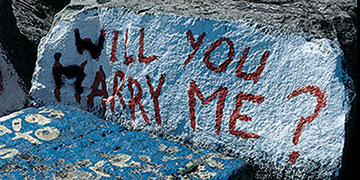 Did your partner pop the question on campus? Did he propose in grand fashion in the Shakespeare Garden? Did she profess her love in fresh paint on the rocks — or at the Rock? If you got engaged at Northwestern — or are planning to propose — we want to hear your story. Tell us all about it — and send us a photo — to letters@northwestern.edu.
Did you get a new gig? Tie the knot? Travel the world? Change zip codes? Tell us all about it. Send us a Class Note.
Join the Conversation
Tweets by @Northwesternmag
Reader Feedback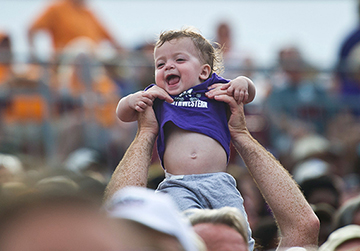 In reading the spring 2016 Northwestern magazine, I enjoyed the recap of the Outback Bowl in Tampa ["Football in Paradise," page 13, Sports, Campus Life]. It gave me great joy to see the photograph of the young fan — and because she is my daughter Marni, I wanted to share her Northwestern lineage.
Marni (and her twin sister, Eliana) were 13 months old at the Outback Bowl. They were enjoying their second Northwestern football game. The girls were at the game with my wife, Beth, and me, as well as proud Northwestern grandpa, David Zarefsky '68, '69 MA/MS, '74 PhD.
Not at the Outback Bowl, but watching on TV, were uncle Marc Zarefsky '07, aunt Emily Zbesko Zarefsky '11 MS, great uncle Ralph Zarefsky '71, great aunt Alice Young Lachin '65, and cousin Linda Lachin Saltzman '91.
Daniel Young '99
Miami
Read more letters from our readers.
Class Note of the Day
Henry Schueftan '55 of Evanston celebrated his 101st birthday in November. To commemorate his first century, he wrote Stories of Three Unique Years: World War II U.S. Army Memories of a 100-Year-Old Veteran (CreateSpace, 2015). Born in Berlin, Schueftan immigrated to the United States in 1937. He served as a U.S. Army interpreter during World War II and once gave a sermon on Passover at Roonstrasse Synagogue in Cologne, Germany, which had been destroyed during Kristallnacht and was later rebuilt. In 2005 Schueftan returned to the synagogue, where Pope Benedict XVI condemned anti-Semitism during a visit to Germany.