In All Fairness
Harvey Grossman (L73) is a champion of popular and unpopular causes for the American Civil Liberties Union.

---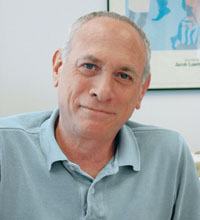 photo by Tanya Havell, ACLU of Illinois
He has handled hundreds of cases, but, like a true defender of equality, Harvey Grossman (L73) chooses no favorites. As legal director of the Illinois division of the American Civil Liberties Union, he considers each case a precious test of democracy.

"You don't necessarily do well, but you do try to do good," he says of his post. "This job has limited monetary compensation but unlimited psychic salary."

Since becoming legal director in August 1980, Grossman has taken several cases to the U.S. Supreme Court. During his first year at the ACLU he convinced a federal court to appoint a physician to oversee health care quality in Illinois prisons. That year he also took legal action that forced Cairo, Ill., to change its city charter, leading to the election of blacks on the city council for the first time in 100 years.

Now Grossman is part of a national ACLU task force that is investigating the cases of Arab Americans who have been questioned since the Sept. 11 attacks. His role has resurrected memories of the Gulf War, a time when he handled similar cases of racial profiling of Arab Americans. "These are the times when civil liberties lawyers need to be particularly diligent in reviewing the conduct of government," Grossman says.

Grossman was first drawn to public interest law as a student during the Vietnam War. After graduating from the University of Missouri, he headed for Northwestern's School of Law, enticed by its Bluhm Legal Clinic. There, Grossman got some real-life experience with a suit involving two African American boys beaten by police officers. "The case had a big impact on me," he says. "It showed me the power of law in reforming abuses in law enforcement."

Thomas Geraghty (L69), director of the legal clinic and associate dean of clinical education, was another major influence from his law school days. Following in his role model's footsteps, Grossman decided to center his career on helping those most in need of assistance.

Geraghty reciprocates his former student's admiration, "He is, without doubt, one of the hardest-working and most dedicated public interest lawyers I know," Geraghty says. "He's also a persuasive advocate and a deep thinker."

Before joining the ACLU and moving to Chicago, Grossman served as a legal services attorney in downstate East St. Louis, Ill., for seven years. In Chicago he met his wife, Nancy Isaac, who works for a not-for-profit organization that runs community residences for formerly homeless people in the city.

Remaining enthusiastic about upholding civil liberties has not always been easy — especially with some widely reviled clients. Grossman didn't enjoy having the National Socialist White People's Party or the Ku Klux Klan as clients, yet he won both cases involving those groups.

"We always have confidence that we're pursuing a principled end," he says. "You can't back off from unpopular or distasteful cases."

When he's not defending cases, Grossman can often be found coaching his young son's soccer team or cooking at home. He also gives lectures around the world.

From his travels Grossman has concluded — despite the skepticism his line of work requires — that the United States has one of the best legal systems in the entire world.

"While we can and should do more to protect the liberties and rights of individuals," he says, "our nation is, in large measure, a fairly sophisticated and really wonderful experiment in freedom and democracy."
— Jennifer Su (J03)