Two Worlds, Una Familia
Marie Arana (WCAS71) wrote a memoir about her Peruvian American family that has received critical acclaim.

---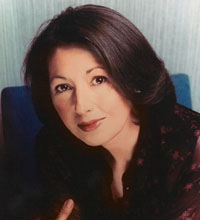 An ancestor's name uncovered. A link to her family's buried past.

Images lead to memories, memories lead to stories, and nearly four years later, these revelations led to Marie Arana's first published book — a memoir that placed the respected book critic and literary editor in the shoes of an author.

Arana (WCAS71), editor of the Washington Post's Book World, the weekly literary supplement, acknowledges she made a "huge leap" when she began the actual process of writing a book.

Her memoir, American Chica: Two Worlds, One Childhood (Dial Press, 2001), which was a finalist for a National Book Award last year, is about growing up as the daughter of a North American mother and Peruvian father.

It was during a media fellowship at Stanford University in 1997 that the memories of her childhood were reignited. In the Stanford library she happened upon the name of an ancestor, Julio Cesar Arana — an infamous Peruvian rubber baron who, in the early 1900s, created a hell on earth for thousands of virtually enslaved rain-forest Indians toiling on 25 million acres of land in the Amazon region.

Arana could not stop the flood of memories and images elicited by her ancestor's name. "It was the most hallucinatory recollection of images," she says.
"I decided I really needed to go back [to Peru]."

As dreadful and upsetting as the discovery of Julio Cesar Arana's history was, the contemporary Arana decided to devote most of her book to a more directly personal issue: her bicultural inheritance from her mother and father. "A South American man, a North American woman — hoping against hope, throwing a frail span over the divide, trying to bolt beams into sand," Arana wrote. "There is a fundamental rift between North and South America, a flaw so deep it is tectonic."

It was precisely this rift that compelled Arana to bury the remnants of her Latina self when she moved to New Jersey with her family at age 10. At Northwestern Arana kept herself busy as a member of Delta Gamma sorority, captain of the pom pom squad and homecoming queen. Under the guidance of Slavic studies professor Irwin Weil, she developed a fascination for Russian literature and culture that took her to St. Petersburg for a junior year abroad.

Arana moved in 1979 to New York City to go into book publishing. Eventually she was offered a position as deputy book editor at the Post while commuting between New York, where she worked for publisher Simon & Schuster, and Washington, D.C. She went full time with the paper in 1992.

Arana has served on the board of directors of the National Association of Hispanic Journalists and the National Book Critics Circle. "Working with other Hispanic journalists to improve coverage of Hispanic issues has been a very important goal for me," she says. "And working with other book critics to keep the culture of reading alive has been rewarding as well."

Now that she has contributed her own work to this "culture," Arana is pleased at the critics' overwhelmingly positive responses to her memoir and has begun work on her next project — a novel set in Peru.

Fiction or nonfiction, Arana's writing carries the reality of love's struggles.
"The important message is the theme of people loving one another across great divides," she says. "That's really the payoff."
— Negar Tekeei (J03)