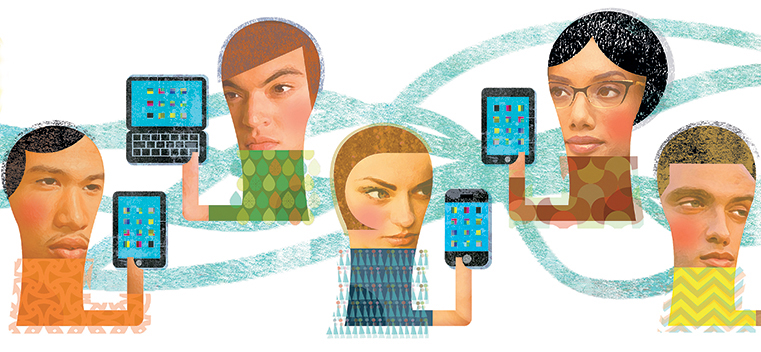 Illustration by Gordon Studer
Match Point
Story Tools
Share this story
Robbie Levin (J12) is an associate editor at Yahoo! Sports' ThePostGame and lives in Los Angeles. He is a former Northwestern magazine intern.
Tell us what you think. E-mail comments or questions to the editors at letters@northwestern.edu.
Ever wonder about those strange designations we use throughout Northwestern to identify alumni of the various schools of the University? See the complete list.
Find Us on Social Media
Alumni and students have gone digital in their search for relationships — short term, long term and love at first byte.
Kelsey Betzelberger was searching for Chewbacca, scanning Intelligentsia Coffee & Tea in Chicago's Wrigleyville neighborhood for a man with lots of hair. She was meeting a guy with whom she had connected on the online dating site OkCupid. Her date had told her he looked like the furry Star Wars character, and so she had her eyes peeled for hair — lots and lots of hair.
Betzelberger, still in girdle, high heels and fake eyelashes from an opera audition earlier that morning, spotted a man who fit the bill. She got excited and smiled.
It wasn't her date.
She looked around the room again and spotted a man with even more hair. This time it was the right guy.
From the moment Betzelberger hugged Chewbacca, whose given name is Hassan Ali, she knew he was different.
"It wasn't a creepy hug," Betzelberger (BSM10, GBSM12), now an opera singer in Chicago, recalls. "It wasn't one of those hugs where the guy grabs your lower back and pulls himself into you. And his hand is a little too low and he breathes into your face. It wasn't like that. It was like, 'I am a normal person.' "
Betzelberger and Ali hit it off immediately, and the date went so well that they decided to go for a walk after coffee. They sat down at a park bench and shared some homemade bread Betzelberger had baked. They bumped into a friend of Ali's who would later say that they looked so comfortable together that it seemed like they had been dating for six months or a year.
Eight hours after they met at Intelligentsia, Ali walked Betzelberger back to her train.
"Let me tell you," Betzelberger says, "that's a long time to stay in audition clothes."
Betzelberger, a recent graduate of Northwestern's voice program (see "Now We're Cooking," Senior Watch, summer 2010), is just one of thousands of Wildcats looking online for Chewbacca or that special someone. In Evanston and beyond, online dating has revolutionized relationships, in some cases making the quest for courtship as simple as the swipe of a screen.

It's been nearly two decades since Gary Kremen bought the domain name Match.com and declared that his new online dating website would "bring more love to this planet than anything since Jesus Christ."
Looking back on that bold proclamation, Kremen (McC85) admits that maybe he shouldn't have used a religious figure in his prediction. But it's hard to argue with Kremen's underlying prophecy (see "The First Online Matchmaker"). Today online dating is a multibillion-dollar industry. One in 10 Americans visits an online dating site at least once a month, and of couples married over the last four years, roughly one in six met through an online dating service.
Sites like Match.com have experienced extraordinary growth in a short period of time. Jim Safka (KSM94) spent three years as CEO of Match.com in the mid-2000s and increased the number of paid members by 30 percent (see "The Married Matchmaker," summer 2007).
One factor behind the boom has been the decreasing stigma associated with online dating. In the early days people would cast bewildered looks at Kremen after he told them about his site. 
"Are you out of your mind?" friends would ask Kremen. "People can see what I'm looking for? That's the craziest idea. You mean I could go tell people I want to go find a date? That makes me seem desperate."
That wariness has softened considerably. In a prominent 2012 report co-authored by Northwestern psychology professor Eli Finkel (WCAS97), the researchers mention how drastically attitudes toward online dating have changed, thanks in part to pop culture milestones like the 1998 movie You've Got Mail, in which Meg Ryan's and Tom Hanks' characters fall for each other after engaging in virtual flirtation. Further softening the stigma was Dr. Phil McGraw, the popular television host and relationship expert who was hired by Safka to collaborate with Match.com. For many online dating skeptics, McGraw's endorsement of the burgeoning trend was extremely comforting. 
In their study, Finkel and his collaborators noted that between 2007 and 2009, more new romantic relationships began online than by any means other than meeting through friends.
"It's become increasingly normal for people to meet a partner through an online dating site," Finkel says. "And most adults know people who have met their significant other via online dating. There's less and less excuse for not dating online."

 There are few more fertile dating grounds than college campuses. They are full of young, single and like-minded students who are looking for relationships.
And while Northwestern is no exception, it's no secret that many students and alumni find Northwestern's dating scene lackluster.
For some it's the fragmentation of campus, whether through undergraduate schools or student groups, that can be limiting. Others point to the size of the enrollment as a significant hurdle.
"Northwestern's not a huge school," says Damona Hoffman (C00). "It felt to me like a pretty small community. It wasn't always the most comfortable place to date when you knew that if things didn't work out down the road, you were still going to see somebody walking to class or at a friend's party."
And even though members of fraternities and sororities are active in online dating, the stigma remains that outside the Greek scene there is the geek scene.
"It's a school full of nerds," says Laken Howard, a junior from Rockton, Ill., studying journalism, "so it's hard to really have a normal dating life unless you're in a sorority."
Frustrated with the dating scene — or lack thereof — by the end of her freshman year, Howard signed up for several online dating services and chronicled her foray into online dating on a personal blog and then for the Daily Northwestern in her "Digital Get Down" column.
Howard estimates that she went on dozens of dates last year. One first date, which included dinner at Tapas Barcelona and a walk along the lake, resulted in a relationship. She started dating the guy for a few weeks, but then he cut her off, deleting her from his friends on Facebook and blocking her on Twitter.
"I think it was just because he didn't want to be in a relationship," Howard says, "he wasn't ready to be with someone, which is stupid because why do you have a dating profile if you don't want to date people?"
While Howard's triumphs and travails may sound familiar for older users of online dating services, Howard and other students say the larger, more established dating websites haven't become nearly as popular among undergrads as they are outside of Northwestern.
The virtual dating service that has made perhaps the most headway on campus is Tinder, a smartphone app popular among college-aged men and women that allows users to rate others with a simple swipe. If you like the person in the photo on your phone, you swipe to the right. If not, swipe to the left. The app matches people who have approved of each other, and the users take it from there (see "There's an App for That").
The addictive nature of the app — you can spend hours upon hours swiping potential matches — makes it more of a time waster than anything else, say students who use it.
"It's supposed to be a dating app, but most of the people I know who have Tinder don't actually meet people," says Alyssa Villacres, a junior from Hilliard, Ohio, who has occasionally used the app. "They just have random chats with people, and then that's it."

Online dating has become more mainstream, but that hasn't made it any easier. In fact, with a bevy of sites and an increasing number of potential matches, it can be quite overwhelming for newcomers.
That's where Damona Hoffman comes in.
Ten years ago Hoffman was working as a casting director in Los Angeles when she met her future husband, Seth, through a dating website. Upon hearing Hoffman's success story, friends and family members began coming to her for advice. She quickly realized that her day job, counseling actors on how to stand out and present themselves properly for an audition, wasn't all that different from using online dating services. 
Two years ago Hoffman quit her job as a vice president of development at the SyFy channel to become a full-time dating strategist who specializes in online dating. Now she does workshops with Match.com, writes a column for JDate, a leading Jewish online dating community, and published her first book, Spin Your Web: How to Brand Yourself for Successful Online Dating (Waterfront Digital Press), last February.
Hoffman offers a plethora of services through her website, DearMrsD.com, including phone counseling, profile polishes and mock dates. With dating, and especially online dating, Hoffman says it's important to maintain an open-minded approach.
"Most people, if they are unsuccessful in love, they've been practicing the same approach for however long they've been dating," Hoffman says. "Ten, 20, 30 years, and if those habits aren't working, why would you continue to do them? But people think with love, it's just going to magically happen. And for some people it does. But I find that people get better results if they put the right kind of focus into it."
Navigating online dating websites can be tricky, to say the least. Some people take the search process upon themselves while others rely on the matching algorithms created by the sites. These algorithms are formulas, oftentimes secret, which provide people with lists of prospective matches.
After the sometimes arduous, sometimes nerve-wracking and frequently entertaining process of matching and vetting is completed, most couples arrange for an in-person meet up. And then the fun begins.

Many online dating experts, Hoffman included, suggest proceeding from online communication to an in-person meetup as quickly as possible. The longer a couple communicates electronically, the more time there is for each person to glamorize the other.
This is a hazard Howard has encountered on multiple occasions. "I'll talk to a guy a lot and already have this idea built up in my head," says Howard. "It's a preconceived notion that, 'Oh, OK I like this person.' So when I meet him, it's not a clean slate. I already have an impression of him, and it impairs my judgment of whether or not he's really a good match for me."
In rare cases, like Betzelberger's, it only takes one meeting to find a match. Betzelberger and Ali started dating immediately after their first date and now live together in Chicago. On the other end of the spectrum, Howard went on upward of 30 first dates last year.
Hoffman's timeline for her clients is three to six months before they tend to find someone that they'd like to start dating seriously. According to Hoffman, simply signing up for a site's free trial, or even staying active on a site for as long as one month, isn't enough.
"You're just treading water at that point," Hoffman says. "You're not swimming."
Even though we'd like to think we know what we're looking for in love, and as much as we'd like to trust a site's matching algorithm, perhaps Kremen put it best when he said, "You've got to kiss frogs to find the prince or princess."
Ultimately, says Finkel, the most successful vetting method isn't an algorithm or an internal analysis of a profile. Rather, it's our own intuition.
"The best approach is to capitalize on the 'human algorithm' — the one located between your ears," Finkel says. "That algorithm has been shaped by millennia of evolution, and it's quite effective at determining whether you're attracted to somebody. If you are, then go on a second date."