The First Mad Man
Story Tools
Share this story
Tell us what you think. E-mail comments or questions to the editors at letters@northwestern.edu.
Ever wonder about those strange designations we use throughout Northwestern to identify alumni of the various schools of the University? See the complete list.
Find Us on Social Media
In 2009 former Medill School of Journalism, Media, Integrated Marketing Communications professor Dick Christian suggested to associate dean and IMC department chair Tom Collinger that he get in touch with a person who was interested in donating a collection of Albert Lasker's papers to Northwestern. Known as "the father of modern advertising," Lasker (in photo above) had been a prominent businessman and Chicago civic figure in the first half of the 20th century.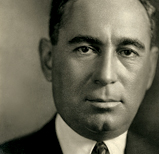 Born in Germany in 1880, Lasker spent his early years in Galveston, Texas. Lasker's father knew Daniel Lord, a business acquaintance who ran the Chicago advertising agency Lord & Thomas. When Lasker turned 18, his father sent him to work for Lord. At that time ad agencies primarily brokered space in newspapers and magazines and did little or no creative work. But that was about to change.
Manufacturing was poised to grow in the new century. Transportation systems for rail and sea were being developed. Montgomery Ward & Co. and Sears, Roebuck & Co. sold products across the country through their catalogs, and national magazines and newspapers were looking for advertisers. Creative, hard-working and engaging, Lasker was ready to take advantage of the new possibilities.
While still in his 20s Lasker was running the agency. He developed a campaign for Lucky Strike cigarettes aimed at women and promoting the product as a diet aid — "Reach for a Lucky instead of a sweet." To increase sales for the California Fruit Growers Exchange, he created the market for orange juice with his "Drink an orange" ads. The agency promoted the idea of having Kotex wrapped in plain paper and available at the cashier's counter to spare women customers the embarrassment of carrying it from the shelf.
It's been said that Lasker made more money in advertising than anyone before or after him. He built a 50-room mansion in Lake Forest, Ill., that had 26 outbuildings. When area golf clubs rejected him for membership because he was Jewish, he had one of the country's premier golf course designers build an 18-hole course on his property. He played with friends and some of the most notable golfers of the era.
A confidant of Warren Harding, Lasker introduced "modern advertising" into Harding's 1920 presidential campaign by using billboards, newspaper and magazine advertisements and motion pictures. Harding rewarded him with an appointment as chair of the Shipping Board, with the task of developing a national maritime policy.
For many years Lasker owned a large share of the Chicago Cubs until he sold his stake to William Wrigley Jr., the chewing-gum magnate, in 1925. He talked Wrigley into changing the name Cubs Park to Wrigley Field as a way to promote the gum.
A noted philanthropist, Lasker established the Albert and Mary Lasker Foundation, which provides prominent awards for medical research that often presage recognition by the Nobel Prize committee and have become known as "America's Nobels." Thomas E. Starzl (FSM50, 52, GFSM52, H82), a pioneering liver transplant surgeon at the University of Pittsburgh, shared this year's $250,000 award.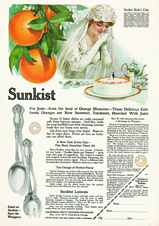 The Lasker Collection, housed at Northwestern's Charles Deering McCormick Library of Special Collections, is a fascinating look back at a golden era of advertising. There are copies of old advertisements for Sunkist, Van Camp's, the California Walnut Growers Association and Lucky Strike; copies of articles Lasker wrote; and speeches he delivered. Some of the original letters between Lasker and his clients have been preserved. There are folders on product and market research. There are two pages of "Definitions of Advertising," with 24 quotes, some attributed, some not, including "Advertising in its essence is simply telling a great many people about something in the quickest possible time at the lowest possible cost," and "Advertising is the art of creating a new want." Collinger says the collection is "potentially among the most valuable resources for contemporary advertising and marketing communications in America."
A new acquisition, the Lasker collection is still being processed and not fully accessible to the public. — T.S.