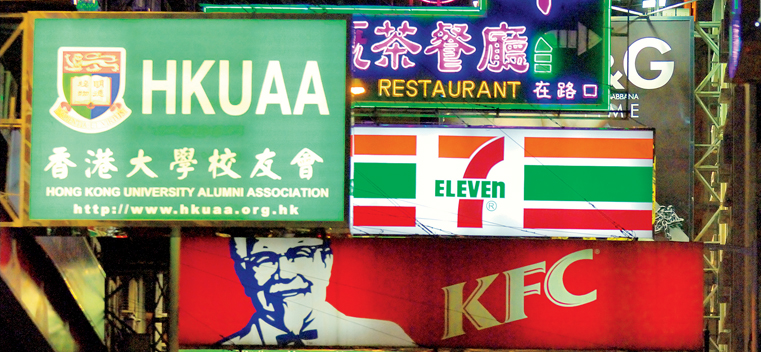 © TIPS IMAGES/SUPERSTOCK
Good Ideas — with a Cultural Twist
Story Tools
Share this story
Tell us what you think. E-mail comments or questions to the editors at letters@northwestern.edu.
Ever wonder about those strange designations we use throughout Northwestern to identify alumni of the various schools of the University? See the complete list.
Find Us on Social Media
In advertising, it is said, everything starts with the power of a good idea. But advertisers and marketers working overseas must also take culture into account.
"The role of advertising is to inform correctly and in an interesting manner," says Shekar Swamy (GJ80). "That does not change from country to country. Only when we move away from fundamental human insights to ideas or practices based on local cultural nuances does the advertising become different."
Swamy is group CEO for R K Swamy BBDO, an agency comprised of several marketing communications and services firms based in Mumbai, India. After five years with J. Walter Thompson in Chicago in the early 1980s, he returned to Mumbai to join the company. His client list includes Mercedes Benz, Life Insurance Corporation of India, Mars and State Bank of India.
"In the United States, for example, direct comparisons with competitors — often negative — are taken for granted. Asians would regard this as rude and offensive, and the brand that does this would be considered brash and may be disliked," he says.
"In certain industries like information technology, where the product or service is the same globally, the campaigns can be very similar," says Swamy. "Likewise for luxury goods. As a general rule, one can say that advertising trends tend to be similar where the audience is pretty homogenous."
In India, as in most countries, clients are anxious to get their messages before a younger audience. In terms of demographics, most of Asia is younger than the West. "In India, for example, 65 percent of the population is under 35," Swamy adds. "The younger group is the focus everywhere."
Rafael Martínez Gallardo (GJ07) finds some differences in how cultural issues are addressed in Mexico, where he serves as managing director of OgilvyRED Consulting Services. Based in Mexico City, he oversees all of the communications strategies for companies' communications with consumers on digital platforms. His clients include Coke; Nestlé; Bimbo, the world's largest bread maker; IBM; and American Express.
Martínez says the one big difference between the United States and Mexico "is the idiosyncratic way of doing business in this country. There is a core difference in how we communicate with clients because of our cultural heritage.
"Socially, Mexico is a very polarized country. There is a small but powerful group that is affluent and generally in leadership roles in large corporations. On the other hand, there are a vast number of Mexicans living below the poverty line. The middle class is a small but, fortunately, growing segment of the population."
Martínez says that these demographics have implications in how you market and how you understand different audiences. "While in a more developed country you would focus more on psychographic characteristics and digital communications, in Mexico socioeconomic segmentations are still the norm, and TV is still the go-to media outlet for advertising."
P. Thomas Chen (GJ96) is the managing director of the Shanghai office of Interbrand, the world's largest brand consulting firm. "Basically brand consulting is a practice that helps our clients translate their business strategy into brand strategy," he says. "It is a practice between management consulting and marketing agencies, such as public relations or ad agencies." His clients are a mix of multinational corporations, such as PepsiCo, Wrigley and Mars, and established local brands, including Huawei, a telecom equipment provider; Bank of China; and Vanke, the world's largest residential developer.
"I would say multinational brands must be politically smart and not fool around with Chinese self-perception and patriotism," Chen says. "Sex appeal is not an option either in Asia. Also, multinational brands must be careful not to cause any unwanted political association." As an example he cites a Toyota ad from several years ago that used an image that unintentionally stirred up negative recollections from World War II. "It caused a major backfire from the market," Chen says. "As a result, the ad agency was fired, and Toyota China apologized officially." — T.S.