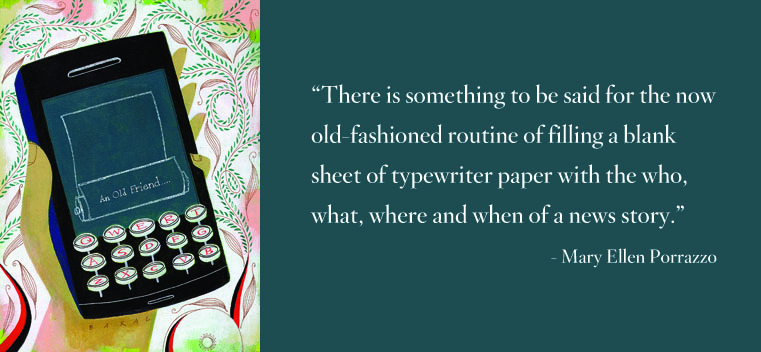 Illustration by Scott Bakal
Dream Machine
Story Tools
Share this story
Mary Ellen Porrazzo (GJ75) is a journalist, writer and adjunct assistant professor of journalism at Hofstra University. She lives in Hicksville, N.Y.
Tell us what you think. E-mail comments or questions to the editors at letters@northwestern.edu.
We're always on the lookout for fresh alumni insights. If you'd like to submit a Purple Prose essay, read our guidelines.
Find Us on Social Media
Proud, sturdy, shiny, painted black, my father's typewriter stares at me from its perch on the table where I write. His Remington Noiseless, Model Seven — labeled in graceful gold on a solid frame — labored in the days of Wite-Out and erasable paper in only one typewriter font, not the Arial I prefer or any of the other fancy fonts on my Dell desktop. Its red and black ribbon is aged and dry, yet I can still picture my father pecking away, lost in words and in thoughts.
His writing machine produced a legacy of cookbooks that are now between bookends on my kitchen table. His work was personal. He wrote to relax, not to publish. He'd create recipes, type them up, stack them up — say, ones for entrées or sauces or desserts or soups — and then place them in small blue canvas loose-leaf notebooks. I can still remember my father's apple brown betty, Indian pudding and Italian stuffed chicken. He loved things culinary, and his Remington Noiseless let him live his dream.
My career as a broadcast journalist began at a typewriter in the days before the Internet, cable news and cellphones, when newswire machines spewed their paper on the floor and bells rang for news bulletins. Back then reporters and news writers typed stories and newsrooms hummed while journalists did their work. What a wonderfully noisy place to be.
Then computers ushered in the era of quiet. For this chapter in the history of journalism I had a front-row seat at WCBS Newsradio 880, the gem of an all-news radio station in Manhattan where I worked for nearly 25 years. I watched computers come and typewriters go, and there was no denying the advantage of block, delete and insert. But there is also something to be said for the now old-fashioned routine of filling a blank sheet of typewriter paper with the who, what, where and when of a news story taken from copy freshly ripped from the wire machine.
This past spring I had occasion to return to my Medill notes and truly smiled when I found professor Richard Hainey's "Do's and Don'ts of Beat Reporting," a handout he provided to our graduate class. Yes, its pages are yellow with age. But its content is as timely as ever. It is also is written with the signature of an era — the typewriter. Imagine. How special.
Reverence for the typewriter isn't the sole province of journalists. Or even writers. Here's proof in a story I wrote last year for a Hicksville, N.Y., newspaper about a landmark store closing. Family-owned Goldman Bros., in Hicksville, once did a bustling business in sporting goods. But in the '70s and '80s its solid customer base eroded as people gravitated away from mom-and-pop stores and flocked to malls and chain stores that were sprouting up seemingly everywhere. Retail history was in the making, and small stores were going the way of the typewriter.
After I interviewed owner Win Goldman, he invited me into his storage room, saying he had something "I think you'd like to see." Amid the items carefully stashed away was a typewriter desk. A neat piece of furniture, it featured a Smith Corona fastened to the desktop that could be lowered and hidden at a moment's notice. One minute — a typewriter in plain view. The next minute — gone! The desktop was clear so you could write or pay bills or do any office work of the pen and paper variety. "This is what we used when we began," Goldman told me. That was more than 70 years ago.
Today there seems to be a typewriter renaissance of sorts. People are buying and collecting Remingtons and other typewriters and are finding new joy in the writing machines. People marvel at their elegance. Could it be that everything old is new again?
So, cheers to the ingenuity of the soldiers of the digital revolution for giving us iPhones, smartphones, BlackBerries, laptops, tablets and you-name-it, not to mention what's coming around the bend. At the very same time, a hearty toast to the writing machine that preceded everything electronic. The typewriter defined a generation. It's also here to stay.