Jim Phillips jokes with the women's soccer team after practice. Photo by Steve Kagan.
Team Player
Story Tools
Share this story
Marc Zarefsky (J07) is a Web content producer at the Medill School of Journalism, Media, Integrated Marketing Communications. He is a former newspaper sports reporter and editor.
Tell us what you think. E-mail comments or questions to the editors at letters@northwestern.edu.
Find Us on Social Media
Athletic director Jim Phillips provides unwavering support — and sometimes even a home-cooked meal — to Northwestern's student-athletes.
The pace is patient yet purposeful. Jim Phillips carefully navigates his way deep inside the Northwestern locker room, through the sea of purple that is the Wildcats football team. His footsteps appear in slow motion compared with the almost frenetic pace with which he had moved around Ryan Field just hours earlier as he walked among tailgaters, spoke with donors and the media in the stadium's skyboxes and made presentations on the field during the team's home-opening win over Eastern Illinois.
Two behemoth linemen, still in uniform, get caught behind Phillips as he makes his way around the exterior of the crowded room. They look over his head to see if there is room to pass but find none. And so they wait.
Phillips diligently shakes the hand of every uniformed player. No cameras capture the exchanges. But he's fine with that. It is not a publicity stunt. It is genuine.
And it is typical Jim Phillips.
"He's real. What you see is what you get," says Northwestern football coach Pat Fitzgerald (SESP97). "He's got no hidden agenda, he's got no ego. He's just trying to make the student-athletes' experience great and let them know how much he appreciates them."
Phillips wears a lot of hats — Northwestern's No. 1 fan among them — in his role as the University's 21st director of athletics and recreation. He's a marketer who helped introduce the program's wide-ranging marketing campaign, with the "Chicago's Big Ten Team" tagline. He's an innovator who helped bring college football back to Wrigley Field for the first time since 1938 with the 2010 Wrigley Allstate Classic between Northwestern and Illinois. He is a forward thinker who launched a master plan study of the University's athletics and recreation facilities in November 2010, with the aim of developing a comprehensive plan for the renovation of existing buildings and development of new facilities. He's a chief financial officer. And he's also a manager and a motivator.
But it is moments like his walk through the locker room that showcase arguably his favorite part of the job: being a mentor and father figure to the athletic department's 486 varsity student-athletes.
"Our responsibility is to care for these young people at a critical stage in their lives," Phillips says, "to lend a helping hand when they may need one, or try and lift up their spirits, or just talk to them about daily life occurrences and let them know that there are a lot of people here who care about them and are enamored with their experience."
Phillips talks a lot about the student-athlete experience, particularly the student part of it. Jonathan Harris, a junior from Arlington Heights, Ill., and a goalie for the men's soccer team, once joked he never heard Phillips talk about athletics before academics, only to then realize it was no joke at all. It is always academics first with Phillips. He recognizes that students' classroom work is the foundation for their college experience, and no matter how talented they are at their sport, eventually they will find another career to pursue and will likely rely on their Northwestern education. That is why, when he focuses on what he calls the three pillars of the student-athlete experience, the academic and social (community service) pillars always precede athletics.
When former University President Henry S. Bienen (H10) interviewed candidates for the athletic director position in 2008, after Mark Murphy resigned to become president of the Green Bay Packers, Bienen was struck by Phillips' fusion of academics and athletics. Phillips was associate vice president and director of athletics at Northern Illinois University at the time.
"Some of the other people we interviewed didn't really seem focused on the academic side of things," says Bienen. "I thought from the beginning that this was a great concern of Jim's, and he was honest. It wasn't just rhetoric."
Phillips says his strong emphasis on education was inherited from his parents, who raised him and his nine older siblings in Chicago's Portage Park neighborhood. A 1990 graduate of the University of Illinois, Phillips earned a master's degree in education at Arizona State University and a PhD in educational administration from the University of Tennessee.
Northwestern's student-athletes have made it easy for Phillips and other administrators to boast about their accomplishments. During the spring academic quarter, 17 of the 19 varsity teams finished with an average team GPA above 3.0, and Northwestern's 486 student-athletes recorded an average GPA of 3.23 overall. This past academic year, Northwestern earned a school-record 201 Academic All-Big Ten honors, and in the past two years, 12 of the 19 varsity programs have earned perfect 1,000 Academic Progress Rate scores, a calculation based on the eligibility, retention and graduation of each scholarship student-athlete. In addition, the football team's multiyear APR of 993 was best among Football Bowl Subdivision schools and second nationally for all Division I programs.
Phillips does more than give the student-athletes praise for their academic accomplishments. He takes his father-figure responsibility a step further. For one, he has an open-door policy for the students. He will always take time to talk with a student-athlete, even if it means stepping out of a meeting. More importantly, Phillips knows more than the student-athletes' names and numbers on their jerseys.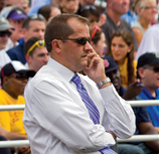 "He's very personal. He's involved not only in what we're doing here athletically and academically, but he's aware of each and every one's family situation, and he's there for us if we need him," says senior football player Bryce McNaul from Eden Prairie, Minn. McNaul's brother, Austin, a West Point graduate who recently served as an Army Ranger in Afghanistan, is a frequent conversation point for McNaul and Phillips. "Every time I see Dr. Phillips, the first thing he asks me is, 'How's your brother doing? How's your family doing?'
"I think it's pretty special that our athletic director is available to every single student-athlete and he has a personal relationship with each and every one of us."
Phillips strengthens those connections by inviting every team to his home in nearby Wilmette, Ill., throughout the fall quarter to have dinner with him, his wife, Laura, and their five children. Like his emphasis on education, the idea stems from his upbringing. "My dad would say to me, 'Regardless of who you are or the things that you have, the nicest thing you could ever do is invite someone into your house,'" Phillips recalls.
Then, of course, there is Phillips' presence at nearly every Wildcats sporting event. He is a passionate supporter who is not afraid to let his emotions show, be it courtside at Welsh-Ryan Arena for a basketball game, on the sideline at Lakeside Field for a lacrosse contest or near the dugout at Rocky Miller Park for a baseball double-header. No matter the team, no matter the outcome, Phillips is there to show his support and appreciation.
"I get concerned when I don't see him. That's how it works now," says Emily Allard, a junior softball player from Antioch, Calif. "It's so nice to see someone in this big position on campus so invested in each and every sport. There's no better fan we could ask for than Jim Phillips."