---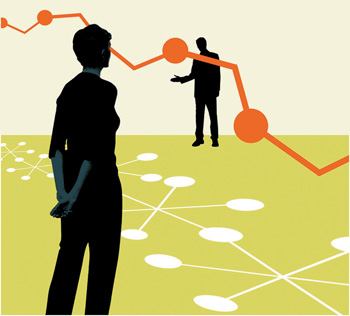 Research has repeatedly shown that networking is the best way to find a new job. But alumni often don't realize they have access to a well-connected, worldwide network of fellow professionals: other Northwestern graduates.
In 2009-10 the Northwestern Alumni Association is undertaking an unprecedented project to boost those connections. Through "Northwestern Explores: Work Well, Live Smart: The Economy, Your Career, Your Life," alumni will be invited to a series of programs across the country, bringing together high-profile faculty members and alumni who are leaders in their field to address issues including the economy, career development and personal growth. "We've seen alumni increasingly turning to us for support," says Cathy Stembridge (GC00), executive director of the NAA. "This is a chance to show them our value."
While traditional events allowed for an hour of networking over wine and cheese, these new programs are designed to foster stronger bonds. At some events attendee bios will be available in advance — so alumni can plan whom they want to meet — and everyone will be encouraged to follow up through the NAA's LinkedIn and Facebook groups.
"We're looking at how alumni can learn from each other," says Aspasia Apostolakis Miller (GC94), the NAA's director of career services. "We want to build a strong community."
Often alumni who want to renew their ties with Northwestern aren't sure where to start. Miller says they should think of the NAA as their "front door" to the University. "I'm constantly referring alumni to other offices that they might not have found themselves," she says. "We're in the connection-building business." — E.C.B.
For more information about upcoming Northwestern Explores events, visit the NAA web site at alumni.northwestern.edu.