---
by Sal Manna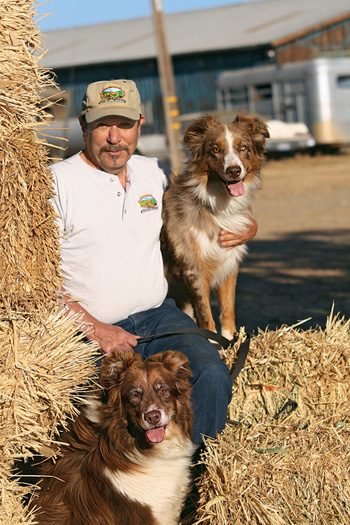 Sheepherding is not a career choice. Sheepherding happens — at least it did to me, a New York City-born Medill alum. I may not be the only such person who can look out his window at this moment and see a small herd of sheep in his pasture but ... OK, I am probably the only such person.
It is safe to say that when I graduated in 1976, I never imagined that one day I would proudly hyphenate myself as a writer-shepherd.
How did sheepherding happen to me, a longtime Los Angeles journalist who had covered everything from murder and mayhem to Hollywood and hip-hop for publications ranging from People to the Los Angeles Times? It began a decade ago with a dog named Dakota, a beautiful black tricolor (black, white and copper) Australian shepherd purchased to help salve the heartbreak of a decimated relationship. She was feisty, smart, independent — and out of control. She was hardly as well socialized as the Aussie with the couple I met at the Lake Hollywood dog park.
"We go sheepherding," they explained. "It's what Aussies are meant to do."
"Where? This is L.A.!"
They told me about a ranch 45 minutes outside of town where trainers teach owners and their herding breed dogs to work sheep. There I was introduced to the most difficult sport imaginable — using a dog to move livestock where you want.
Competitive sheepherding is like playing a football game where one team (the sheep) doesn't understand the rules, your own teammate (the dog) is a different species with a goal that may not be your own, and the conditions (geography, weather, etc.) are so variable that the plays have to be improvised as you go. Equally fascinating is that, unlike any other type of dog competition — conformation, agility, obedience, flyball (a type of hurdles relay with dogs and balls instead of people and batons), Frisbee, tracking and others — you cannot train your dog by using food as a reward. You are too far from the dog to make the reward at the appropriate time, and, well, sheep are food. It might not be a good idea to remind the dog of that connection. So the best sheepherding dogs do what they do for only one reason — because they really want to.                                                          
For someone who had lived his entire life in cities and suburbs, this sport would be a challenge. I was born in Brooklyn, where pigeons were the only wildlife I encountered, and once lived in the Marlboro Houses (a housing project whose most famous resident would one day be Haitian immigrant and renowned musician Wyclef Jean). After witnessing my first two knife fights while in kindergarten, I moved with my family to a suburb of New York City — South Florida — and eventually packed up for college in Evanston, where communing with nature consisted of feeding the squirrels. Later I moved West for graduate school at UCLA and launched my writing career. I knew about sidewalks and sirens, not sheep.
Not surprisingly then, every time I trained with Dakota, she seemed to say, "Looks like I'm going to have to do something, because you don't have a clue." Still, I believed I was the one training her, that I was the one in charge. I expected her to be unflinchingly and immediately obedient as I commanded her to move the sheep through the various pens, gates and chutes of a trial course.
Dakota, however, did not agree with my desire for obedience. She tried to tell me I was mistaken. But I wasn't listening. Eventually she refused to work for me.
But I was hooked on herding — on the relationship between man and dog, on the steep learning curve for a city kid like me and on the sheer bizarreness of answering, "I was herding sheep," when someone asked over the shrimp at a movie screening party, "So what did you do this weekend?"                       
I then followed the typical progression for sheepherding converts: I traded in my car for a pickup, bought an RV to travel to herding competitions, realized I needed my own sheep to be able to consistently train my dog, and moved to the country.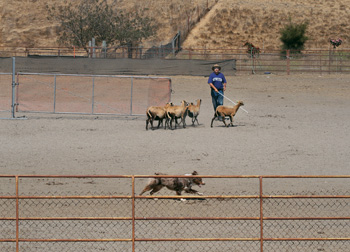 My next Aussie, Dharma, was tough as nails and powerful enough to herd cattle as well as sheep. Again, I tried to impose my will, but he was strong and fought back. He forced me to confront my wrongheaded concept of our relationship. Finally, after 10 years of training and trialing with Dakota and Dharma, I began to learn about working as a team with my dog.
Today I compete with Yankee, an Aussie who can do it all — he can even herd ducks, a maddening proposition at best, duck entrée at worst. For the first time, a dog and I are truly partners. I listen to him instead of just wanting him to listen to me. I trust that he knows best. I trust that he wants to please himself and me. When Yankee pushed a herd of I-dare-you-to-move-me sheep perfectly to and through the center chute at the 2008 Australian Shepherd Club of America nationals in Las Vegas — like no other dog had been able to do — fans in the stands broke into cheers. Winning that competition was a triumphant moment for him and for me, his "trainer" and "handler."
But success had arrived only after I discovered the essential truth not only of sheepherding but also of human-canine relationships everywhere — that most of the time the dog is the teacher and his two-legged partner the student.
Sal Manna (J76) of Calaveras County, Calif., is an author and California historian. He co-wrote The King of Sting (Skyhorse Publishing, 2008).
Comments. Questions. E-mail the editors at letters@northwestern.edu.