---
by Sharon Sutker McGowan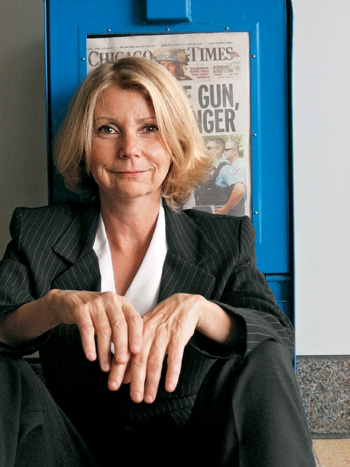 Last July 22 President Barack Obama (H06) held a prime-time news conference at the White House to further his drive for health care reform. After delivering an opening statement, he took questions from reporters for almost an hour.
 For the last question he called on Chicago Sun-Times Washington, D.C., bureau chief Lynn Sweet, who is also a columnist for Politics Daily.
"Thank you, Mr. President," said Sweet (GJ75), who then read the question she had written in her notebook. "Recently Professor Henry Louis Gates Jr. was arrested at his home in Cambridge [Mass.].  What does that incident say to you and what does it say about race relations in America?"
 "Now, I don't know, not having been there and not seeing all the facts, what role race played in that," said the president. "But I think it's fair to say, number one, any of us would be pretty angry; number two, that the Cambridge police acted stupidly in arresting somebody when there was already proof that they were in their own home. ... "
Obama's remarks became the main news from the press conference, widely quoted in newspapers, broadcasts and on the web.
 Sweet found herself the target of some commentators who inexplicably accused the White House of planting the question she asked. Others implied, incorrectly, that she had somehow broken the rules by asking about something other than health care.
"My question wasn't remarkable; Obama's answer was. That's why it became a big story," explains Sweet.
On the day of the news conference, Sweet did what she always does: She came prepared. Had the president called on her earlier, she might have asked about health care reform, she says. But since the questions from seven of the nine reporters who preceded her were about health care, she decided to break new ground.
Competitive. Tenacious. Adamant. Dogged. Direct. Decisive. A reporter's reporter. These are the words that sources, colleagues and competing reporters use to describe Sweet, the one-woman Sun-Times D.C. bureau who signed on with the online magazine Politics Daily to write a column and blog about first lady Michelle Obama when AOL launched the site last April.
"She has done a hell of a job in Washington," says Jeff Zeleny, who covers the White House and politics for the New York Times. "I can't think of any other news bureau with as much of a presence here with one person. It seems as though there are three or four of her."
Zeleny, like Sweet, spent several weeks in 2006 traveling with Obama, then an Illinois senator, on his "homecoming" trip to Kenya. Carrying a notebook, tape recorder, video camera and digital still camera, Sweet sent back print stories and posted blogs, photos and videos on the Sun-Times web site. "She had everything short of a satellite antenna attached to her back. ... I was amazed with her ability to juggle all her different jobs," comments Zeleny, who then worked for the Chicago Tribune.
On that trip to Africa, Sweet met filmmakers Amy Rice and Alicia Sams, who were starting to shoot a documentary on Obama. Sweet was one of the reporters they would interview periodically over the next two years. She appears in their film, By the People: The Election of Barack Obama, which aired on HBO in November.
In addition to her Sun-Times column, Sweet writes a top-ranked political blog for the paper. She is a regular guest on national television shows, including MSNBC's Hardball with Chris Matthews. "I like diggers, reporters who are persistent and tough. That's what she is," Matthews says. "[She's] one of the biggest political reporters around."
"I try to outwork the competition," Sweet explains. "I always make the extra call."
***
Sweet didn't have an occupation in mind when she set off from her hometown of Chicago to attend college at the University of Illinois at Urbana-Champaign. She originally majored in English but transferred to the University of California, Berkeley, her senior year and switched to political science.
After working at a department store in Oakland, Calif., for a year and at other odd jobs, Sweet mentioned to a friend that she might want to be a reporter. He urged her to apply to the Medill School of Journalism and made three prophetic statements: "You'll get in; they'll give you financial assistance; and you'll get a job."
He was right on all three counts.
Sweet's first job after graduate school was at the weekly Independent-Register in Libertyville, Ill. She also worked as a stringer for Time magazine. She got her foot in the door at the Sun-Times by joining "Action Time," a consumer help feature, eventually moving up to general assignment reporter. Sweet's first beat was covering Cook County government and the Daley Center courts, which exposed her to the rough-and-tumble world of Chicago politics.
Her path to becoming Washington bureau chief included covering the Illinois legislature, co-writing a celebrity column and working as the paper's chief political writer. In that role she was one of the first reporters in the country to analyze state and local political advertisements for accuracy.
Once in Washington she distinguished herself with a series of stories in 1995 detailing how the Democratic National Committee offered large donors access to the Clinton White House. Sweet was one of the first reporters to nail down the Clinton administration's practice of allowing donors to go for a spin on Air Force One.
"Those stories made me a national player," Sweet says. "It amplified my interest in money and politics, which proved very fertile ground."
In spring 2004 Sweet was selected for a fellowship at Harvard University's prestigious Institute of Politics at the John F. Kennedy School of Government. At Harvard she led a study group on that year's presidential campaign.
Sweet continues to mentor students she met at Harvard, as well as young reporters, including Medill alumni. In 2007 she was inducted into the Medill Hall of Achievement. She became a member of the Chicago Journalism Hall of Fame the same year. Sweet is active in the Journalism and Women Symposium (nicknamed JAWS) and is a past president of the Washington Press Club Foundation, which traces its roots to a time when the National Press Club prohibited women members.
Sweet also belongs to the exclusive Gridiron Club, known for its annual satirical political spoof. She was sponsored for membership by the late Sun-Times columnist Robert Novak, who called Sweet the most prominent Sun-Times Washington, D.C., bureau chief in his 42 years (1966-2008) with the paper.
Huffington Post founder Arianna Huffington, who has known Sweet for years, recalls that Sweet once took a room at the Beverly Hilton hotel, where Obama was holding a big presidential fundraiser. She booked the room so she could see who was going in and out. "Even though she's done so much in her life and she's been at this for a long time," Huffington says, "she has not given up any of her fire as a reporter."
Sharon Sutker McGowan (GJ75) and Lynn Sweet were classmates at Medill. McGowan is a writer based in Skokie, Ill., and an adjunct lecturer at Medill.
Lynn Sweet photo: Sun-Times file photo
Questions or comments? E-mail the editors at letters@northwestern.edu.