---
Gloria Bingesser Beckwith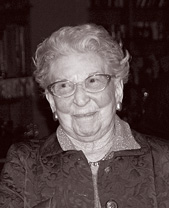 Gloria Bingesser "GB" Beckwith (WCAS39), 91, San Antonio, May 15. Born to German immigrants in Kansas, Mrs. Beckwith cultivated her love for travel throughout her career with the American Red Cross.
Mrs. Beckwith, who worked at Hull House in Chicago after graduating from Northwestern, served in Vietnam during the war and spent tours in Japan, the Philippines and Germany throughout her Red Cross career, making friends across the globe.
When she retired, Mrs. Beckwith became involved with the State Department's International Leadership Visitor Program and Sister Cities International in Riverside, Calif. 
Mrs. Beckwith is survived by three children, Ann, Katharine and Jack; five grandchildren; and four great-grandchildren.
Gerald Canter
Gerald J. Canter (GC61), 76, Evanston, professor emeritus of communication sciences and disorders, Feb. 7.
At Northwestern for 30 years, Mr. Canter taught and conducted research on aphasia and other neurological disorders. In 1991 he received Honors of the Association, the American Speech-Language-Hearing Association's highest honor. 
Mr. Canter, the owner of nearly 40,000 vinyl records, launched the Classical Collector after his retirement in 1992. The mail-order, and later Internet-based, music record business shipped records around the world.
Richard C. "Dick" Christian (KSM49), 84, Evanston, Oct. 3. An advertising and public relations executive and a Northwestern associate dean and professor, Mr. Christian often joked that he was a modest man because he had "a great deal to be modest about."
A World War II Purple Heart recipient, Mr. Christian partnered with Bill Marsteller in 1951 to found Marsteller Inc., an ad agency headquartered in Chicago. Within 10 years of its founding, Marsteller Inc. became the largest specialized agency in the United States for industrial, agriculture and business-to-business advertising. The firm pioneered an integrated marketing approach to clients and became famous for the Keep America Beautiful anti-littering campaign that featured a crying American Indian.
Mr. Christian served as president and later as chair of Marsteller Inc. In 1953 he co-founded the public relations agency Burson-Marsteller, at one time the largest PR firm in the world. He was voted into the American Advertising Federation's Advertising Hall of Fame in 1991.
In 1984 Mr. Christian left the corporate world to return to Northwestern. He became associate dean and professor of advertising at the Medill School of Journalism and helped develop the Integrated Marketing Communications program. In 1986 Mr. Christian became associate dean at the Kellogg School of Management.
A die-hard Wildcat football fan, Mr. Christian was a member of the University's Board of Trustees, president of the Northwestern Alumni Association and founder of the Kellogg alumni association. He is one of only a few alumni to receive three NAA Alumni Awards - the Alumni Medal, Merit Award and Service Award.
He is survived by his wife, Audrey; a daughter, Ann; a son, Richard C. Christian Jr. (WCAS75, GC78); a sister, Barbara; six grandchildren; and a great-grandson.
Photo by Jim Ziv
Joseph Cytrynbaum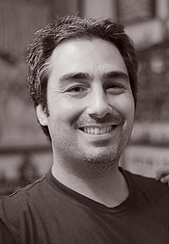 Joseph Cytrynbaum (SESP95), 37, Evanston, July 11. Described as a role model, father figure and moral guide, Mr. Cytrynbaum dedicated himself to improving the lives of students in Chicago's inner-city high schools.
After earning two Ivy League degrees, Mr. Cytrynbaum worked for the Umoja Student Development Corp., a nonprofit that encourages Chicago students to stay in school, graduate from high school and go on to college. Mr. Cytrynbaum also coached a spoken-word poetry program, took students on college visits and even attended their sporting events.
He recently became an assistant professor and coordinator of field education at Northeastern Illinois University's Social Work Program.
Mr. Cytrynbaum is survived by his wife, Erin K. Flynn (C93); his son, Rocky; his mother, Bryna; his father, Solomon "Sonny" Cytrynbaum, professor of education and social policy; his stepmother, Susan Lee (GSESP76, G80), professor of dance; and two sisters, Pamela J. Cytrynbaum (J88) and Glenna.
Photo by Chris May
Edward Dapples
Edward C. Dapples (WCAS28, G34), 103, Sun City, Ariz., professor emeritus of geological sciences, May 10.
A professor, author and scientist with expertise in sedimentary rocks, Mr. Dapples taught at Northwestern from 1936 to 1973 after starting his career as a geologist and mine supervisor for coal companies.
During his years of teaching and research, he experimented with open-cut mining and oil exploration. Mr. Dapples also worked as a geological consultant for several oil corporations.
An active alumnus, Mr. Dapples served as treasurer of the NU Club of Sun City in Arizona.
Robert Furchgott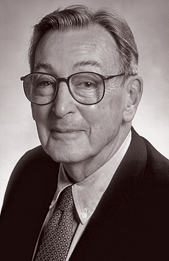 Robert F. Furchgott (G40, H98), 92, Seattle, May 19. A Nobel Prize-winning pharmacologist, Mr. Furchgott discovered the role of nitric oxide in the human cardiovascular system. The colorless and odorless gas mediates blood pressure and circulation, a finding the American Heart Association praised as "one of the most important in the history of cardiovascular medicine."
Mr. Furchgott, who made the discovery at the age of 70 after 40 years of research, shared the 1998 Nobel Prize in Physiology or Medicine with two colleagues. The Nobel committee emphasized that it was the first time scientists had proven the effects of a gas on the body's biochemical functions.
The discovery that nitric oxide functioned as a blood vessel relaxant was an important step in the development of Viagra. Nitric oxide also helps people suffering from toxic shock syndrome and battlefield related shock, as well as those at risk from high blood pressure. It is also used to help expand the lungs of premature babies who would otherwise die.
Mr. Furchgott is survived by his three daughters, Jane, Susan and Terry; four grandchildren; and one great-granddaughter.
Photo by John Zubrovich
John Graham
John B. Graham (WCAS48, FSM52, GFSM55), 82, of Wilmette, Ill., professor emeritus of urology at the Feinberg School of Medicine, died July 7.
Graham, who headed Evanston Hospital's division of urology from 1970 to 1985, taught at Northwestern for 41 years. At Northwestern he helped lead the introduction of lithotripsy, a noninvasive treatment for kidney stones. The Feinberg class of 1992 named him teacher of the year.
Graham often spent his sabbaticals on volunteer projects on the Navajo and Hopi reservations in Arizona. He made the first of three trips to Guatemala in 1976, when a devastating earthquake killed tens of thousands. He also volunteered in Honduras.
Sheldon Gross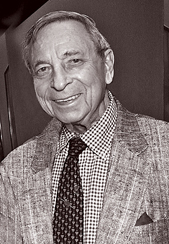 Sheldon H. "Shelly" Gross (GJ47), 88, Palm Beach Gardens, Fla., June 19. Mr. Gross produced more than a dozen Broadway shows and ran a chain of theaters that brought big-city entertainment to suburbs up and down the East Coast.
Mr. Gross and his business partner, Lee Guber, organized Music Fair Enterprises and started staging musicals in a circus tent in suburban Philadelphia in 1955. They eventually built a 2,900-seat theater in Devon, Pa., and used the same formula to launch theaters near several East Coast cities, from West Springfield, Mass., to Miami, offering entertainment that included Broadway road shows, live music, children's theater and comedians.
Mr. Gross, who enjoyed a successful TV and radio broadcast career before getting into show business, also co-produced several Broadway musicals, including the 1977 Broadway revival of The King and I, starring Yul Brynner.
After moving to Florida in the early 2000s, Mr. Gross became a supporter of Palm Beach Dramaworks, a nonprofit theater company in West Palm Beach. He served as a mentor to the managing and artistic directors of the theater. The company named its annual award the Shelly Award, in honor of Mr. Gross.
He is survived by his wife, Joan; three sons, Byron, Rick and Dan; and four grandchildren.
Photo by Steve Caras
William Gruenerwald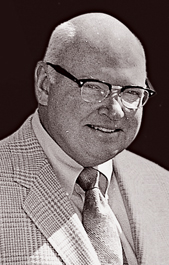 William "Bill" Gruenerwald (WCAS38), 92, Colorado Springs, June 10. A geologist, Mr. Gruenerwald worked in the coal, oil and gas industries. After Northwestern, he examined mineral deposits in the South Pacific, Africa and South America. In the 1940s he researched uranium deposits for the Manhattan Project. He also evaluated coal deposits for a synthetic liquid fuel program.
Mr. Gruenerwald opened an independent oil and gas operation in Chicago in 1950. He moved to Colorado Springs in 1963, and for the next 40 years he operated oil and gas wells across the country.
Interested in saving endangered equine species, Mr. Gruenerwald created the private Canyon Colorado Equid Sanctuary in 1980. The 10,000-acre grassland preserve in northeastern New Mexico housed wild relatives of the domestic horse.
He is survived by his wife, Dorothea Haake Gruenerwald (C49); a sister, Natalie Gruenerwald Anton (J45); and a nephew, William J. Anton (WCAS82).
Donald Gustafson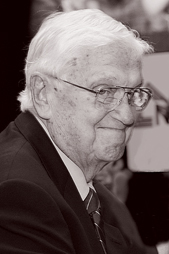 Donald Gustafson (BSM49), 84, Chicago, Aug. 30. Mr. Gustafson co-founded the Over the Rainbow Association, which provides independent living and employment opportunities for people with severe disabilities.
Mr. Gustafson, who spent his career with Sears, Roebuck and Co. and its affiliate Allstate, spearheaded a five-year conversion of an Evanston hospital facility into a 33-unit apartment community for people with severe disabilities. He also organized the annual Celebration benefit, which features his daughter, opera singer Nancy Gustafson (GBSM80), and a cast of performers doing opera and Broadway classics at Northwestern's Pick-Staiger Concert Hall.
Honored as Father of the Year by the Chicago Father's Day Committee in 1994, Mr. Gustafson was inspired by his son Robert, who is deaf, has cerebral palsy and uses a wheelchair for mobility.
In addition to Nancy and Robert, Mr. Gustafson is survived by his wife, Susan Warner Gustafson (SESP49); a daughter, Mary Ann; a son, David; three grandsons; and two great-grandsons.
William Haeck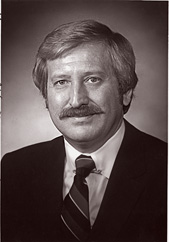 William T. Haeck (FSM64), 69, Boca Raton, Fla., Nov. 15, 2008. As a co-founder and former president of the American College of Emergency Physicians, Dr. Haeck led the national movement to legitimize the profession of emergency room physician.
Dr. Haeck, an emergency physician himself, promoted the idea that some doctors should specialize in emergency care, and he personally lobbied his fellow Florida ER doctors to join the ACEP.
Dr. Haeck also lobbied Florida lawmakers in the 1970s to create statewide training standards for ambulance drivers, establishing the EMT profession.
Before retiring Dr. Haeck served as medical director of the Broward County Jail, creating a hospice for terminally ill patients incarcerated there.
He is survived by his wife, Jane Rozelle, three children, two stepchildren, five grandchildren and four step-grandchildren.
Susan Jordan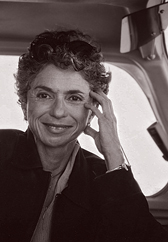 Susan B. Jordan (L70), 67, Ukiah and Berkeley, Calif., May 29. A prominent criminal defense lawyer and civil litigator, Ms. Jordan first developed an interest in law while helping to register voters in Mississippi in the 1960s.
She also worked for women's rights. In perhaps her most notable case, in the mid-1970s Ms. Jordan helped to establish the battered woman defense by successfully defending Inez Garcia, a Monterrey County, Calif., woman who had killed a man who had raped her.
Ms. Jordan represented a wide range of clients, including medical marijuana growers and a former member of the Symbionese Liberation Army.
Outside the courtroom, Ms. Jordan, a practicing Buddhist, taught meditation and yoga. She was also a pilot. She died as a passenger in a private plane crash in Utah.
She is survived by her husband, Ronald C. Wong; a daughter, Jennifer; her sister, Lois; and her brother, Eugene. 
Photo by Rosalyn Banish
Robert McKeiver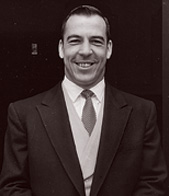 Robert P. McKeiver (C59), 76, Eureka, Mo., Jan, 23. Once described as "the most exciting runner in football" by Sports Illustrated, Mr. McKeiver helped revitalize a struggling Wildcat football program in the mid-1950s.
Mr. McKeiver came to Northwestern as one of the most accomplished athletes in the history of Evanston Township High School. Halfway through his college career he left to serve in the military, but Mr. McKeiver returned a few years later to help coach Ara Parseghian revive the program.
In 1956 Mr. McKeiver, 5-foot-4 halfback led the Wildcats to a 4-4-1 record, earned first team All-Big Ten honors and compiled 1,072 all-purpose yards, a school record at the time.
Mr. McKeiver was drafted by the NFL's Cleveland Browns and played one season with the Saskatchewan Roughriders in the Canadian Football League and went on to a career as a salesman.
He is survived by his wife, Marie Willis McKeiver (C51); three daughters, Robin, Kelly and Janie; a son, Robert; 10 grandchildren; and a sister, Micki.
Photo courtesy of Nancy Viola
Frank Nicholas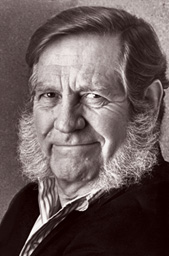 Frank C. Nicholas (EB49, L52), 89, Villanova, Pa. A successful attorney and businessman, Mr. Nicholas served as president and chair of the baby food producer Beech-Nut Corp. He later owned an ophthalmic solutions operation and a company that manufactured protective gear for firefighters.
During World War II Mr. Nicholas served in the China-Burma-India Theater as a navigator in the U.S. Army Air Forces. He received the Distinguished Flying Cross after he and his crew ditched a disabled plain and hiked for nearly two weeks until they reached safety in Burma.
Mr. Nicholas, who practiced law in Chicago and Pennsylvania, established a scholarship at the Northwestern School of Law. He received a Northwestern Alumni Association Merit Award in 1981.
He is survived by his wife, Elizabeth; five sons, Jeffrey H. Nicholas (L81), Scott H. Nicholas (KSM84), Peter K. Nicholas (KSM85), Casey and Frank; a daughter, Siobhan; and 12 grandchildren.
Robert B. Pamplin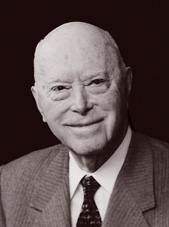 Robert B. Pamplin (KSM34), 97, Portland, Ore., June 24. As the president, chair and CEO, Mr. Pamplin transformed Georgia-Pacific Corp. from a small Southern hardwood exporter into one of the largest U.S. forest-products companies.
He joined the Augusta-based Georgia Hardwood Lumber Co. as its fifth employee and worked his way up to president. He brokered land deals to extend the company's reach and oversaw the purchase of smaller competitors. It became the Georgia-Pacific Corp. in 1956, and its headquarters moved to Atlanta.
Under Mr. Pamplin's leadership the company became the largest manufacturer of plywood and a leading producer of tissue, cardboard and other paper.
In 1966 he received a Northwestern Alumni Association Merit Award. The Pamplin College of Business at Virginia Tech is named in honor of him and his son, Robert B. Pamplin Jr.
In addition to his son, Mr. Pamplin is survived by two granddaughters and three great-grandsons.
Photo by Jerome Hart Photography
Audun Ravnan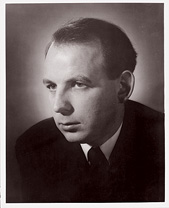 Audun J. Ravnan (BSM53, GBSM54), 83, Lincoln, Neb., June 9. In the 1940s Mr. Ravnan, a Norwegian, won a scholarship to study piano at Northwestern. When he went to the U.S. Embassy in Norway to apply for a student visa, an embassy employee laughed at him because the young pianist barely spoke English. But he nevertheless obtained a visa.
Mr. Ravnan flourished at his craft. He became a well-respected performer who enjoyed playing the frenetic piano concertos of Rachmaninoff and Shostakovich.
When he tired of life on the road, he settled down for a 36-year career as a piano professor at the University of Nebraska-Lincoln. Mr. Ravnan became the George Holmes Distinguished Professor of Piano and won the first Nebraska Governor's Arts Award.
Mr. Ravnan is survived by his wife, Barbara Puckett Ravnan (BSM49, GBSM50); daughters Ellen, Kari and Britt; and a brother, Geir.   
Theodore Van Zelst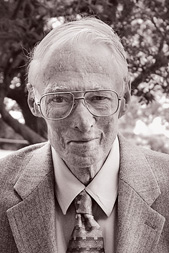 Theodore Van Zelst (McC45, GMcC48), 86, Glenview, Ill., July 6. An innovative civil engineer, Mr. Van Zelst co-founded Soiltest Inc. in his family's Evanston garage and became a pioneer in the field of soil testing. He owned several patents for road and soil testing equipment, and some of his company's designs were incorporated into the first moon landing.
During World War II his work with the U.S. Navy helped develop the swing-wing design that allowed jets to break the sound barrier.
In the 1980s one of his daughters suffered from chronic fatigue syndrome, and Mr. Van Zelst pushed for official recognition of the condition, testifying before Congress to request funds to study the disorder.
A dedicated and loyal alumnus, Mr. Van Zelst served on Northwestern's presidential search committee in the mid-80s and led the engineering alumni association among his many commitments. He received the Northwestern Alumni Association's Alumni Medal in 1989, Merit Award in 1974 and Service Award in 1970. He and his wife, Louann Hurter Van Zelst (C49, GC51), established the Van Zelst Research Chair in Communication in 1981.
The Kiwanis Club of Evanston named its award for Evanston Township High School student-athletes the Ted Van Zelst Excellence Award in his honor. He was an Evanston Kiwanis member.
In addition to his wife, he is survived by two daughters, Jean Van Zelst Bierner (GSESP89) and Anne; a son, David; two sisters, Viola Van Zelst Orr (SCS52) and Marion; and seven grandchildren.
Photo by Anne Orvieto
Harvey Walken
Harvey M. Walken (EB50), 81, Highland Park, Ill., June 14. A real estate developer, Mr. Walken earned the nickname "Mr. Wacker Drive." As head of the Chicago-based Walken Co., a real estate and development firm, he helped develop the north-south stretch of Wacker, west of the Loop, buying up older office buildings where skyscrapers now stand.
After his success in Chicago real estate, Mr. Walken purchased an ownership stake in his favorite baseball team, the Pittsburgh Pirates. He also was a principal owner of the SkyDome, now the Rogers Centre, home of the Toronto Blue Jays.
Known for his anecdotes and one-liners, Mr. Walken was quoted in a 1993 Sports Illustrated as saying, "Any team can have a bad century," about the Chicago Cubs' ongoing World Series drought. He trademarked the phrase, which is often attributed to Cubs broadcaster Jack Brickhouse. Mr. Walken compiled his quips in Here's Looking at Me Kid!
He is survived by his wife, Naomi Agazim Walken (WCAS52); a son, Richard H. Walken (KSM92); a daughter, Kathryn; and seven grandchildren.
Richard "Dick" Wells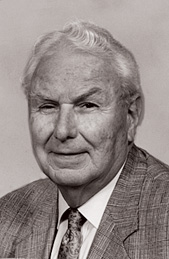 Richard G. Wells (WCAS39), 90, Mequon, Wis., Jan. 2. A lifelong Northwestern enthusiast, Mr. Wells played football for the Wildcats in the late 1930s, and after his playing days, he held football season tickets for 66 years.
Mr. Wells, president of the carton manufacturing firm Wells-Badger Corp. for 25 years, volunteered as a Milwaukee-area alumni regent for Northwestern and served as president of the NU Club of Milwaukee for several years. The Northwestern Alumni Association honored Mr. Wells and his wife, Virginia Anderson Wells (SESP39), with a 1992 Service Award.
Active in the Milwaukee civic and business community, Mr. Wells served as president of the Downtown Milwaukee Rotary Club and president of the City of Festivals Parade.
In addition to his wife, he is survived by two sons, Richard G. Wells Jr. (WCAS64, D67, GSESP79) and Thomas; a daughter, Sally; a daughter-in-law, Gayle Anderson Wells (WCAS66); a brother, David H. Wells (WCAS39); six grandchildren; and one great-grandchild.