---
When Jen Bender arrived inNew York City after college, she worked at the Writers and Artists Agency, now Paradigm,from 10 a.m. until 6 p.m., went to evening rehearsal for the play Lives of Cells, served as a cocktail waitress from 10 at night to 4 in the morning and then got up to do it all over again.
Eight years later, she still maintains a frantic pace, but now she's busy with Broadway. Bender (C01)is the resident director responsible for maintaining the artistic integrity of the popular award-winning musical The Lion King, which is based on the 1994 Disney film of the same name.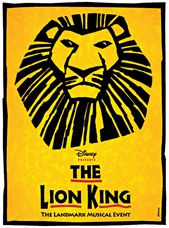 The show, set on the plains of Africa, is a Disney production that tells the story of a young lion coming to terms with his past and with his family. It debuted on Broadway in 1997 with music by Elton John and lyrics by Tim Rice and has received six Tony Awards. It is currently playing at the Minskoff Theatre in Times Square.
Bender attributes the show's success in large part to the congenial atmosphere of the company.
"Cast is really important," she says. "It can be the best show in the world, but if the cast is unmotivated, it's just not fun. So a big part of my job on any show is to make sure the company is really cohesive."
Bender, who studied theater at Northwestern, went to New York right after graduation. Through a Northwestern friend, she met Jason Moore (C83), who was then the director of Avenue Q. She landed a job as assistant director of the show, a Broadway production that went on to win a Tony Award in 2004. Bender also directed the national tour of Wonderful Town; her other Broadway assistant director credits include The Wedding Singer, Steel Magnolias and Of Thee I Sing.
Bender says her time at Northwestern prepared her well for the world of theater. "I started assistant directing shows at Northlight and the Goodman Theatrein Chicago while at Northwestern, so the proximity to the city was helpful," she says. "I feel like I learned so much, and so much of the theater business is also about connections."
Bender, who says she feels compelled to give back to the University, served as co-president of the Northwestern University Entertainment Alliance-East for two years. She also directed two Northwestern Alumni Association "A Night with Northwestern in New York" productions: "A Toast to the Past, A Toast to the Future" in 2006 and "Expect the Unexpected" in 2008. With close to 100 alumni performers andmore than 640 people in attendance at the 2008 show, it was one of the largest New York alumni events in Northwestern history.
Working with alumni always generates a sense of camaraderie, Bender says. "Even if we didn't go to school at the same time, I feel like we're the same type of people in a way," she says. "It feels like a community."
Bender says she also stays connected to the University in the hopes of meeting potential cast members. "When I meet young people who just graduated from Northwestern, selfishly I feel like I get to meet people whom I might work with down the line," she says.
Sean Bradford (C06) is one of those people. He is the male singer "swing" — an understudy who learns multiple chorus and dance roles — and the Simba understudy in The Lion King.
"Jen likes to make sure things are very clean, and she's interested in the story and in driving it forward," Bradford says of Bender's directing style. "She's about making the texts come alive, which can be hard for a show that's been running for 12 years."
Bradford also works closely with Bender and several other Northwestern alumni on the Broadway in South Africa program, now in its second year. The initiative, which Bradford co-founded, began as the Cape Town Project in 2005 and now brings Broadway stars to Cape Town, Johannesburg and Durban to work with students between the ages of 7 and 13 on arts-related workshops ranging from playwriting to singing and dancing.
"We take Broadway, which is a really New York-centric thing, to other parts of the world," says Bender, who also works with Camp Broadway, a New York City summer program for kids interested in theater. "I had a real desire to volunteer and to use my Broadway experience to do something good."
— Katie Glueck (J12)
Do you know an alumnus who deserves to have his or her story told? Tell us why. Send the news to letters@northwestern.edu.