---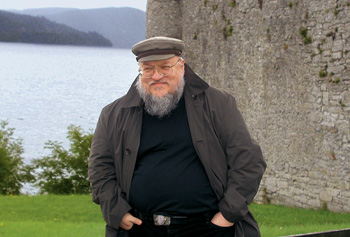 George R.R. Martin didn't start using his middle initials in his signature because he knew someday he'd write one of the best-selling and most critically acclaimed series of fantasy novels of all time. "It's a common name," he explains. "There was 'the fifth Beatle,' a defensive end [for the New York Giants] and a million others. You want a distinctive name as a writer."
While completing his five-year undergraduate and master's degrees at the Medill School of Journalism, Martin (J70, GJ71) tagged many stories with that byline. You may not have heard of him yet, but with A Game of Thrones, the first novel in his series, set to debut as an HBO pilot, and A Feast for Crows, the most recent novel, reaching No. 1 on the New YorkTimes best-seller list, he's becoming a household name in some circles.
The series, A Song of Ice and Fire, defies summary. The first book alone, an 800-page saga, follows nine warring families from eight characters' viewpoints for nearly a year. Parts of the plot spring from medieval history; other parts are pure invention. Martin molds "epic fantasy," as invented by J.R.R. Tolkien in The Lord of the Rings trilogy, into modern literature. Martin uses terse sentences, realistic dialogue and psychologically detailed characters.
"Henry James and Robert Louis Stevenson's quarrel divided us into realism and romanticism, and, in a way, fantasy writers are all children of Stevenson, and literary fiction writers are all like James," according to Martin. "But now you've got writers like Michael Chabon and Junot Díaz who are accepted in literary fiction despite their clear groundings in fantasy. There's no real distinction between fantasy and literary fiction."
So far the Song of Ice and Fire series has sold 2.2 million copies, leading Time magazine to dub Martin "the American Tolkien" in 2005. Like The Lord of the Rings author, Martin sees his series as a single story divided into smaller books for the convenience of publishing. A Game of Thrones came out in 1996, completed after five years of on-and-off work. Martin is working on the fifth book of what will be a seven-part series.
The Internet is abuzz with rumors about the HBO production, but it is known that Sean Bean (who played Boromir in the The Lord of theRings trilogy) will play the stoic warrior Eddard Stark, with an award-winning cast alongside him. "A poor way of describing it would be The Sopranos in Middle Earth," executive producer David Benioff says of the proposed series. Filming was to begin in Northern Ireland in October.
The plan is to devote one season to each book. "I was nervous for a long time," Martin explains, "and turned down offers for feature films because the books are just too long." He's confident in his HBO team, though, and he reminds himself that his books will always exist independently of the small-screen series. "Hollywood hasn't done anything to my books," he says, quoting a saying from novelist James M. Cain. "They're right over there on the shelf."
Martin is over his initial hesitation about merchandise based on the series as well. "Here I am, trying to prove fantasy can be literature, thinking, 'Would F. Scott Fitzgerald have allowed a Great Gatsby lunchbox?' " Martin says. "Then I thought, 'Yes! Yes he would have.' He would have jumped at it. Good enough for Fitzgerald, good enough for me."
You can buy Song of Ice and Fire games, weapon replicas, models and figures and soon, two video games.
Martin came to his fame the long way. "I've had second jobs, but my first love was always writing books or short stories," he explains. "I grew up reading science fiction, fantasy, horror and comic books, and my father called it all weird stuff."
In high school when he was asked to research a profession, Martin — who was already writing stories for fan-published comics with "circulations in the dozens" — was horrified to learn "how appallingly little fiction writers made." Because he was a good writer, he entered journalism. He sold his first fiction story as a grad student at Medill ("The Hero" in Galaxy Science Fiction in 1971). He spent the next 20 years selling short stories and a few novels and winning several science fiction awards. But he devoted most of his energies to screenwriting, starting in the mid-1980s.
"The HBO production is ironic," he says, "because for a decade I was always the writer whose first draft was 'too long and too expensive.' I'd cut and trim and eliminate characters and crowds and locations to meet the production budget. So when I returned to novels, I wrote something long and unproducible — a giant, epic story for my own satisfaction. ... And yet, here we are."
— Kent Cubbage
Do you know an alumnus who deserves to have his or her story told? Tell us why. Send the news to letters@northwestern.edu.