A Facetime Family
Story Tools
Share this story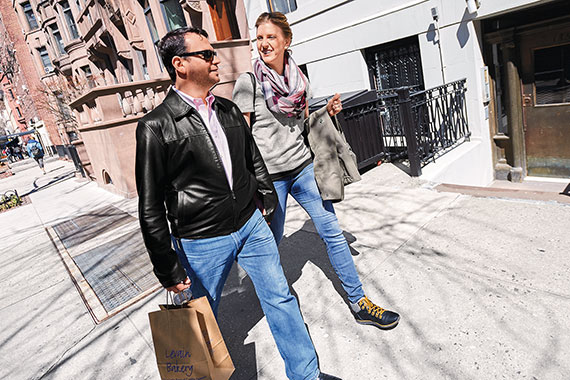 Amanda Majeski and her husband, Sam Handley. Photo by Jen Pottheiser.
The life of an international opera singer is complicated enough. But the complications ramp up exponentially when one singer is married to another — like soprano Amanda Majeski and bass-baritone Sam Handley (in photo above).
"It's tricky, because we're apart more than most couples," admits Majeski. "I asked my mom how long she'd ever been away from my dad — a couple of days, at the most. Sam and I sometimes have to be apart for five or six weeks. But every couple is different, and every couple has to find how to make that work. I think we're pretty good at it."
Technology makes it easier to stay connected. "Thank goodness for Skype and FaceTime and text messaging," says Majeski. Handley chimes in: "We're never not in touch."
"The times we do get to be together are that much more cherished," adds Majeski. "That time is more sacred, so we're communicating more — we have to talk."
The two recently enjoyed a rare luxury when both were involved in the Metropolitan Opera's production of Der Rosenkavalier and could live together in Manhattan for the entire rehearsal and performance period. It was their first joint opera outing other than Lyric Opera productions in Chicago, the city they call home (when not on the road). "Just to be able to be in the same city at the same time is a lot," says Handley. "I felt like we'd lassoed a unicorn."
A fringe benefit of their dual careers is that when only one of them is performing away from home, the one who's between engagements can join the one who's working. "Sam was recently singing concerts in Sarasota during my free time," says Majeski, "so I felt like I got a free beach vacation."
Whenever possible, they spend time with Sam's 8-year-old daughter, who lives with her mother in Wisconsin. "The difficult thing that Amanda does so well is being a bonus mother," says Handley. "Our most important priority is to get back to see my daughter or to bring her wherever we are."
"She's been on some fascinating adventures already," says Majeski. "At age 6 she came to New York to hear me sing at the Met. We took her backstage before the show, and she said, 'Amanda, I've been backstage before. I know all about this from my dance recital.' Nothing like a child to keep you humble!" — K.D.