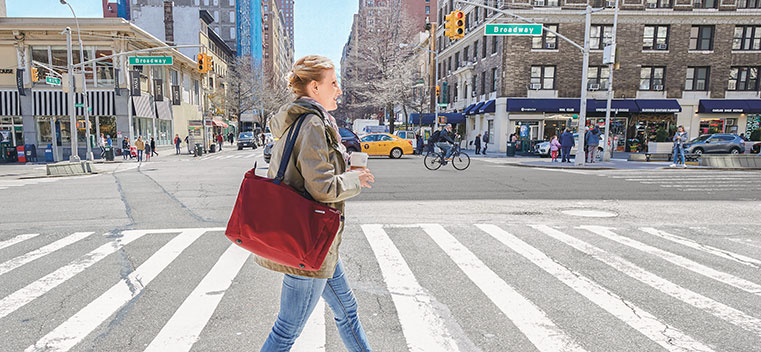 Opera soprano Amanda Majeski relishes her time in New York City. Photo by Jen Pottheiser.
Everyday Diva
Story Tools
Share this story
Related Articles
Kingsley Day is a senior editor in Global Marketing and Communicationsat Northwestern. He has played the lead comic baritone role in all 14 Gilbert and Sullivan operettas.
Tell us what you think. E-mail comments or questions to the editors at letters@northwestern.edu.
Find Us on Social Media
Soprano Amanda Majeski juggles a demanding international opera career, a crazy on-the-road schedule and marriage to a fellow singer, all the while keeping her feet firmly planted on the ground.
In the fall of 2014, soprano Amanda Majeski was in Manhattan to prepare for her Metropolitan Opera debut as Countess Almaviva in the second cast of Mozart's The Marriage of Figaro. Though not scheduled to perform until December, Majeski took the advice of her manager to cover (understudy) the Countess in the opening-night cast to get more rehearsal time and work with the production's original director, Richard Eyre.
During the first Figaro music run-through, the 29-year-old soprano sat discreetly in the back of the rehearsal room with the other covers.
The next day, "a half hour before the rehearsal, I got a call saying that 'there's a 98 percent chance the soprano will not be at this musical rehearsal, so be prepared to sing,' " Majeski '06 recalls. "I got there and again sat in the back, because there was that 2 percent chance she was going to walk in the door. When [conductor] James Levine started the rehearsal, she still wasn't there, so I sang the Countess' first line of recitative from my seat in the back."
Pointing at Majeski, Levine gestured for her to come up to the front row.
"After that bit of recitative, the Countess jumps right into 'Dove sono,' one of the most challenging arias in existence," continues Majeski. "Here I am in front of all of these incredible musicians, all of the Met administration, the best conductor in the world, having to sing the hardest aria I know. But I made it through; I did all right. After the rehearsal I called my husband, Sam [Handley], and said, 'I know I did well today, so whatever happens happens.' "
The following day Majeski had no rehearsal. Handley, a fellow opera singer, was in Chicago, and when he and Majeski are apart, they routinely share each other's email. He noticed that she'd received a "cast change" message from the Met. "I was going to let her sleep in because she'd had a great triumph, but I called her and said, 'Honey, I think you need to check your email.' Minutes later, she called me back and said, 'Can you come to New York now?' "
The email had notified Majeski that she would be taking over the role of the Countess in the opening-night cast — for the opening night of the Met's new season. "I was a complete wreck," recalls Majeski. "Crying, happy, excited, terrified, uncertain, thrilled — all the emotions."
But Majeski conquered her emotions, performed exquisitely and drew rave reviews for her high-profile Met debut. "She sang with nuance and taste and made a vulnerable Countess," said Anthony Tommasini in the New York Times, calling her voice "ample and expressive." Richard Brody in the New Yorker wrote that her "large, overtone-rich voice captures the character's grand and refined ardor." The New York Daily News called her "captivating" and said her arias "throbbed with beauty and anguish."
As for Majeski, she recalls that "after making it through the night of the debut, I thought, 'Nothing I do will ever be scarier than that.' "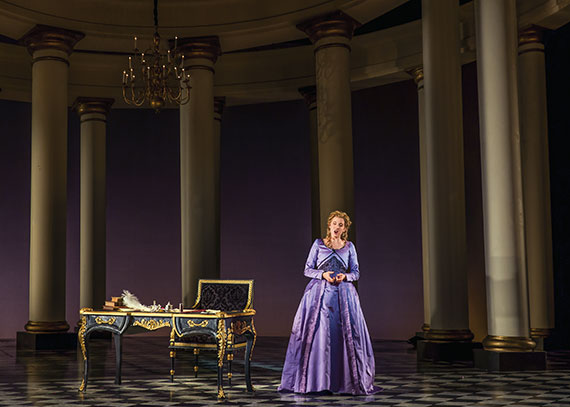 Amanda Majeski performs as Countess Almaviva in the Washington National Opera production of The Marriage of Figaro at the John F. Kennedy Center for the Performing Arts in fall 2016. Majeski got her big break while playing the First Peasant Girl and covering the Countess in a 2010 Lyric Opera of Chicago production of the opera. She was notified the day before a performance that the original soprano was ill and would not be singing. Until then she had only run through the opera in a rehearsal room with piano accompaniment — never on the stage and never with orchestra. Photo by Scott Suchman.

Enchanting operagoers and critics worldwide, Majeski performs some 20 leading roles with such major companies as Lyric Opera of Chicago, Santa Fe Opera, Oper Frankfurt, Opernhaus Zürich, England's Glyndebourne and Spain's Opéra de Oviedo. And this season she'll make her South American debut in Argentina, followed by her first appearances in Paris and Beijing. Next season Majeski will return to the Met as Fiordiligi in Mozart's Così fan tutte. Meanwhile, her newest new role is one of history's great characters: Cleopatra in Handel's Giulio Cesare, opening in June at the Teatro Colón in Buenos Aires.
While learning Cleopatra, Majeski was also covering for Renée Fleming as the Marschallin in Richard Strauss' Der Rosenkavalier at the Met. Sharing a Harlem apartment with Handley (a bass-baritone who's also in the Rosenkavalier company), Majeski enjoyed being back in New York — hopping on the subway to get around town, taking walks through Central Park and hanging out at a favorite Broadway tea shop.
In learning a new role, Majeski starts with the rhythm ("as a former tap dancer, that's where I naturally go first"), then adds the text, and only then learns the musical notes. "I try not to practice the vocal mechanics all that much by myself, because I tend to tie myself into knots," she admits during an interview over dinner in March at an Upper West Side bistro in Manhattan. "So I like to run it with a coach or a teacher, to have another set of ears tell me how it's sounding. That's the tricky thing about singing — we never really hear like the audience hears. It's nice to have someone be the audience for me, to tell me if it's sounding how I think it sounds."
Her teachers and coaches include several Northwestern faculty. Majeski still takes occasional lessons with Theresa Brancaccio '82 '83 MMus, her Bienen School of Music voice teacher. Senior lecturer Stephen Alltop '96 DMA has been working with Majeski on Cleopatra, writing ornaments for many of the arias. "And I never go off to do a new role without coaching it first with [senior lecturer and vocal coach] Alan Darling, so the connections I made at Northwestern have truly lasted for life."
From Gurnee to EVANSTON to Chicago
Growing up in Gurnee, Ill., Majeski initially studied dance (she still takes tap dance classes whenever she gets a chance) and had never even seen an opera until high school, when her principal arranged a Lyric Opera trip to see Britten's all-male-cast Billy Budd — scarcely an auspicious introduction for a budding soprano. By then she had gravitated toward singing in chorus and had auditioned — unsuccessfully — for her high school's variety show.
At her mother's suggestion, she started taking voice lessons. Initially, Majeski was disappointed that her teacher started her with 24 Italian Songs and Arias. "I wanted to sing Rent, Phantom of the Opera, Les Miz," she recalls.
But she stuck with the lessons and then auditioned for Northwestern's precollege summer "Cherubs" program.
"I got in and fell in love with the school immediately," says Majeski. "By the time I was done, having worked with the faculty and lived in a dorm, I knew Northwestern was the only place I wanted to be."
Entering the University as a double major in music education and voice performance, Majeski was planning to teach high school chorus. But midway through her sophomore year, she got some unexpected career advice.
"Something very special had started to emerge in her voice," recalls Brancaccio. "I said, 'Amanda, I think it's time to call your parents and tell them you can drop your music education major.' " 
"When I told my parents, they got a little panicky," says Majeski. "Thank goodness for Terry [Brancaccio], because she made a phone call to my mother to say, 'I really think she has what it takes, and you should support this. It's all going to work out.' "
After completing her bachelor of music degree at Northwestern — where (unusually for an undergraduate) she played two leading opera roles —Majeski added six more operatic leads while earning a master's degree at Philadelphia's Curtis Institute of Music. Then she returned to the Chicago area when she was accepted into Lyric Opera's prestigious young artist program, the Patrick G. and Shirley W. Ryan Opera Center.
"It was a miracle I got in," claims Majeski. "I was very sick, with a double ear infection and a sinus infection. I'd never been on a stage that big before, and when I went on, I thought, 'How in the world am I ever going to get my voice out there?' "
"She sounded fantastic," reports Handley, who that day was going through the formality of reauditioning for his second year in the program. After hearing Majeski's audition, he said to friends, "I don't know who that is, but that's the one they need. She's the one."
She proved to be the one for Handley as well. A Ryan Center romance soon developed, and they have been married since 2013 (see "A Facetime Family").
At the Ryan Center, Majeski played two small roles in Lyric productions but was primarily assigned to cover lead soprano roles. "That was great," says Majeski, "because some of the best singers in the world come through there, and I had a front-row seat — the best way to learn."
It was while playing the First Peasant Girl and covering the Countess in The Marriage of Figaro in 2010 that Majeski got her first big break — uncannily foreshadowing what would happen when she covered the same role at the Met four years later. She was notified the day before a Lyric performance that the original soprano was ill and would not be singing. Until then she had only run through the opera in a rehearsal room with piano accompaniment — never on the stage and never with orchestra.
"It was actually nice to get that much time," she recalls. "Usually a singer will try until the last moment to go on. It gave me a day to be rushed through costume fittings, go through the staging and meet with the conductor, Sir Andrew Davis. I felt prepared enough, logistically; emotionally is another thing. But I had all the tools to get it done.
"It still may be my favorite onstage experience ever. Something happens when you don't get that much notice and you put on the costume for the first time: All of a sudden, you're not you anymore, you're this character. I remember being so in the moment. I always chase that feeling every time I go onstage now. It's never the same, but it was a magical time."
Audience reaction was rhapsodic, and a career was born. After her Ryan Center stint, Majeski played leading roles on a full-season contract at Semperoper Dresden. Since then she has enjoyed a busy freelance career, returning frequently to Lyric Opera and appearing at other major U.S. and European opera houses in such roles as the Marschallin in Der Rosenkavalier, Eva in Wagner's Die Meistersinger, Donna Elvira in Mozart's Don Giovanni and Marguerite in Gounod's Faust.    
Hi-Ho, the Glamorous Life
Flying around the world from one engagement to another may sound exciting, but according to Majeski, "it's not glamorous at all. It's lugging suitcases, sitting in middle seats in coach, not getting enough sleep before the first rehearsal, getting sick. This past season I did eight months on the road, which I know now is way too long."
The strain is even greater with new roles. "I learned early on that I can't do two new roles back to back. I need time to go home, to be a normal person, to learn a role slowly with coaches and teachers I trust," adds Majeski. "It's important to have the down time to decompress. That means I may turn down a contract just to keep my sanity."
Majeski's down time usually means sleeping in. "I love a lazy morning, and Sam makes a really good breakfast. Lately I've been into watching The Price Is Right. It's a crazy time right now in the world, and The Price Is Right is just one hour of people happy, cheering and winning prizes."
For days when she's performing, she's found that "exercise helps control my anxiety and stage fright. So whenever I have a big singing day, I make sure to do some sort of physical activity, usually running."
Majeski handles rehearsal and performance days as similarly as possible. "The goal is to try not to feel like the performance is anything other than what you've worked for every day, so it helps to keep a similar schedule. I get up, have my cup of tea and a little breakfast, and do some exercise. I've been starting to do meditation, which helps — just quieting down my mind and body. Then I do a little vocalizing in the shower. If it's a later rehearsal or an evening show, I eat again. I like to have a big meal before I sing — I love Subway's foot-long turkey sub — because it helps me feel my breath support better. Then off I go!"
Performing for an audience is the ultimate payoff, and Majeski feels fortunate to pursue a profession that spreads beauty in the world.
"Sometimes people think that opera is scary or inaccessible or that only certain people go," she says "But I feel it can mean something for everyone: joy, love, escape. It's a moment to share something beautiful with the person next to you and an orchestra and the people onstage. It brings people together. It transports you, maybe out of something challenging in your life, and puts you in another world. It makes me feel very special to be a part of that — where everybody's in that one moment, experiencing it together."