Story Tools
Share this story
We'd Like to Hear from You
Northwestern welcomes signed letters of 250 words or less from readers. We reserve the right to edit all letters. Please send correspondence to the
Editor
Northwestern
1800 Sheridan Road
Evanston, IL 60208-1800
Fax: 847-491-3040
E-mail: letters@northwestern.edu
Find Us on Social Media
Response to Letter Critical of LGBT Research
We were surprised and disappointed that an alumnus wrote a letter to Northwestern magazine [Feedback, page 4, winter 2015] that slurred the LGBT community as "notoriously promiscuous" and erroneously presented this as the only risk factor for HIV infection.
Data reported by the Centers for Disease Control and Prevention show that the median number of sex partners of all men (approximately 90 percent of whom report as heterosexual) aged 25–44 was 6.6 partners in their lifetime. Changing partners is common behavior for many young people, regardless of sexual orientation. Nor is living in a long-term, committed relationship the sole province of heterosexuals, as evidenced by the moving and successful fight same-sex couples have made for the right to marry. Application of the principles of "Epidemiology 101" requires a nonbiased examination of the frequency of disease as well as all risk factors that lead to exposure. Our own research has demonstrated that African American men who have sex with men have lower indices of behavioral risk factors (including number of sex partners) than their white counterparts but have substantially higher rates of HIV infection. This is a clear example that there is more at play in HIV infection than just the number of partners.
Many times research shows that conventional wisdom doesn't hold up. Epidemiological research has shown that in fact most HIV transmissions among young gay/bisexual men occur within serious relationships because too few have ever been tested for HIV and therefore don't know their status. HIV stigma is perpetuated by linking HIV to sin, and that stigma is a barrier for too many to seeking HIV testing and effective medical care.
Applying worn stereotypes will have little success in ending the HIV epidemic. Creative, rationally designed and critically reviewed studies are essential for identifying strategies that improve public health. We are gratified that the National Institutes of Health funds these studies, including the recent grant to Northwestern scientists described in the fall 2015 issue ["Expanding LGBT Research", Lab Notes, page 16].
We believe most Northwestern alumni support HIV and LGBT health research. Readers can learn more about this important research occurring at Northwestern on the websites of the Third Coast Center for AIDS Research and the IMPACT LGBT Health and Development Program. The IMPACT Program is an LGBT youth–focused component of the newly launched Institute for Sexual and Gender Minority Health and Wellbeing at Northwestern. We welcome alumni interest and support of the Third Coast Center and the IMPACT Program.
Brian Mustanski '99
Associate professor of medical social sciences, Feinberg School of Medicine
Director, Institute for Sexual and Gender Minority Health and Wellbeing
Co-Director, Third Coast Center for AIDS Research
Richard D'Aquila
Professor of medicine-infectious diseases, Feinberg School of Medicine
Director, Third Coast Center for AIDS Research
Director, Northwestern HIV Translational Research Center
In the days following the publication of Warren E. Anderson's December letter to the editor, Northwestern magazine ran online a powerful rebuttal [above] from two professors, Brian Mustanski '99 and Richard D'Aquila, carefully critiquing Mr. Anderson's argument.
Like these professors and many others in the Northwestern community of students, alumni, faculty and staff, NUGALA (Northwestern University Gay and Lesbian Alumni), the University's official LGBTQ+ alumni club, was disappointed and concerned by the decision to run the letter in the first place. Though we acknowledge the subsequent heartfelt and thoughtful reconsideration from editor Stephanie Russell as an affirmation of Northwestern's commitment to LGBTQ+ students and alumni, the piece only underscores the need for ongoing alumni advocacy.
We understand the administration of the University does not share in the opinions expressed by Mr. Anderson. However, the remarks are not unique to the letter writer and are probably shared by many others in the extended Northwestern community. As such, they cannot be allowed to exist unchallenged — or to be printed without clarifying context.
The University justly respects an individual's right to express opinions. But when those opinions are given tacit credence by virtue of their publication, they have the potential to create an atmosphere of hostility that runs counter to the University's strong commitment to providing a fair and respectful learning environment for its students.
Whatsoever things are true is as much a challenge as it is Northwestern's motto. To quote the full verse: "whatsoever things are true, whatsoever things are honest, whatsoever things are just, whatsoever things are pure, whatsoever things are lovely, whatsoever things are of good report; if there be any virtue, and if there be any praise, think on these things." There is nothing worthy of praise in Mr. Anderson's letter. But there is an unspoken call to action.
The LGBTQ+ high school students who will soon receive offers of admission from Northwestern belong to a generation of young people who have, by virtue of social media, seen too many fall victim to a hostile society that sees them as lesser. Let us work to create a community that soundly affirms them, that lifts them up, that fosters a safe place from which they might grow.
Therefore, NUGALA prefers instead to turn its attention away from prejudice masquerading as religiously informed logic and toward the proactive ways in which we might positively impact the University and those in the LGBTQ+ community.
What might we think on? NUGALA invites you to tell us. Share your voice and let us know what need you see our club filling by emailing the board or by commenting on our Facebook page.
Northwestern University Gay and Lesbian Alumni
Evanston
As an institution that prides itself on its programs in epidemiology, public health, and gender and sexuality studies, Northwestern should be ashamed to be associated with such an inaccurate and offensive letter as Mr. Anderson's.
His statistics are at odds with the CDC's and all other reputable sources. His homophobic rhetoric ("notoriously promiscuous"?) is archaic and hateful. A letter like this has no place in any official Northwestern publication.
"Our obsession with tolerance and acceptance" is not some frivolous mission to overthrow Mr. Anderson and his xenophobic Christian hegemony. It's an acknowledgement that words, especially words from people in positions of social and political power, have significant consequences.
If you tell young queer people that they are doomed to die of AIDS as a natural result of their unavoidably sinful natures, they just might believe you enough to give up and prove your point. If you educate them about responsible sexual behavior without judgment, you'll save lives.
I can only assume that this letter was published in the interest of representing diverse opinions, including those of the grumpy religious right, fearful for their impending irrelevance. In the future these horribly offensive opinions should be left to rot in the hateful minds that conjure them and not invited into an otherwise supportive environment like the Northwestern alumni community.
Sam Garrott '15
Chicago
Mr. Anderson rails against gay people as "notoriously promiscuous" and characterizes society's increasing tolerance of gay people and decreasing tolerance of homophobia as "calling good evil and evil good." He then laments that Northwestern has let "sin" distort its mission of imparting "wisdom" to students which, he assures us, comes only from the Bible.
As an example of anti-gay bigotry, this letter is almost a parody. But it obviously is meant to be taken seriously. Can there be any doubt whether a letter expressing, with similar virulence, anti-black and anti-Semitic attitudes would be printed?
Now, I assume you don't print every letter you get. The editors of Northwestern apparently selected this letter for publication for a reason. I'd like to know what it is — and I hope I'm not the only one.
Michael H. Morris '70
Los Altos Hills, Calif.
The letter from Warren Anderson titled "LGBT Research" was closer to hate speech than any kind of reasoned opinion or philosophical argument and does not belong in a Northwestern-affiliated publication. Please issue a retraction and apology.
Karen Zemanick '84, '86 MD
Chicago
I am disturbed that you printed the letter titled "LGBT Research" from Warren Anderson in the most recent edition of the magazine. In the letter, Anderson claims that few monogamous people have HIV, the LGBT community is promiscuous, and that explains the spread of HIV. While I welcome and encourage meaningful debate and discussion, this letter is simply hateful and dangerous. The letter is empirically false and based on ideas of HIV as a "gay disease" that were inaccurate 30 years ago.
The sole goal of the letter is to spread hate and stigma of LGBT people as the other. As someone who has dedicated his career to addressing this sort of bias, and a proud Northwestern alum, I am disturbed to see Northwestern magazine give a platform to this. If you truly thought that this contributed to a robust public discussion, at a minimum it should have been printed with an editorial response addressing the dangerous factual inaccuracies.
Jeffrey Kosbie '09 MA, '15 PhD
Windsor, Calif.
As a current PhD student at Northwestern and a person who identifies as queer, I would like to express my frustration and disappointment to the Northwestern magazine editors for allowing the commentary on "Expanding LGBT Research" to be published in the Mailbox section of the winter 2015 edition.
I understand this section is supposed to allow for readers/alumni to submit their personal opinions on articles published in our community's magazine. However, not only is this person spreading information that is empirically false, he is also perpetuating the stigma of the LGBTQ community. I am frankly surprised that the editors allowed this person's commentary to be reflective of the Northwestern community.
I hope that the editors see their error in allowing this piece to get published and that this does not happen again.
Eduardo Europa '14 MA
Evanston
I read with disappointment your choice to publish the letter "LGBT Research" in the winter 2015 issue. The ridiculous and insulting statement that "those in the LGBT community tend to be notoriously promiscuous" is repeated often enough in right wing news outlets and ignorant society at large, but it should not be repeated in a publication that is purported to showcase the intelligence of the Northwesterm research and alumni community. Are you that desperate for letters?
Bigots have enough pulpits; they don't need our alumni mag.
Mneesha Gellman '14 PhD
Jamaica Plain, Mass.
In reading the Feedback section of the recent edition of your Northwestern magazine, I was appalled to see that you thought it acceptable to publish bigot Warren E. Anderson's letter responding to LGBT research. You, ma'am, should be ashamed of yourself. Judging from Anderson's graduation year, I am comforted by the fact that this bird-brain and other bird-brains like him will hopefully all be dead soon, but you, Stephanie, manage to not only promote Bigot Anderson's brand of misinformation but also to promote his brand of hate by publishing his offensive letter.
Now, I don't know you. You might agree with everything Bigot Anderson says. But I assume that someone in your position at an institution like Northwestern does not agree with what Bigot Anderson says. However, even if you do agree, you should know better than to publish a letter that is riddled with lies and based not at all in truth. Bigot Anderson says that 40 percent of gay and bisexual men will become infected with HIV. That is complete and total, hot, stinking bullshit, and you know it. Why publish what this crazy bigot has to say? You are only perpetuating his dangerous ideology, which serves no purpose other than to further stigmatize an already stigmatized group, a group to which I belong. I have been called a "faggot" out in public going about my day eight times in the past two years. Most of the time, it happened when I was surrounded by groups of strangers and not one of them ever came to my defense. Bigot Anderson's frightening, bonkers opinions only work to make that kind of occurrence more likely and more acceptable, and your publishing of his letter does no better.
Shockingly, Bigot Anderson says one accurate thing in his insane article: "Thus we are overcome in our obsession with tolerance and political correctness." This is something that to which you are contributing. Our culture is strangely obsessed with giving equal airtime to two sides of an argument when one side is based in truth and the other side is total baloney. Just because Bigot Anderson is loud and angry and nuts, that doesn't mean that you should publish his thoughts as if they are valid. The world doesn't become a fairer place when you make false equivalencies. It isn't politically correct to be tolerant of this ultra-religious, gay-hating nutbag. That's not what tolerance means, and you know that.
Shame on you. I am disgusted by your behavior in this edition of your magazine, and you better believe that I will never make a single charitable contribution to the University's alumni organizations ever again. I will also make it my business to encourage all of the alumni I know to do the same. That is, until you apologize for this grave error you have made and refute Bigot Anderson's ridiculous claims in the next edition of your magazine. We live in 2015. Gay people are nothing to be afraid of. Stop publishing things that make it seem like we are. I repeat: you know better.
Aaron Ricciardi '11, '11 CERT
New York City
Reading the most recent issue of Northwestern magazine, I was intrigued by the heated feedback generated by a letter from alumnus Warren Anderson regarding Northwestern's research of homosexual health issues.  Being somewhat invested in this discussion, and having missed the letter during its original publication, I decided to search it out and read it for myself. I quickly discovered that it was erased from the website archive and replaced with the editor's apology.
How sad. I graduated from Northwestern less than a decade ago, and although certain ideologies and worldviews were dominant among students and professors, I found that almost every discussion afforded enough respect and openness to opposing opinions that everyone was allowed to share their views without being disenfranchised. Has the social climate changed so much in five years that a letter which runs counter to prevailing views must be verbally thrashed then struck from the record?
Deep, thorough convictions cast out fear of opposing viewpoints. The man who knows what he believes is not hurt, offended or even staggered by contrary claims. Instead, they motivate him to assess his ideas and either reconsider or reaffirm them. To put it simply, we have nothing to fear from the truth.
Apparently, Northwestern does.
Joe Paolelli '11
Park Ridge, Ill.
I always look forward to the arrival of Northwestern magazine which brings a long gone alum up to date.  The current issue, spring 2016, was another enjoyable read.
But the "Letters" section was disturbing. I did not agree with Mr. Anderson's December letter on LBGT research, but to my knowledge we still enjoy freedom of expression in this country. Mr. Anderson was utilizing this right when expressing himself on the subject. The blowback from this month's letter writers was, in my opinion, way stronger than necessary to make their points. I was also disturbed by the editor apologizing for publishing an unpopular opinion.
As witnessed by incidents at Missouri, Yale, Oberlin, Rutgers and other schools, todays students and staff are not open to opinions that do not matchup with their view of the world and how it should operate. They have little idea of how a democracy operates and encourages a free and open society. If they did, their disagreements would not be so intolerant. They preach tolerance but don't feel like practicing it themselves. Even being "religious" seems to be a sin as indicated in one letter which uses the word as a negative adjective.
It's disturbing to us older folk who spent some time defending the liberties that allow free expression to be trashed so easily.
Bill Zeiler '54
Bow, N.H.
Editor's note: In the winter 2015 issue, Northwestern magazine published a letter from alumnus Warren Anderson criticizing Northwestern University for undertaking research on HIV. Mr. Anderson's letter was published in the letters to the editor column, in which alumni voice their personal opinions about Northwestern or about articles that previously have appeared in the magazine. His letter was in response to "Expanding LGBT Research," the lead article in the "Lab Notes" section of the fall 2015 issue.
Several readers have raised a good point about whether we should have run Mr. Anderson's letter as it was written, and upon reflection, we agree that we should not have done so. It was an error in judgment on our part, and we apologize for that. Northwestern magazine's letters to the editor column is named "Feedback," and, as is printed in the magazine, the opinions expressed are not those of the editors or the institution, but of the letter writers. Nevertheless, the letters we print should not attack any individual or group of people in the manner that his letter did. We will review our guidelines regarding letters to the editor to ensure that this does not happen again.
Again, we apologize for the pain that Mr. Anderson's letter and our decision to run it have caused.
Stephanie Russell

Editor
Alan Cubbage '78 MS, '87 MS
Vice president for University Relations
The Block Museum
It was wonderful to see the recent article on the Block Museum ["Engaging Art," winter 2015]. This museum is a real treasure of the University, and with the opening of the new building for the Bienen School of Music, it sits in one of the most attractive corners of the campus.
I want to alert your readers to the generous support that the Buffet Institute offered to Northwestern's participants in the 14th Istanbul Biennial ["The Block Bridges the Bosphorus," sidebar, "Engaging Art"]. This made possible a seven-hour–long seminar held during the opening days of the conference, in which I was privileged to participate alongside two of the Northwestern artists who exhibited in the biennial, Irena Haiduk and Michael Rakowitz. Mathematicians, physicists, oceanographers and artists presented at this event.
Mathematicians might have the reputation of being a bit like characters in The Big Bang Theory, and while I don't want to utterly dispel this caricature, I do wish to assure your readers that Northwestern's mathematics department is very much engaged with the larger world.
Ezra Getzler
Department of Mathematics
Weinberg College of Arts and Sciences
I just got the winter issue and wanted to say a big thank you for focusing on art and the Block Museum. As an undergrad I worked at the Block, and it remains a cornerstone experience in my current career in museums. I can't wait to visit the campus in the spring and check out the new Ryan Center as well. Beautiful photo spread! I'm so happy for the current generation of music students.
Tiffany Minaret Sakato '07
Fairfield, Calif.
Conflict Minerals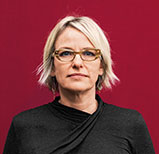 Thank you for the article "A Precious Mission," [winter 2015]. Carolyn Duran and her team have done extraordinary work in reducing the trade in conflict minerals. The article was very informative, explaining many aspects of the issue while profiling Duran. So many of our world's challenges seem to be the result of corporate and individual greed and indifference, so kudos go to Intel and all the other corporations that have made conflict-free minerals a priority.
Mary Jo Bunce Deysach '68
Evanston
Carolyn Duran — you are a hero!
Steve Larek '85 MBA
Lemont, Ill.
I read with avid interest "A Precious Mission," regarding Carolyn Duran's work to ensure that metals used in Intel microprocessors do not come from mines run by warlords in the Democratic Republic of Congo. As a former Peace Corps volunteer to that country in the mid-'80s, when it was called Zaire and under the control of Mobutu, I didn't think it could get any worse, as the AIDS epidemic was just beginning and diamond mining was flourishing. I am so grateful for Duran's ability to overcome such seemingly insurmountable obstacles to make something so important happen. I know that this will make a difference in the lives of thousands of men, women and children who will never be able to thank Duran personally.
Leslie Speros Tilbrook '85
Alice Springs, Australia
I was greatly moved by the article on Carolyn Duran and her work to make Intel microprocessors conflict free. A few years ago, as part of a collaboration between an artist and poet called "Vision and Word" in Eau Claire, Wis., I wrote a poem about the same subject. I was paired with a potter who created a piece depicting a mining scene. Although the poem and pottery piece were presented at a reading and stayed on display at the local library for a few weeks, I didn't think much more than education was accomplished. I had little hope that anything would be changed by our collaboration. How my heart sang with joy when I read "A Precious Mission." I would like to tell Carolyn Duran thank you for her hard work, even in the face of illness. She has truly changed lives.
Candace A. Hennekens '69
Fall Creek, Wis.

New Music Building
I was delighted to see the beautiful cover on the winter issue that featured a wonderful photo taken inside the new Bienen School of Music building. I quickly turned to
"A Building of Note"
and was hoping to see a nice article about the Ryan Center for the Musical Arts and the Bienen School's fine programs of study, but what I saw disappointed me greatly.
This is a major achievement that needs to be given greater press. The story of how beautifully the building was designed to support music teaching and learning on campus needs to be shared with all alumni.
I hope that at some future date the magazine will include a more complete feature on the music scene at the University. There are so many unsung (forgive the pun) heroes on the faculty and in the administration at the Bienen School of Music, folks doing extraordinary work in many fields of study. It really is a remarkable school.
Peter R. Webster
Emeritus Professor
Bienen School of Music