Story Tools
Share this story
We'd Like to Hear from You
Northwestern welcomes signed letters of 250 words or less from readers. We reserve the right to edit all letters. Please send correspondence to the
Editor
Northwestern
1800 Sheridan Road
Evanston, IL 60208-1800
Fax: 847-491-3040
E-mail: letters@northwestern.edu
Find Us on Social Media
Remembering James Foley the teacher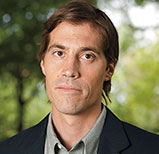 In your last issue there was a wonderful eulogy for James Foley ["Passings," page 60, winter 2014], who was murdered by ISIS in Syria. However, you mentioned that prior to his journalism career he had volunteered with Teach for America.
James Foley did not volunteer. Rather, he was recruited at Northwestern by Teach for America, just as I was recruited in 1993. We both took extensive graduate coursework to become certified teachers who formally taught students and were paid to do so. According to the Teach for America alumni magazine, he began teaching in 1996 and then spent four years as an elementary school teacher in Phoenix, where he made "an indelible impression on students."
Before taking on global challenges, James was dedicated to promoting educational equity here at home.
Samina Hadi-Tabassum '93
Oak Park, Ill.
All Night Long with The Iliad
I was very pleased to read about the marathon reading, aloud and in English, of Homer's The Iliad by students and faculty on the night of May 23 on the lakefront ["The Iliad by Moonlight," Campus Life, page 9, fall 2014].
I would like to let readers know that I sent a letter to the editor of the most respected newspaper in Greece, Kathimerini, about this wonderful initiative by our Northwestern community. The letter was published and readers responded with excellent comments. They appreciated that this reading took place at a university outside Greece and that it paid tribute to Hellenic culture.
One famous cardiologist-surgeon made specific reference to Northwestern as an excellent university that emphasizes a classical education by hosting such an event. He also mentioned that this is proven in the Northwestern University seal, in which a citation from the Gospel of St. John (1:14) is written in Greek and a phrase from St. Paul's letter to the Philippians (4:8) in Latin.
Antony Rousseas '72, '73 MS

Athens, Greece
kudos for creator of Emergency Fund
As a "purple stripe" student (Remember the stripe at the bottom of the housing cards in the 1980s that indicated that you received so much assistance you didn't have to pay the housing deposit?), I was very touched by the story about the Margo Brown Northwestern Student Emergency Fund ["Helping Students in Need," Your World, page 36, winter 2014]. 
I salute Greg Crouch for establishing this fund and I appreciate how staff go out of their way to make Northwestern a welcoming place for financially struggling students and first-generation students.
Paula Corrigan-Halpern '88
Chicago
In Defense of Julia and Charlton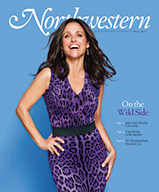 I look forward to each issue of Northwestern magazine, not only as an opportunity to catch up with campus events but also to revel in the accomplishments of classmates and alumni, regardless of their human imperfections. Certainly we each have the right to express our own perspectives, but I fail to see how publishing letters questioning Julia Louis-Dreyfus' appearance ["Julia Dreyfus Looks Too Good," Feedback, page 4, winter 2014] or Charlton Heston's childhood preferences ["Not So Fond Memories of Chuck Heston," Feedback, page 6, winter 2014] contributes in a meaningful way to Northwestern. Perhaps you intended these particular letters to serve as bookends when paired with the essay "Mean Girl" [Purple Prose, winter 2014].
David Termuhlen '83
Milwaukee
I just saw Julia on the Golden Globes preview show. Still think she's Photoshopped?
I think not.
Jeremy Boxerbaum '84, '85 MS
New York City
I assume I am not the only alumnus who is disgusted by Mark A. Young's petty and spiteful comments regarding the late Charlton Heston. Whatever slights Mr. Young's tender ego suffered because of Heston's ignoring him, it is obvious that much of Young's vitriol ultimately comes down to the self-righteous moral outrage he chooses to feel regarding Heston's political positions. Young's letter says much more about Young than Heston.
David Urban '90
Grand Rapids
I am disappointed that you chose to publish the letter from Mark A. Young in the winter issue. All that he seemed to do was describe some anecdotal observation that denigrated Charlton Heston. He then went on to say that he lost all respect for him after he became president of the NRA.
Charlton Heston was a distinguished alumnus and there is no doubt that some of his fellow grads don't share his politics. But I'm not sure how publishing such a trite and petty letter advances our understanding of "Chuck" or the school.
John Multhauf '93
Orlando, Fla.
Remembering Bill Heyck
I was saddened to read of the death of Professor Emeritus Thomas William Heyck [Deaths, page 63, winter 2014]. Professor Heyck served as the chairman of the University's 1988 Task Force on the Undergraduate Experience and, in doing so, illustrated the finest example of service to a university community. No one remembers the task force as the "Heyck Commission" because Bill always deflected attention from himself to our charge of unifying and improving Northwestern.
As a student member of the task force, I worried at first that I would be considered little more than a token, but Professor Heyck made clear that he expected full participation from all members, including students, and even appointed me to a leadership position: helping to draft the University's new mission statement.
Bill Heyck inspired us to work to make Northwestern a better university and a better community. I hope that he will not be forgotten by the Northwestern community that owes him so much.
Robert Niles '89
Pasadena, Calif.
It pains me greatly to learn of the death of perhaps my favorite professor during my time at Northwestern, Bill Heyck. As much as his online Northwestern obituary was substantive and moving, I found your magazine's slight note disappointing.
Professor Heyck played a highly significant role in shaping the undergraduate experience of thousands of Northwestern students. Not only did he head one of its many Residential Colleges, he helped create the entire system itself.
I would have loved to hear the retrospectives of many other students he taught over a long and distinguished career. Learning online that he encouraged the hiring of another British historian, Harold Perkin, to the history department only deepened my esteem.
I hope at some point you might devote a little more space in your magazine's pages to someone as influential as he was. I am very saddened to think I will never run across him again.
Lisa A. Kazmier '88
Manville, N.J.
A Helping Hand
Bravo for the outstanding work that Northwestern medical students are doing with the homeless in Chicago ["A Helping Hand," Campus Life, page 8, winter 2014].
I am experiencing another inspirational demonstration of Northwestern students helping people in the community. This represents the development and implementation of the vision of the late former surgeon general C. Everett Koop for promoting global health in the community.
Koop came to Kellogg in 2008 to promote Communication in Health Care as judge of a student competition in social entrepreneurism.
Koop believed communication by people to people of health information they can trust, understand and use empowers individuals, families and communities to make decisions and take actions to manage health and find resources they need. This is now happening with Northwestern students and faculty collaborating with local health clinics, health systems, public health departments and the Evanston and Skokie public libraries. This gives access to users in a trusted location that transforms information into knowledge that will promote individual and population health.
Northwestern students have developed the Hircules Health Hub, where they volunteer to work in and with our local libraries to help seekers of health information. By promoting collaboration with many health resources in Evanston and Skokie, they develop skills and tools to communicate in ways that enable users to manage their health while the students develop their own skills for professional health work. The program is coordinated and evaluated by Northwestern faculty member Michael Diamond and his associates in the Global Health Studies program.
Allen I. Goldberg '88 MBA
Chicago
John Evans and the Sand Creek Massacre
I wrote that rather impassioned defense of John Evans in a letter to the editor in response to your recent magazine article blaming him for the Sand Creek Massacre.
Here's a link to a longer, more diverse, less pedantic front-page Denver Post article on the 150th anniversary of the tragedy. The Northwestern John Evans Study Committee might be interested in reading it.
Patricia Matusek Kenning '51
Littleton, Colo.
I hope I live long enough to see a letter to the editor urging me to not judge Eric Harris and Dylan Klebold [the students who committed the Columbine High School massacre in April 1999] by today's standards, as Patricia Matusek Kenning urged her fellow alumni to not judge John Evans by today's standards. For that to happen, we would have to be as far past the violence of the 1990s as we are now past the racism of the 1860s.
Robert O'Rourke '81 MS
Leavenworth, Kan.
In the discussion that has surrounded the controversy of John Evans' name at Northwestern, it would be fair to say that John Evans was both very accomplished and flawed. He accomplished more than most people and was as flawed as anyone. He was a person who reflected the mores of his times that encompassed the belief in Manifest Destiny by those of European descent. He undoubtedly felt good in offering shelter to American Indians who would seek protection at Army posts while embracing a 19th century mentality of taking over American Indian lands by European settlers who felt that doing so was their right. It is much easier to condemn those attitudes from the hindsight and perspective of 21st-century knowledge.
The United States today honors such leaders as George Washington and Thomas Jefferson, especially for their foresight and intellect in creating a new nation and form of democratic government. Washington and Jefferson were also slave owners. However, we don't diminish their accomplishments because they owned slaves and reflected the moralities of the South in the 1700s, even given the reprehensibility of the institution of slavery, whether seen then or through the lens of the 21st century.
In judging John Evans, I suggest that Northwestern take a balanced view of the person. His accomplishments should gain the same level of scrutiny as his mistakes and errors in judgment. He accomplished a lot in founding our University and the city of Evanston. He also made mistakes in creating an atmosphere in Colorado that led others to carry out the Sand Creek Massacre and then to diminish its effects when public reaction became negative. The man, in other words, was human. He does not belong on a pedestal, nor does he need to have his accomplishments overlooked. He was a leader who reflected the morality of his times, for better and worse.
Rather than remove John Evans' name from buildings on campus, why not continue to honor the heritage he created at Northwestern as its primary founder? We could do so while also leveraging the opportunity to engage in dialogue and interaction with American Indians whose history in this country since the 16th century has been one of subjugation. Education would seem to be key to the future of American Indians, and education is Northwestern's mission. Northwestern has many nationally ranked resources that could be vital to embracing American Indian culture while creating educational opportunities for young people to become educated, skilled and innovative leaders of their communities. Perhaps providing substantive educational programs for young American Indians can be John Evans' final legacy at Northwestern rather than jettisoning his historical impact.
Payson S. Wild Jr. '71 MA
Evanston
More disappointment in class designations
I should have written this message months ago, but I am thinking "better late than never."
I want to join the other alumni who have expressed their objections to your decision to eliminate the undergraduate school degree designations from the Class Notes section [see "Down with New Class Designations," Feedback, fall 2014, and "Disappointment in Class Designations," Feedback, winter 2014]. I found the letter sent by Phil Hermanek '75 CERT, '80 [Feedback, fall 2014] especially meaningful.
In response to his and other letters you included an editor's note saying, "The change was made to simplify how alumni class years are displayed and to be consistent with how most universities and colleges show class designations." I find this explanation unconvincing. Since when is it Northwestern University's goal "to be consistent with how most universities and colleges show class designations." Whatever happened to original, independent thinking? As stated by Mr. Hermanek, eliminating the undergraduate degree designation devalues the significance of undergraduate degrees. I feel that your decision is discriminatory against alumni who have earned undergraduate degrees. Including these designations puts no excessive burden on anyone.
When I was a graduate student at Northwestern (McCormick School of Engineering and Applied Science), I received generous financial aid in the form of a Walter P. Murphy Fellowship, as well as summer employment in the mechanical engineering department. I will always be very grateful for this aid and have been happy to make annual donations to the school for decades. As a longtime supporter of Northwestern, I ask you to please reinstate the undergraduate degree designations.
Lawrence Lewin '60 MS
Seattle