Passings
Story Tools
Share this story
Tell us what you think. E-mail comments or questions to the editors at letters@northwestern.edu.
Ever wonder about those strange designations we use throughout Northwestern to identify alumni of the various schools of the University? See the complete list.
Find Us on Social Media
Dudley Childress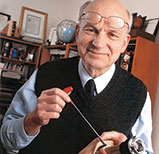 Dudley S. Childress '67 PhD, Wilmette, Ill., Aug. 6 at age 79. One of the first graduates of the biomedical engineering doctoral program at Northwestern's McCormick School of Engineering and Applied Science, Mr. Childress went on to a long career as a pioneer in rehabilitation engineering.
A professor, researcher and mentor, Mr. Childress worked to advance prosthetic, orthotic and assistive device technology with research on biomechanics, human walking, artificial limbs and ambulation aids. He helped develop the first myoelectric system for a user to control the speed and grip of a prosthetic device's fingers in 1968. Four years later he developed the first systems to control power wheelchairs by switches that are activated by sipping and puffing on a tube or using other minimal movements. His group also developed one of the first environmental control systems that enabled persons with paralyzed hands and arms to activate electrical devices. In 1998 Childress and his colleagues built a modern motion-analysis system, one of a few such research tools dedicated to studies of prostheses, orthoses and other ambulation and manipulation aids.
Mr. Childress, a professor of biomedical engineering at McCormick as well as a professor of physical and rehabilitation medicine at the Feinberg School of Medicine and the Rehabilitation Institute of Chicago, was the first biomedical engineer appointed to a joint faculty position in the fields of medicine and engineering at Northwestern. He was director of Northwestern's Prosthetics Research Laboratory and the Rehabilitation Engineering Research Program and worked as a senior rehabilitation research scientist at the Veterans Affairs Chicago Health Care System.
Mr. Childress is survived by his wife, Nancy; and two sons, Stephen and Malcolm.
David Bockman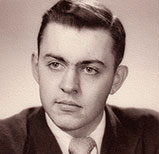 David D. Bockman '53 MS, Santa Cruz, Calif., May 6 at age 84. An environmental activist, Mr. Bockman dedicated his life to nature restoration and preservation, especially along the California coast.
He filed several successful appeals at the California Coastal Commission, including one that resulted in the California Department of Transportation rerouting a highway to preserve sand dunes that eventually became a state park. He was also instrumental in the preservation of the Santa Cruz long-toed salamander. Mr. Bockman was a regional committee chair for the Sierra Club, conservation director for the local chapter of the Native Plant Society and an active member of the Santa Cruz Bird Club.
Mr. Bockman is survived by his partner, Linda Wilson, and his brother, Ted.
Andrew Cray
Andrew Cray '08, Washington, D.C., Aug. 28 at age 28. A policy analyst for the Center for American Progress, Mr. Cray was a leading advocate for lesbian, gay, bisexual and transgender health rights.
He partnered with the White House and the Department of Health and Human Services to launch Out2Enroll, an initiative to boost enrollment in the Affordable Care Act among members of the LGBT community.
After his own gender transition, Mr. Cray played a critical role in securing LGBT nondiscrimination protections in health care. Mr. Cray also helped draft passages to make organ transplantation more accessible to people with HIV in the HOPE Act.
Mr. Cray is survived by his wife, Sarah McBride.
James Foley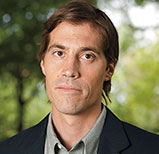 James "Jim" Foley '08 MS, Syria, August at age 40. Mr. Foley was executed by Islamic State militants.
Known for his passion for social justice and his desire to cover conflict in the Middle East, Mr. Foley was covering the civil war in Syria when he was captured on Thanksgiving in 2012. He remained in captivity until his death.
After graduating with a master's degree in journalism from Northwestern, Mr. Foley embedded with U.S. troops in Afghanistan and Iraq. In 2011 he spent 44 days in captivity after being captured in Libya. Days after his release Mr. Foley, a freelance journalist for Global-Post, Agence France-Presse and other news organizations, returned to the Evanston campus to speak about the experience.
Before his career in conflict journalism, Mr. Foley volunteered with Teach for America in Phoenix and helped Cook County inmates learn to read and write through a Department of Corrections boot camp.
He is survived by his parents, Diane and John, and four siblings. The family created the James W. Foley Legacy Fund in his memory. Foley was honored at a public memorial service at the Alice Millar Chapel on the Evanston campus on Nov. 20.
Elaine Garcia Gonzalez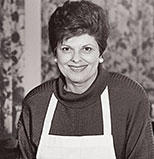 Elaine Garcia Gonzalez '57, Northbrook, Ill., July 25 at age 79. Nicknamed the "Chocolate Goddess," Ms. Garcia Gonzalez was a trailblazing chocolatier.
A self-taught food artist, she transformed chocolate into flowers, bowls, plates, ornaments and more. She wrote two books on chocolate and frequently taught classes at culinary institutes and confectionary schools and lectured at the Smithsonian and other institutions. For more than two decades Ms. Garcia Gonzalez led tours of Mexico, exploring cacao plantations and studying ancient chocolate rituals.
She was inducted into the Candy Hall of Fame in 2006.
She is survived by a son, Jay; two daughters, Carla and Lisa; four grandchildren; and a sister, Louise.
David Purtell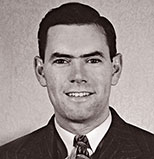 David Purtell '49, Clearwater, Fla. July 15 at age 99.
After serving in World War II, Mr. Purtell earned his Northwestern degree while working for the Chicago Police Department. By 1968 he was director of the CPD's crime laboratory. He retired from the department in 1974.
A member of the American Society of Questioned Document Examiners, Mr. Purtell analyzed the handwriting of Lee Harvey Oswald for a report to the House Select Committee on Assassinations. He also testified in the federal deportation case of Chicago mob boss Paul "The Waiter" Ricca.
Mr. Purtell, who lectured at Northwestern's School of Law and led student tours of the CPD crime lab, received a Northwestern Alumni Association Merit Award in 1998.
He is survived by several nieces and nephews. 
Frank Robinson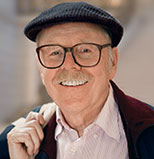 Frank Robinson '55 MS, San Francisco, June 30 at age 87.
After penning the "Playboy Advisor" column for the Chicago-based men's magazine, Mr. Robinson moved in 1973 to San Francisco, where he befriended camera store owner Harvey Milk. Mr. Milk commissioned Mr. Robinson to be his speechwriter during his campaign to become one of the first openly gay elected officials in the country.
Mr. Robinson, who had a cameo in the 2008 film about the slain San Francisco city supervisor, wrote Mr. Milk's "You've Got to Have Hope" gay pride speech.
Along with his work for Mr. Milk, Mr. Robinson was also a renowned science fiction writer. He co-wrote The Glass Inferno, which was adapted for the 1974 blockbuster film The Towering Inferno. His 1991 novel The Dark Beyond the Stars was named one of the New York Times' notable books of the year.
Mr. Robinson, a U.S. Navy radar technician in World War II and the Korean War, is survived by his brother, Mark.
Martha Hyer Wallis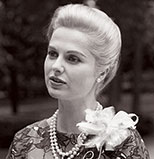 Martha Hyer Wallis '45, Santa Fe, N.M., May 31 at age 89. Often cast as a classy, cold beauty, Ms. Hyer Wallis was a dynamic actress who enjoyed a lavish off-screen lifestyle.
After appearing in a series of low-budget films — including several fantasy thrillers produced by her first husband, Ray Stahl — Ms. Hyer Wallis starred opposite Audrey Hepburn and Humphrey Bogart in Sabrina in 1954. She played the fiancée of David Larrabee, a character played by William Holden.
Her career peaked with an Oscar nomination for best supporting actress for her role as the unemotional schoolteacher Gwen, Frank Sinatra's love interest, in the 1958 film Some Came Running.
After losing out on the role of Marion Crane in Alfred Hitchcock's Psycho, Ms. Hyer Wallis starred in a series of less prominent films, including Bikini Beach and The Carpetbaggers, both in 1964. The following year she had a supporting role opposite John Wayne and Dean Martin in the Western The Sons of Katie Elder. She retired at age 50 in 1974.
Later, in the 1980s, the free-spending Hollywood socialite and avid art collector fell millions in debt to loan sharks. She got out of debt with help from her husband, Hollywood producer Hal Wallis, and the FBI. She and Wallis settled in New Mexico, where she enjoyed painting and hiking.