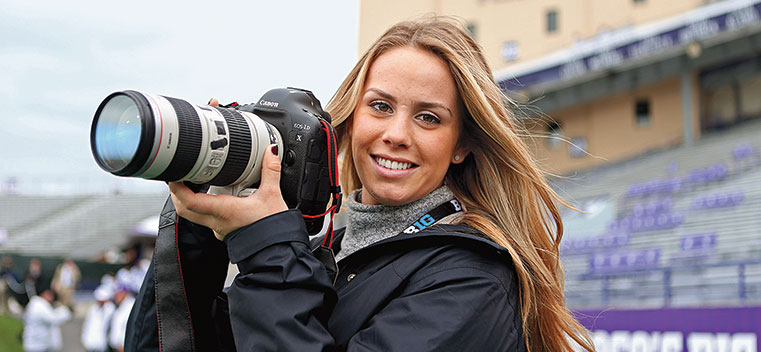 Caylor Arnold landed an internship with USA Today Sports Images through the NU for Life program. Photo by Jerry Lai '04
Sports Shooter
Story Tools
Share this story
Tell us what you think. E-mail comments or questions to the editors at letters@northwestern.edu.
Ever wonder about those strange designations we use throughout Northwestern to identify alumni of the various schools of the University? See the complete list.
Find Us on Social Media
Softball catcher Caylor Arnold focuses on photography.
It all happened so fast. Suddenly Caylor Arnold looked up to see a deep throw launched toward Northwestern football wide receiver Mike McHugh, and her instincts took over. Arnold raised her camera to her eye and started snapping pictures as McHugh made an impressive one-handed grab in Northwestern's Nov. 1 game at Iowa.
"I was just right there, and it happened," she says of her favorite photo.
Arnold, a digital media intern with USA Today Sports Images and a junior on the softball team at Northwestern, became interested in photography as a junior in high school when she started using her mother's camera to take photos of family and friends. Eventually Arnold started shooting high school senior portraits, engagements and weddings. "When I graduated [from high school in Mount Gilead, Ohio], a camera was my graduation gift for myself," she recalls.
Arnold landed the internship with USA Today through NU for Life, an athletic department professional development program that provides student-athletes the opportunity to explore professional possibilities by capitalizing on the knowledge and network of former student-athletes and friends of Wildcat Athletics. Jerry Lai '04, the director of editorial content for USA Today Sports Images, gave Arnold her first shot at shooting sports.
"At first I was kind of skeptical about sports," she says, "because I can't set somebody up and say, 'Now, move your head.' It's so fast, but I've fallen in love with it."
Lai has been impressed with Arnold's work, which includes not only Northwestern football and basketball, but also game action of the Chicago Bulls, Bears and Cubs. After a couple months, Lai was comfortable sending Arnold to cover events by herself, something he didn't imagine an intern being able to do in her or his first quarter. At least three of her photos have been featured in the Chicago Tribune.
Arnold, a catcher for the softball squad, says one of the reasons she has excelled is because of the dedication and work ethic she learned as a student-athlete. 
Lai agrees and says her experience sets her apart. "Being an athlete makes it very easy for her to anticipate action, movement, storylines, focus on who's performing well," Lai says. "In that regard, she has progressed and improved a lot quicker than I would have expected."