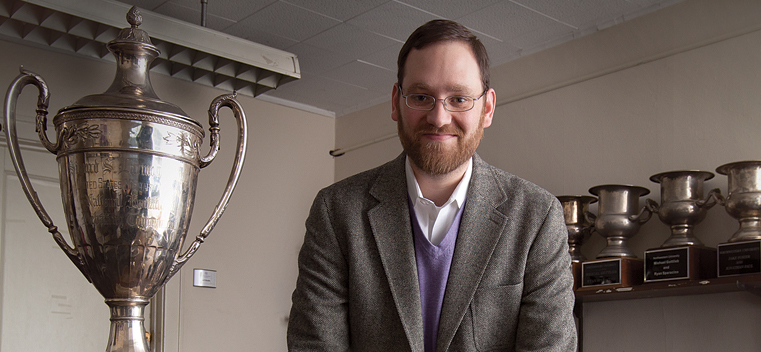 Daniel Fitzmier shows off the Northwestern Debate Society's hardware at Hardy House. Photo by Michael Goss.
The Other Coach Fitz
Story Tools
Share this story
Every Wildcat fan knows the Coach Fitz who leads the purple and white at Ryan Field. But inside Hardy House on Northwestern's Evanston campus, the other Coach Fitz — Daniel Fitzmier (GC02, 06) — leads Northwestern's most successful intercollegiate competitors, the dominant debaters.
Like any good football fan, "Fitz loves statistics," says sophomore debater Layne Kirshon, who rattles off some impressive numbers. Northwestern has qualified more teams for the National Debate Tournament than any other school. Northwestern has the highest winning percentage, most top speakers and most Copeland Award winners (given to the best team during the entire season). "I don't think there's a statistic that we don't monopolize," he adds.
Northwestern has finished first or second at every major tournament at least once since Fitzmier took over as director four years ago. In his 12 years as assistant coach (both at Emory University, his undergraduate alma mater, and Northwestern), Fitzmier has coached seven final debates at the National Debate Tournament and won five of them.
Fitzmier does everything he can to help the team win, from fine-tuning logistical details to waking well before dawn to conduct research. He spends weeks on the road scouting, recruiting and convincing some of the nation's best high school debaters to attend Northwestern. Back at Hardy House he watches endless hours of video of Northwestern debaters and their opponents to find one slight advantage. He runs software to determine potential opponents and analyze debate judges' decisions in response to certain arguments and techniques.
"Fitz has just come up with the most brilliant and formulaic way of winning debate tournaments," says senior Ryan Beiermeister. "Every single thing we do is strategized.. we take this absolutely seriously. There is nothing anyone in Hardy House wants more than to win a championship. Everything we do is geared around that goal, and that's what makes us such a dominant force,"
Kirshon adds "There's no coach in the country who's better than Fitz at everything – at recruiting, at debate coaching, at being a life mentor. Winning with honor and winning with respect is the foundation of everything he teaches us. He's the best, no question about it."
Fitzmier learned from one of the greats. Scott "the Duck" Deatherage (GC94), debate society director for 17 years, opened up opportunities at Northwestern for Fitzmier, who spent five years at the University as a graduate student.
"When I finished my PhD, Duck really encouraged me to go out and not stay at Northwestern. He recognized that it was far more important that I learn to be a director on my own," says Fitzmier, who then spent two years at Augustana College in Rock Island, Ill. "We didn't win a lot of debates, but I learned a lot about directing a team."
Fitzmier was at the University of California, Berkeley, when Deatherage announced that he was stepping down in 2008.
"Looking back, I can see 100 different ways that he helped prepare me in a very intentional way for that small chance that I might wind up back here in his office," Fitzmier says quietly. "There's no way to thank someone who made that much of an impact on you."
Fitzmier now hopes to make his own impact on his students, the University and the world beyond.
"When I'm finished doing this, I'd love to be able to think that I got a chance to work with a lot of students who went out and became great leaders," Fitzmier says. "Set all the tournaments wins aside. At the end of the day, that's the measure of a great coach." — S.H.