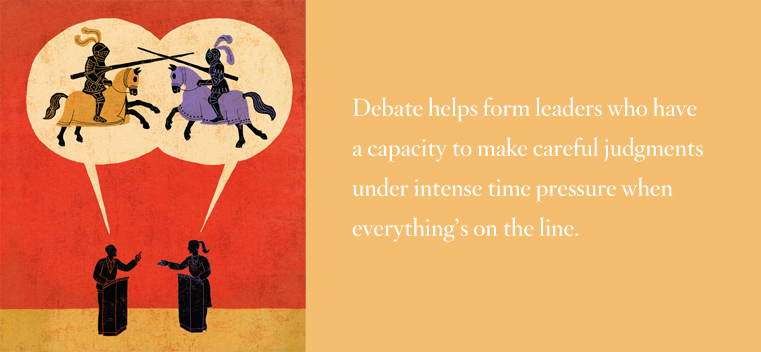 Illustration by James Steinberg
Pointed Words
Story Tools
Share this story
Related Articles
Sean Hargadon is senior editor of Northwestern magazine.
Tell us what you think. E-mail comments or questions to the editors at letters@northwestern.edu.
Find Us on Social Media
Northwestern's fast-talking phenoms dominate the world of intercollegiate debate.
In high school Layne Kirshon struggled to find his fit. He failed to master a musical instrument. "I tried choir and acting and I was also abysmally bad at those."
He loved basketball, but the competition outgrew him. "I couldn't win at any sport," the sophomore says. "So my nerdy friends and I joined the debate team."
It's safe to say that the ultracompetitive Kirshon has found his thing. He is half of the nation's topranked debate pair, with senior Ryan Beiermeister, a fellow grad from Houston's Kinkaid School. They make up one of three Northwestern University Debate Society pairs in the top 10 of the current intercollegiate debate rankings.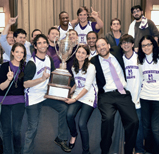 This spring the Northwestern squad hopes to defend its National Debate Tournament title, and Beiermeister aims to become only the second woman in nearly a quartercentury and fourth overall to win the top speaker prize. Northwestern's Stephanie Spies (WCAS11) claimed the title last year after winning the tournament with Matthew Fisher (WCAS11).
Held during one intense weekend in early spring, the National Debate Tournament is the "March Madness" of debate, the culmination of a season during which collegiate squads square off at up to 10 major tournaments throughout the fall and winter. Every tournament is a grueling test of endurance where teams of two compete in up to 13 debates, each two hours long, over three days.
Throughout the season teams argue the affirmative and negative on a set topic. This year the resolution focuses on the responsibility of the United States to provide democracy assistance to countries involved in the Arab Spring. "From week to week the entire landscape in the Arab world changes," says debate coach Daniel Fitzmier (GC02, 06). "I think it's great because it raises the bar for how much research they're doing, how hard they're working as a team. Anything that makes it harder on them is good in my book."
The team thrives on that challenge, spending countless hours at Hardy House, the squad's Evanston campus headquarters, where they break down debate films, do exhaustive research and develop arguments and strategies. "People who come to debate at Northwestern think work is its own reward," says Fitzmier. "They have fun doing research."
They also buy into Fitzmier's emphasis on teamwork. Often members who haven't qualified to travel to a debate "stay up all Sunday night in Evanston to cut us the one card, that one wellcrafted argument, we need to win the tournament," says Beiermeister, who acknowledges that debate has made her a better student and world citizen.
She says Fitzmier (see "The Other Coach Fitz") has an incredible ability to motivate his team. "Aside from my parents, Fitzmier has had the biggest impact on my life," says Beiermeister. "I came into college with a lot of debate potential, but I hadn't really pushed myself yet. Fitz saw something in me and triggered a work ethic and dedication that I never knew I had."
It helps that the debate students are a competitive bunch. "We're like a sports team, except we're not using physical talent but academic talent," says Beiermeister, who thrives on the theatricality of debate and the thrill of besting an opponent in -spotlight moments.
Debate dominance is nothing new for the oldest continuous debate program in the United States (started in 1855). Northwestern has won more National Debate Tournament championships (14) than any other school.
Much of the current team's success goes back to the vision of longtime director Scott "the Duck" Deatherage (GC94), widely considered the greatest collegiate debate coach of all time. Deatherage, who preceded Fitzmier, coached seven championship teams from 1991 to 2008, when he left Northwestern to become executive director of the National Association for Urban Debate Leagues. He died in December 2009.
Deatherage developed the iconic symbol of Northwestern debate — the banana box full of research notes. "Duck did the measurements and realized you could get more paper per square inch in the back of a standardsize minivan if you used banana boxes instead of the big Rubbermaid tubs," Fitzmier recalls. "That captured his personality to a T — detail oriented, efficient, master of logistics, in addition to being just a brilliant coach."
The banana boxes are now gone, set aside for all-digital, paperless research and real-time collaboration software, thanks in part to a gift from the Alumnae of Northwestern. Other gifts from alumni debate supporters have helped purchase high-tech video equipment, allowing team members to record and analyze their own technique and study opponents.
Despite their success, Northwestern's debaters, and intercollegiate debate more broadly, have drawn some criticism, in part due to the speed at which they compete. Debaters unleash their arguments at incredible, somewhat unintelligible, mouth-frothing speeds (as shown in the recent documentary Fast Talk by Northwestern professor Debra Tolchinsky).
"It is a relatively high-speed activity because the speeches are timed," says Kirshon. "You have an incentive to make as many arguments as possible." Some critics of debate think that fast talk results in poor communication skills overall, Kirshon says, that the debaters "don't explain their arguments as lucidly as people would like.
"The flip side of that is, while it's really easy to slow down your mind, it's a lot harder to speed up your mind." He says the speed of debate makes competitors sharper, quicker on their feet.
Arjun Vellayappan, a first-year debater from Lexington, Mass., argues that training yourself to talk quickly is no different than training your body to throw a 95-mile per hour fastball. "Yes, we do some things that are a little bit eccentric," he says, "but it's not like we become robots."
Other critics argue that debaters become nihilistic, able to argue both sides of an issue without establishing their own core set of beliefs. Some question the degree of intellectual freedom in debate because the potential arguments are sometimes unrealistic.
Kirshon counters that debate "doesn't erode core beliefs, it just moderates them. It forces you to recognize the other side," he says. And even if some of the arguments are unconventional, "stretching your mind to think about a wider range of positions makes you less ideological. The intellectual freedom is what makes it awesome. It's like the academic Wild West."
Debate also trains competitors to depersonalize arguments, Fitzmier explains, a lesson for all in the current political context. "The best and most experienced debaters understand it's about the argument and not about the opponent," he says.
Ultimately, Fitzmier argues, debate helps form leaders who have a capacity to make careful judgments under intense time pressure when everything's on the line in situations where there is no right answer. Debate produces alumni with those skills in spades, "and that offers a lot of explanatory power for why generations of Northwestern debaters have risen to the top of innumerable fields. They're not just good researchers. They're not just good arguers. They're good leaders."