Building a Legend
Harley-Davidson vice president Matt Levatich (KSM94, GMcC94) coordinates the creation of the iconic brand's classic cruisers and sporty modern motorcycles.
---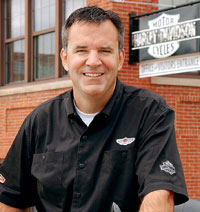 Photo by Brad Chaney
A Harley-Davidson motorcycle and all it represents are classic Americana. But before the bike rolls down the road, Matt Levatich must help put all the pieces in place.
As Harley-Davidson's vice president of materials management, Levatich (KSM94, GMcC94) coordinates with more than 300 suppliers and the company's five plants (three in Wisconsin and one each in Kansas City, Mo., and York, Pa.) to transform the raw materials into the legendary motorcycles.
Levatich works at the Harley-Davidson Product Development Center in Wauwatosa, Wis. He sits in the middle of the Harley chain of creation, forcing him to focus on all aspects of material flow, from the tiniest details like material packaging to the entire system design necessary to achieve big-picture results.
Levatich learned to look at the big picture as a student in the joint Kellogg School of Management/Robert R. McCormick School of Engineering and Applied Science Master's of Management and Manufacturing program. The program teaches students skills in leadership, accounting, business strategy and logistics. The greatest lesson he learned is that "incredible value comes from listening to and incorporating the diverse input of others."
After graduating in 1994, Levatich went to work for Harley-Davidson, joining a company that is now in the midst of a revival.
The company reported a record $1.33 billion in revenue for the second quarter of 2004, an 8.9 percent increase compared with last year. The success has been partly attributed to the broader appeal of the redesigned Sportster line of bikes. As a sign of the renewed popularity, MotorClothes, Harley-Davidson's apparel and collectibles line, reported a 21.5 percent increase in revenue.
Levatich has always been impressed by Harley's strong image and the loyalty it inspires. "It's a consumer product that people tattoo on their bodies," he says. "It almost represents the American psyche."
In 1996 Levatich took on the task of launching the Buell Motorcycle Co.'s line in Europe in 1997. Buell, a subsidiary of Harley-Davidson, produces the sporty Blast, Firebolt, Lightning and Lightning CityX models.
Although Harley-Davidsons have long held iconic status in Europe and globally, Buell motorcycles are more performance oriented than Harley-Davidson's traditional models, and the brand's sexier image appeals to a younger European audience that is less interested in the company's cruisers.
"The key business challenge for me was managing European nationals working in-country and in bringing them together to accomplish the objective," he says.
Members of that team think of Levatich with respect. "Matt was a fun guy to work with, with a great sense of humor and a real talent to tell stories," remembers Jean-Luc Mars, now Harley-Davidson managing director of France, who worked with Levatich in Europe. "Matt truly managed to have me do more and go further than I would ever have believed possible."
After returning from Europe, Levatich took on the task of planning and directing the Harley-Davidson Museum in Milwaukee. The museum, he says, will embody "100 years of history and worldwide passion for this company and its products," and it will become a new communal destination for Harley riders.
After working on Harley-Davidson history, Levatich knows the company's future lies somewhere along the open highway, and he wants to be along for the ride.
-Marley Seaman (J04)
---