Features:
Bookmark This!
The NAA's New Team Captain
Club News:
Regional Clubs
National Clubs
School News:
Dental
Feinberg
Kellogg
Law
Travel Essay:
Around the Baltic: Old Towns and New Cities
Close-ups:
From Sesame Street to Broadway
Building a Legend
Freelancer Under Fire
The NAA's New Team Captain
Rich Dean, a former Wildcat football player and current Northwestern trustee, brings experience and perspective to the table in his new role as the Northwestern Alumni Association president.
---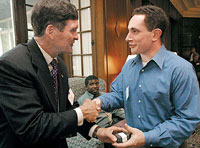 Photo by Jasper Chen (McC04)
When Rich Dean (EB69) played free safety on the Wildcat football team, it was his job to see the entire field — to understand each player's role, anticipate each move and position himself to make the play. In his new role as 2004–06 president of the Northwestern Alumni Association, Dean is using his business experience and his broad perspective of the University community — as an NAA leader, athletic booster, trustee and Northwestern parent — to promote the organization and increase its visibility.
One of his major priorities — personally and for the NAA board of directors — is to visit the various alumni clubs around the country and attend NAA events throughout his term in order to develop personal contact with alumni from various regions, backgrounds and generations.
"Like so many of our dedicated alumni leaders, I have a real passion for the NAA and all of the programs and services it provides," says Dean. "What I hope to do is make certain more alumni are aware of the association's benefits and bring their input back to Northwestern University."
Dean assumed his new role at the NAA's fall leadership conference in October and serves with fellow officers Alan Wolfson (McC80), president-elect; Lori Anne Czepiel (WCAS84), Leslie Donavan (L82) and Dave Beach (WCAS61), vice presidents; Charles Katzenmeyer (WCAS85, KSM89), secretary; and Amy Falk Sheldon (C92), treasurer.
Dean credits his predecessors — recent NAA presidents David Kragseth (C81, GC86), Ava Youngblood (McC79), Cathy Jaros (KSM73) and Scott Filstrup (McC65, KSM67) — with solidifying the organization in terms of the NAA's leadership structure and its emphasis on Internet technology, career networking and student outreach. He says that with those programs firmly in place, he can use his position to strengthen connections between the NAA and other parts of the University community.
His involvement with Northwestern over the years has covered many different aspects of the University. As a former student-athlete, Dean, who has various business interests in Wisconsin and Wyoming, stayed close to Northwestern's sports teams by working on the fundraising campaigns that provided a new playing surface for the football field and established the Henry Crown Sports Pavilion and Dellora A. and Lester J. Norris Aquatics Center. Since 1997 he has served on the University's Board of Trustees, allowing him additional access to Northwestern's leadership and insights into education policy, information technology and alumni relations and development operations.
"As a trustee, I've seen the stature of the alumni association grow tremendously during President Bienen's administration because he's given us an important seat at the table," Dean says. "Campaign Northwestern also did a great deal to energize alumni — so this gives us a splendid opportunity to help various parts of the University community come together and strengthen that cohesion."
For nearly 10 years Dean has served on the NAA's board of directors, and as a former president of the NU Club of Milwaukee, he and his wife, Jane Stowers Dean (C69), have hosted a variety of alumni events at their homes in Mequon, Wis., and Jackson Hole, Wyo. When their daughter Janey Dean (WCAS96, KSM02) attended Northwestern, he saw the University from a parent's perspective, and the family connections continue through his brothers and niece.
"My diploma represents the first of seven, soon to be eight, Northwestern degrees in my family," he states proudly. "My wife, Jane, daughter, Janey, brothers Rob [McC77] and Randy [McC77, KSM90], and Randy's daughter, Lindsay [a Weinberg College of Arts and Sciences sophomore], are all what I like to call card-carrying 'Cats!"
The team-building skills Dean developed as a Wildcat have been serving the NAA well, says Mark Ledogar (C89), former NAA secretary and chair of the NAA nominating committee that selected Dean to lead the organization. "Rich values collaboration and welcomes input from other leaders," Ledogar says. "He's the consummate team player."
---