Features:
Bookmark This!
The NAA's New Team Captain
Club News:
Regional Clubs
National Clubs
School News:
Dental
Feinberg
Kellogg
Law
Travel Essay:
Around the Baltic: Old Towns and New Cities
Close-ups:
From Sesame Street to Broadway
Building a Legend
Freelancer Under Fire
From Sesame Street to Broadway
Puppeteer Stephanie D'Abruzzo (C93) plays a monster of a role in the acclaimed musical Avenue Q.
---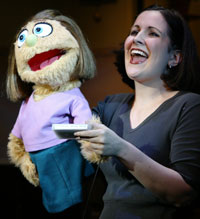 Photo by Carol Rosegg
When Stephanie D'Abruzzo (C93) unpacked her bags at Northwestern in fall 1989, she wasn't quite sure where her studies would lead. But when she and her Communications Residential College dorm mates rediscovered Sesame Street and Jim Henson's (now Walt Disney Co.'s) Muppets, a passion for puppetry began to evolve. "I loved the idea that it didn't matter what I looked like — that I could play any size, shape, sex or species," she says.
Now, 10 years after graduation, D'Abruzzo is a 2004 Tony Award nominee with more than 500 Broadway performances in the Tony-winning Avenue Q — a show the New Yorker calls "the most fun onstage this year."
D'Abruzzo has found her niche in this niche-less puppet musical for mature audiences. Under director Jason Moore (C93) at New York City's John Golden Theatre, D'Abruzzo, in her Broadway debut, performs as Kate Monster, a furry, big-boned kindergarten teaching assistant, and Lucy the Slut, a single white puppet on the prowl. The cast of seven presents the story of Princeton, a college grad whose bank account puts him in Avenue Q, the only New York neighborhood in his price range. He and his new human and puppet friends struggle to find jobs, dates and the meaning of life.
D'Abruzzo's story is similar to Princeton's: she came from a Pittsburgh suburb, where "no one thought living in New York City trying to make a living as an actor was a good idea," says D'Abruzzo. She now lives with her husband, Craig Shemin (C88), a freelance writer and producer and board member of the Jim Henson Legacy, on New York 's Upper East Side.
When D'Abruzzo was still a student at Northwestern, fellow CRCer Chris Ereneta (C90), who had then recently interned at Jim Henson Co., gave D'Abruzzo some crucial advice. "He looked at me squarely and said, 'You know, it's really tough, and I don't think you have a good chance,'" she recalls. "He was right."
Still, she persevered. After building "the worst-looking puppets you ever saw" and practicing her lip-sync in the mirror, D'Abruzzo created the video Freeform, a series of puppet skits that won her first place in the Academy of Television Arts and Sciences' College Television Awards in spring 1993. Muppet performer David Rudman read about Freeform's success and invited her to audition.
"That audition got me in the Muppet performer talent pool, and after climbing the Muppet ladder for several years, the rest is history," D'Abruzzo says. Since 1993 she has been playing Curly Bear, Lulu, Elizabeth and Madlenka on Sesame Street, as well as dozens of other Muppet characters.
At Sesame Street and the Muppets, D'Abruzzo worked with Rick Lyon, Avenue Q's puppet conceiver and designer. In January 2000 he and Shemin recommended D'Abruzzo to Jeff Marx and Robert Lopez, who were writing music and lyrics for the project.
"She is a joy to direct," says Moore, "as she, and other puppeteers, have to think like directors — constantly making decisions on the way their puppets move and talk. But her singing and acting skills make Stephanie a great candidate for any role, with puppet or without."
D'Abruzzo's ultimate goal is to be prolific and diverse in projects both onstage and on camera, no matter what form that takes. And after bringing to life characters like Kate Monster and Lucy the Slut, D'Abruzzo is ready to play a person again.
"It's interesting," she says, "for as much as puppetry has granted me the freedom to play countless roles, it has held me back from work as a 'human.'"
-Kate Johnson (J05)
---