National Club News
---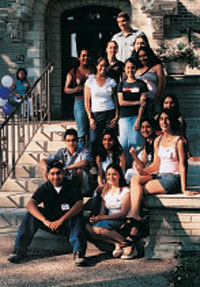 Photo by Aspasia Apostolakis
The
Alumnae of Northwestern University
chose Lois Weisberg (C46), cultural affairs commissioner of the city of Chicago, to receive this year's Alumnae Award.
Members of NUBAA (Northwestern University Black Alumni Association) are marking their calendars for the club's Dec. 13 holiday party at Pazzo's in the NBC Tower in downtown Chicago. In September more than 100 members and friends saw an exhibit of contemporary African stone sculpture at the Chicago Botanic Garden and heard a talk afterward by Richard Joseph, director of the Program of African Studies.

Members of the John Evans Club will return to campus for a performance of Irving Berlin's American Vaudeville in February. The club will celebrate its 50th anniversary at its annual Waa-Mu event May 1.
NUEA (Northwestern University Entertainment Alliance) East continues its First Wednesday networking tradition at the Joshua Tree on West 46th Street in New York City. On the opposite coast, NUEA West held its annual "Succeeding in L.A." event at which alumni in the entertainment industry review résumés and counsel alums trying to get into the business. This year's participants have included Mike Knobloch (C92), vice president at Fox Music.