Kellogg School of Management
---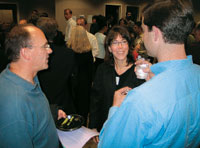 Photo by Michele Hogan
The next MBA Update — classes for alumni and friends of Kellogg — is set for Dec. 6 in Mexico City. David Besanko (GMcC80, KSM82), chair of management and strategy, will discuss deregulation in light of California's power crisis. Other updates have been held in Evanston, Paris, New York, Atlanta and London.
The Kellogg Club of Chicago provides opportunities to connect with fellow alumni. In addition to an outing to the Chicago Shakespeare Theater to see The Taming of the Shrew in October, the club also hosts a monthly book club on the Chicago campus. On Dec. 3 the club welcomes Ronald Daly, president and CEO of Océ-USA Holding, Inc., to speak on the challenges faced by technology-based companies.
In January the Kellogg Club of Atlanta continues its monthly Breakfast Speaker Series at the Buckhead Club on Peachtree Road. This year's lineup features topics such as venture capital, broadcast cable and retail and consumer product branding.
For the latest alumni news from Northwestern's schools, visit www.alumni.northwestern.edu/clubs/school_assoc.