FEATURES:
• In a Juggler Vein
• Making an Impact
• Living La Vida Tica
• Anatomy Lessons Learned



Living La Vida Tica
Medill senior came to love the family she lived with during her Teaching Media quarter at San José, Costa Rica's Tico Times.
---
by Emily Ramshaw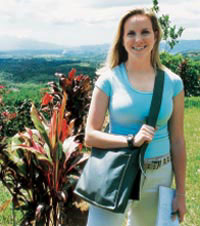 Stepping off the airplane in San José, Costa Rica, to begin my internship for the Medill Teaching Media program, I was filled with an overwhelming combination of fascination and fear. The six years of Spanish I had taken in school quickly proved to be almost useless, and I'm still not sure how I made it through customs and found my host family — a mother, a father and two young children — awaiting my arrival in their rickety old Nissan Sentra.

For a while the language barrier was almost more than I could handle. On one particularly hot and sunny Sunday early into my stay, I was helping the family take down Christmas decorations in their home. Artificial wreaths and garlands had been wound through the rungs of a staircase, and 10-year-old Octavio had set up a ladder to take them down. Suddenly Octavio started screaming, "La escalera, la escalera!" and as I looked over, I saw him hanging onto the rungs for dear life, his little legs swinging in the air. The language breakdown paralyzed me, and instead of running to catch him, I screamed back, "Que es la escalera?" (What is la escalera?) His parents rushed over, caught Octavio and informed me gently that escalera referred to the ladder that had shifted from under their son's feet.

These kinds of slip-ups, usually due to my limited vocabulary, were frustrating. But the language barrier wasn't insurmountable, and after a month of reporting for the Tico Times, it was easy to forget how hopeless I had felt the first couple of weeks.

As the paper's intern, I traveled all over the country to write tourism reviews, in addition to picking up the slack for the political reporters who were struggling to cover their first presidential election with a viable third-party candidate.

But somewhere in between the days of trailing presidential candidates, searching for crocodiles in the marshes by the Pacific coast, perusing the verdant grounds of rolling, aromatic coffee plantations, and spotting monkeys and highly poisonous snakes in the rain forest, I underwent my most important development. I became part of a family.

My Tico, or Costa Rican, parents didn't give me time to miss home. They had an enormous extended family whom we saw every weekend and frequently during the week. There was Grandpa and his incessant desire to hear all I knew about Chicago and Al Capone. Uncle Jorge strove to feed me every single typical Costa Rican food before I left the country and loved to talk politics over a beer. And the four youngest cousins spent their weekend afternoons making believe I was Barbie and covering me in bangle bracelets and play makeup.

Even when the extended family had left for the night, I still found myself occupied by my immediate family. I checked eBay trades with my Tico dad, folded laundry while watching Survivor with my Tica mom or read 5-year-old Agatha's favorite bedtime story, Gingerbread Man, in English just because she liked the way the words sounded.

My Tica family taught me that in Costa Rica, success isn't determined by how big your paycheck is or what kind of car you drive. It is determined by your ability to look at your children and know it was you who raised them. Ticos truly recognize the value of family time. Cousins grow up feeling like siblings, and aunts and uncles parent all of the children together.

There were a lot of little cultural idiosyncrasies for me to get used to in Costa Rica, from the family's strict rules on bringing friends to the house, to the men hissing and catcalling on the street, to the frequency with which Ticos brush their teeth (constantly). But none of these transitions compared to the immediate loneliness I felt upon returning to Northwestern. It made me choke up to imagine my family's daily routine and to know I wasn't a part of it anymore. I could look at a clock and tell you what time Octavio was being dropped off at soccer practice, or when my Tico dad would doze, stretched on the couch in front of the TV with his daughter asleep in his arms. In recent months I have longed for the noisy chaos of a family birthday party, for the taste of arroz con pollo (chicken and rice) and, most of all, for the beautiful, rich sound of the language that I grew to love.

I went to Costa Rica for a journalistic experience that would stick out on my résumé. Instead, I found a cultural, familial experience that proved much more valuable. The lessons I learned and the fond memories I hold so dear will forever influence the way I live my life.

Emily Ramshaw (J03) of McLean, Va., worked over the summer as an intern for the Boston Globe.