FEATURES:
• In a Juggler Vein
• Making an Impact
• Living La Vida Tica
• Anatomy Lessons Learned



Making an Impact
Nicole Patton (C99, GC02),
a third-year graduate student, is an ardent advocate for minorities at the graduate level — and for children in need.
---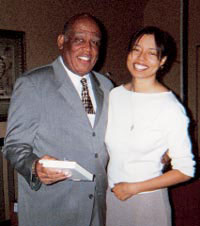 Nicole Patton (C99, GC02) has all the mannerisms of a therapist. Her warm smile, inviting eyes and soft chuckle give her an aura of approachability that even the shyest of children cannot resist. A third-year doctoral student in the Department of Communication Sciences and Disorders with a concentration in learning disabilities, Patton is committed to serving youngsters and fostering learning.

What one might not guess from Patton's gentle demeanor is that she is also one of the most visible, proactive leaders in Northwestern's graduate student community. As president of the Black Graduate Students Association, Patton has helped the organization, now six years old, grow on campus and even gain national recognition.

While she may be best known on campus for her contributions to BGSA, Patton's primary passions lie in the classroom. Each week she works with students with learning disabilities in Evanston and Wilmette, Ill. One of her clients, a first-grader with a severe developmental disorder, has been under her care for five years. Patton has watched the child, who was only 2 years old when they first met, drastically change from virtually speechless into an active youth who has greatly improved in academic and social skills.

When Patton first came to the University as an undergraduate, she knew practically nothing about treating children with learning disabilities. "Like every other Northwestern student I started out in premed, and I didn't have fun in chemistry," she jokes.

It was a friend, also struggling with the premed track, who encouraged Patton to try some courses in communication sciences and disorders. Not only did she flourish academically, she also found a major that was "the perfect combination" of education and clinical diagnostic work. "I'm really passionate about education but also about helping people who for whatever reason are struggling and cannot perform well," Patton says.

An Atlantan who yearned for the strong African American fellowship she enjoyed in her largely black neighborhood at home, she decided on graduate school at Northwestern partly because of the presence of the Black Graduate Student Association.

Within weeks of approaching the BGSA executive board, Patton became president-elect of the group, replacing president Jarrett Terry, who is pursuing a doctorate in mechanical engineering and who became her husband in August. While the election came as a surprise, working in the African American community was nothing new for Patton. "I've always been involved in things that promote equity, choices and opportunity for students of color. It's always been about increasing diversity, challenging the status quo, being supportive and finding support — and BGSA does all that," she says.

Since Patton took office in 2000, she helped transform the group's annual student research conference from a predominantly Northwestern event into a program that attracts participants from across the country. The conference this April also featured the first keynote speaker from outside Northwestern, Orlando Taylor, dean of Howard University's graduate school.

While Patton is encouraged by the strides BGSA has made, she plans to pass on the presidential torch next year to concentrate on her research. "By virtue of not only being a woman but a black woman with a PhD, you have the ability to make such a huge impact on the academic profession," she reflects. "The idea that I can take my knowledge, my skills and my training and bring it all back to my community is a very powerful thing."

After receiving her degree, Patton aims to be a professor of learning disabilities. She also hopes to reach her ultimate goal of opening a nonprofit clinic with her brother that will offer high-quality, affordable diagnostic and remediation services for children from diverse backgrounds who experience academic difficulty.

"From the classes I've lectured in, to the kids I treat in the community, I've always aimed to help students improve," Patton says. "It's really fulfilling to watch their grades go up and feel like you're making an impact."