Story Tools
Share this story
We'd Like to Hear from You
Northwestern welcomes signed letters of 250 words or less from readers. We reserve the right to edit all letters. Please send correspondence to the
Editor
Northwestern
2020 Ridge Ave.
Evanston, IL 60208-4340
Fax: 847-491-3040
E-mail: letters@northwestern.edu
Find Us on Social Media
SUPPORTING AND Questioning Forgiveness
Rarely have I been as engaged or moved by a Northwestern magazine story as I was in reading "Forgiven" [summer 2015], a profile on Northwestern alumna and Cook County public defender Jeanne Bishop. Thank you for bringing this compelling story of faith and forgiveness to light. Jeanne Bishop inspires me with the way she treats her clients — even the toughest, grittiest ones — with respect and compassion, recognizing that no one is beyond redemption. But, of course, the fact that she was able to do the same with her sister's killer — to reach out to him, forgive him and form a relationship with him — demonstrates the greatest act of courage and obedience to Christ, truly faith put into action.
My hat goes off to Jeanne Bishop and to writer Barbara Mahany, who told the story so well. Thank you also, Northwestern, for bringing us a story of how our professional and spiritual lives can intersect and make a difference in a difficult world.
Esther Chapman '90
Sacramento, Calif.
Barbara Mahany's article advocating prisoner rehabilitation reform presents an unfinished story of survivor emotion and limited prisoner response. Jeanne Bishop's change of heart toward her sister's murderer is possibly the most unlikely scenario of forgiveness of a guilty prisoner imaginable.
I agree with Mahany's doubts about how far mercy and forgiveness can be expected to go without the guilty party's regret and dedication to change.
I do not agree with the notion that loving one's enemies demands action that would risk endangerment of anyone by regrettable trust not duly earned by the malfeasant. I interpret the context of goodwill toward adversaries as an admonition to avoid harmful conflict by controlling any natural inclination toward revenge, a destructive action that is forbidden by both Judaism and Christianity.
Both religions, and simple common sense, motivate society to establish judicial systems, which hopefully rehabilitates, but not without due expression of regret and also demonstration of real reform by the actually guilty.
One can understand and forgive without indulging regrettable trust not duly earned. One can open one's heart to possibilities. Actualities inspire action with mercy thus limited.
Linda G. Nelson Maddox '93 MA
Albany, N.Y.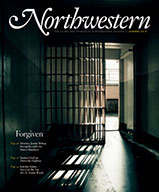 I was disappointed first to see a jail cell on the cover of my Northwestern magazine and then displeased to find a typical one-sided treatment of someone's idea of yet another "social justice" issue inside. I don't read Northwestern to receive thinly veiled propaganda on crime and punishment, the death penalty, gun control, nor a University department's or related organization's views on juvenile sentencing. I certainly don't believe that the murderer under scrutiny deserves any attention nor is there any strong evidence of remorse presented.
Perhaps you responsible editors and authors are so blinded by your own political views and the increasingly hermetic conditions at universities that you do not even see the overwhelming bias in many of your story selections?
There are widely divergent views on issues such as crime and punishment and the death penalty. This seems all the more reason to respect both the multiple viewpoints and crime victims, using better editorial judgment to maintain a fairer balance. That balance sometimes must be one of exclusion. It is not an unreasonable goal for what is basically an alumni magazine that you simply avoid issues that have no near-consensus solutions and that will only inflame and upset.
I am profoundly disappointed at your narrow scope, insensitivity and tiny political window. In the end it's a "no win" for the larger Northwestern community.
Tom Mintner '72
Portland, Ore.   
Interesting article — but "self-proclaimed atheist?"  Really? Is there some other kind?
Caryl Harris Sewell '67
Brookfield, Wis.
Alternative Breaks
I was excited to read about alternative student breaks ["Out of the Bubble," Campus Life, page 8, summer 2015]. It is great to know that this is an important part of the student experience.
I'm writing to correct an error in the article. With no malice intended toward Rob Donahue, I need to burst his bubble to inform him that he did not, in fact, organize the first alternative break trip. I know this because when I was a resident assistant at the Public Affairs Residential College during PARC's first year (1991–92), students at the college did an alternative break trip of their own. I recall that it was affiliated with Habitat for Humanity. I remember this because the trip helped PARC win a national award that year for teamwork from the Saturn Corp.
Was the PARC trip the first such one from Northwestern? I'm not sure. Given the public spirit that is so present on campus, I wouldn't be surprised if there had been one even before the PARC students took their trip.
Paul Manna '92
Williamsburg, Va.
Remembering Roger Kurucz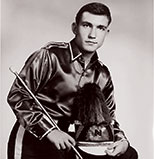 I was saddened to see the notice of the passing of Roger Kurucz '61 [Passings, Alumni Life, page 62, summer 2015].
His death brings to mind one of my most memorable moments. I flew to Pasadena for the 1995 Rose Bowl. One of the events was a pregame pep rally. I arrived just as the pep rally was about to end and saw John Paynter, the legendary music director and conductor of the Northwestern University Marching Band, as he greeted well-wishers.
When I drew near, I caught John's eye, but he suddenly turned around when he heard a voice calling his name. He shouted: "Roger Kurucz!" and gave Roger a massive bear hug. "Roger, you were the best goddamned baton twirler we ever had!" Then he looked back at me and said in the same volume of voice, "And you! You were the worst goddamned trombonist we ever had!"
After 45 years John knew my name, my instrument and my reputation. I was, and am, highly honored to have been in the same company as Roger back in the 1950s, and at that pep rally.
Rest in peace, Roger and John.
Russell I. Burleigh '60,'61 MMus
Scarborough, Maine
Kudos to magazine
As a very old Northwestern alumnus I have been privileged to receive many periodic magazines. I hope that you will be pleased to learn that the summer 2015 issue is, to me, the most readable and interesting of any magazine that I have received.
It is my hope that future issues will match this issue.
John A. Bernauer '39
Glenview, Ill.
I always look forward to reading Northwestern magazine. I put aside all the other mail, sit down immediately and read it from cover to cover. I graduated in 1964, and, I must say, I am very pleased with the great progress that the magazine, the University and its students have made in the past 51 years.
It gives me great hope for the future of our problem-ridden world, which needs all the hard-working, focused, intelligent and compassionate young people in various pursuits I read about in the pages here.
I feel confident and have great appreciation that Northwestern is turning out determined and dedicated future leaders who will create great value in all fields of endeavor and who will guide the current of society toward greater good.
Thanks to the magazine for bringing this joy into my life on a regular basis.
Jane D. Young '64
Fair Lawn, N.J.
Correction: The first name of Andra Press was misspelled in the article "Student-Curated Exhibit Focuses on Toulouse-Lautrec's Paris Prints" [Collections, Campus Life, page 9, summer 2015]. Andra and Irwin Press '59 lent 18 Henri de Toulouse-Lautrec prints from their private collection to the Mary and Leigh Block Museum of Art for the spring exhibit Toulouse-Lautrec Prints: Art at the Edges of Modernity.