Passings
Story Tools
Share this story
Tell us what you think. E-mail comments or questions to the editors at letters@northwestern.edu.
Ever wonder about those strange designations we use throughout Northwestern to identify alumni of the various schools of the University? See the complete list.
Ferdinand Berley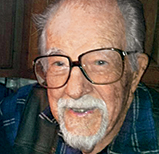 Ferdinand Berley (WCAS34, FSM39, GFSM47), 100, Jacksonville, Fla., June 17.
A celebrated World War II hero, Dr. Berley saved countless lives while being held as a prisoner of war by Japanese forces for nearly 3½ years. After he and thousands of other service members were captured in the surrender of Corregidor in 1942, Dr. Berley survived stays in the infamous Billibid and Cabanatuan prisons in Manila as well as aboard a Japanese hell ship. He and a few fellow doctors tried to treat other prisoners with the supplies they received from their captors.
After he was liberated from Kobe prison camp in September 1945, he was honored with four Bronze Stars, the Purple Heart and the Prisoner of War medal.
Dr. Berley retired from the Navy in 1959 and spent 30 years in private practice in Jacksonville, specializing in thoracic surgery and the treatment of varicose veins.
He is survived by his wife of 67 years, Camille; five children, 12 grandchildren and five great-grandchildren.
Karen Ziegler Black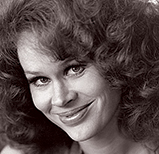 Karen Ziegler Black (C61), 74, Los Angeles, Aug. 8.
Ms. Black left Northwestern early to start her career as an actor, and within a few years she was starring on Broadway in The Playroom. She quickly moved on to television and the big screen.
From her scenes dropping acid with the lead characters in Easy Rider (1969) to her well-known role as a waitress involved with Jack Nicholson's character in Five Easy Pieces (1970), Ms. Black played a number of working-class women in countercultural films. Ms. Black appeared in 194 different films and earned three Golden Globes and an Oscar nomination.
She is survived by her husband, Stephen Eckelberry; three children, Celine, Hunter and Diane; a sister, Gail Ziegler Dugan (C61); a brother, Peter; and grandchildren.
Herbert Kaplow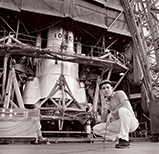 Herbert Kaplow (GJ51), 86, Falls Church, Va., July 27. A broadcast journalist for more than 40 years, Mr. Kaplow covered presidential politics and major events from the civil rights movement to the space program for NBC News and ABC News. 
After reporting on the Nuremberg trials for American Forces Radio Service, Mr. Kaplow attended the Medill School of Journalism, Media, Integrated Marketing Communications and graduated with a master's degree in 1951. He went to work for an NBC radio affiliate in Washington, D.C., then took an editing job on the NBC program News of the World. In 1954 he was promoted to news correspondent for NBC radio and television. He became White House correspondent in 1968 and then moved to ABC in 1972.
Mr. Kaplow reported from all 50 states and more than 50 countries. During his career he covered all 10 presidential campaigns from 1956 to 1992, including 19 nominating conventions. He also reported on congressional politics and gubernatorial elections.
One of his first assignments was to cover the Supreme Court's decision to desegregate schools in Brown vs. the Board of Education in 1954. He spent several years chronicling the effects of the decision throughout the South. He also reported on the civil rights marches of the 1960s. 
Mr. Kaplow spent years covering the career of Richard Nixon, including his runs for California governor and president. He reported on the Cuban revolution and was the first American reporter to interview Fidel Castro after the Bay of Pigs fiasco.
A 1959 Northwestern Alumni Association Merit Award recipient and member of the Medill Hall of Achievement, Mr. Kaplow was part of several Emmy and Peabody award–winning teams. He retired in 1994.
He is survived by his wife, Betty Rae Koplow Kaplow (C52); sons Steven, Bobby and Larry; his sister, Naomi; and six grandchildren.
David Leighton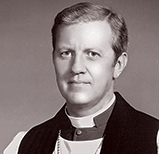 David Keller Leighton Sr. (EB47), 91, Sykesville, Md., Aug. 7.
The Pittsburgh native began his career with General Motors before deciding at age 32 to become a priest in the Episcopal Church. Ordained in 1955, he moved to Baltimore in 1959, serving as rector of the Church of the Holy Nativity during a time of racial integration.
He became the 11th bishop of Maryland in 1972, and during his 13 years in that role he focused on issues of racial justice and peace. He ordained the first woman to the priesthood in the Episcopal Diocese of Maryland in 1977.
Rev. Leighton received the Presidential Citation and six battle stars for his World War II service.
He is survived by wife, Carolyn; a son, David; daughters Charlotte and Nancy; five grandchildren and four great-grandchildren.
Lorraine Gringer Lodge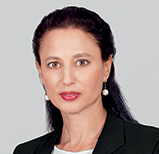 Lorraine Gringer Lodge (WCAS82), 52, New York City, Aug. 8.
With more than 20 years of experience at global investment banks, Mrs. Lodge was an expert in convertible and exchangeable bonds — bonds that can be swapped for stock.
A double major in statistics and political science at Northwestern, she helped create the Merrill Lynch Global Convertible Bond Index, and she was part of the Nomura Holdings team behind what Euromoney magazine called the "equity deal of the year," a $1.47 billion bond-for-stock exchange in Germany.
Before her death, Mrs. Lodge had been an instructor in New York with the London-based financial training firm Alpha Development Ltd.
Mrs. Lodge is survived by her husband, Steve; her parents, Don and Tosia; and sisters Lydia and Susan.
Glenn Opie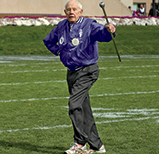 Glenn Opie (WCAS50), 87, Great Bend, Kan., Aug. 11. A former drum major in the Northwestern University Wildcat Marching Band, Mr. Opie returned every year to Homecoming to lead the Northwestern University Marching and Band Alumni onto Ryan Field, spinning and tossing his drum major's mace and delighting crowds with his energetic performances (see "Give it a Twirl," fall 2009).
While a student at Northwestern, Mr. Opie performed at the 1949 Tournament of Roses Parade at the Rose Bowl in Pasadena, Calif., and was part of the Northwestern contingent that was marooned in Cheyenne, Wyo., after a huge blizzard. In the 1949 Homecoming parade he twirled a homemade fire baton as he marched down Sheridan Road.
Mr. Opie was later director of the Argonne Rebels Drum and Bugle Corps, a drum and bugle corps open to all area youth in central Kansas, from 1949 through 1973. Under his direction the Rebels won 13 Kansas State American Legion Championships and three national titles. He was inducted into the Drum Corps International Hall of Fame in 2003.
After studying zoology and chemistry at Northwestern, Mr. Opie earned his law degree from the University of Kansas School of Law and returned to his hometown, Great Bend, where he practiced law for the rest of his life. 
Mr. Opie served as president of the Barton County Bar Association and was chair of the Kansas Bar Association's Public Information Committee for 11 years. He served on the Great Bend City Council for two years and the local school board for 14 years.
During World War II he served as a radio operator aboard a U.S. Navy destroyer in the southwest Pacific. Even late in life, he was an avid runner, often running seven miles a day.
Mr. Opie is survived by his wife, Sandra; his sons, Harlan and Robin; and four grandchildren.
John Palmer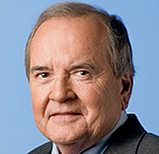 John Palmer (C58), 77, Washington, D.C., Aug. 3.
From war zones to the White House, Mr. Palmer was a reassuring voice of NBC News for more than 35 years. He covered five presidents and countless historic events, from the civil rights movement to 9/11.
During the Carter administration he broke the news of the failed attempt to rescue American hostages in Iran. He worked as a correspondent in Beirut, where he covered the Arab-Israeli war in 1973, and later reported from Paris and then covered the White House. He was the first broadcast journalist to win the Merriman Smith Memorial Award for excellence in presidential news coverage.
Palmer spent much of the 1980s as a news anchor on NBC's Today show, which often topped the morning news ratings. He left the network in 1990 but returned to NBC as a national correspondent in 1994.
Mr. Palmer retired in 2002. He is survived by his wife, Nancy, and three daughters.
Lee Thornton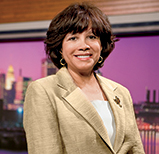 Lee Thornton (GC73), 71, Bethesda, Md., Sept. 25.
A pioneering radio and television journalist, Ms. Thornton became the first African American woman to cover the White House for CBS in 1977. She reported on the Carter administration until 1981.
She became the first African American woman to co-host NPR's All Things Considered in 1982. Later she joined CNN to produce the weekly current events show Both Sides with Jesse Jackson.
In 1997 Ms. Thornton joined the faculty at the University of Maryland, where she taught broadcast journalism in the Merrill College of Journalism. Ms. Thornton, who earned a doctorate in radio/television/film at Northwestern, started her career as a speech therapist.
She is survived by her sister, Marilyn, and her mother, Betty.
John R. White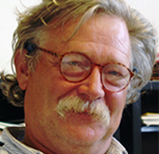 John R. White (D73), 66, Bethel, Alaska, May 15. Mr. White was an influential advocate for sustainable management of fisheries, serving on several fishery management commissions and committees, such as the Alaska Board of Fisheries from 1995 to 2002, including two years as chair. He played a key role in Marine Stewardship Council's certification of the Alaska commercial salmon fishery as a sustainable fishery. Mr. White also had an important role in developing the Arctic-Yukon-Kuskokwim Sustainable Salmon Initiative, which helped fund salmon research in western Alaska.
Mr. White moved to Bethel to join the Indian Health Service after graduating Northwestern Dental School, where he was president of his class. In 1983 he became dental director for the Yukon-Kuskokwim Health Corp., a tribal organization that serves 58 communities in southwest Alaska. He also established the Bering Sea Dental Clinic, a private practice that he maintained until his death.
Mr. White's other interests included dog mushing in the late 1970s and early '80s and later gardening and bird-watching. He once owned a pet raven named Dude who learned how to smoke a pipe.
Mr. White is survived by his nephews, Patrick and Kristopher; his longtime partner, Betsy Taguchi; and her children, Munemitsu, Miya and Kiomi.