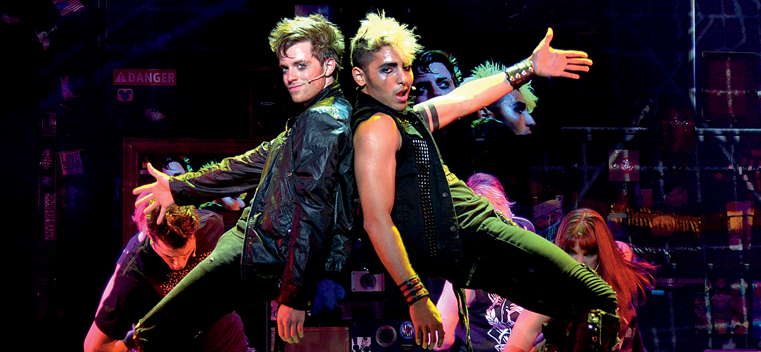 Alex Nee, left, as Johnny and Trent Saunders as St. Jimmy in American Idiot. Photo by John Daughtry.
He's No American Idiot
Story Tools
Share this story
Tell us what you think. E-mail comments or questions to the editors at letters@northwestern.edu.
Ever wonder about those strange designations we use throughout Northwestern to identify alumni of the various schools of the University? See the complete list.
Alex Nee admits he wasn't all that impressed with Green Day's chart-topping 2004 album, American Idiot — until he saw the Tony Award–winning Broadway adaptation when he was a freshman at Northwestern.
Nee, a senior theater major from Palo Alto, Calif., is now taking a year off from school to star as Johnny in the 42-city European and U.S. tour of American Idiot. The tour began in England in October and also hit Ireland, Scotland and Wales. After a six-week break around the holidays, the U.S. tour will run through June 2013.
Due to his age, Nee saw himself as a long shot to make the cast during several months of auditions in New York. He is performing with actors almost a decade older, and Nee is the youngest actor to play Johnny since the musical first began in 2009. He is one of only two cast members still in school.
As it turns out, his youthful energy worked to Nee's advantage. The show, nominated for the Tony Award for best musical in 2010, tells the story of three boyhood friends and their search for meaning in a post-9/11 world.
"I think it's important that I'm on that cusp between young adult, teenager and adult — sort of in that gray zone — because this show is really about these characters trying to find out where they fit in terms of their social setting and what they want to do with their lives," he said. "That's sort of where I'm at."
Although he's not in class at Northwestern, Nee views the international tour as an educational experience he could not get anywhere else. "This is an opportunity to actually do what I'm studying," said Nee, who is in the Music Theatre Certificate program. "This definitely feels like a once-in-a-lifetime opportunity. It's a role I felt I wouldn't get the chance to play later in life."
Despite the gap year, Nee still hopes to be able to walk with his classmates at graduation in June before earning his degree the following year. And after regularly performing eight shows per week on tour, his Northwestern classes may not seem so hard anymore.
"It will be a fun break from doing the show every day," he said. "I feel like it could be kind of refreshing."