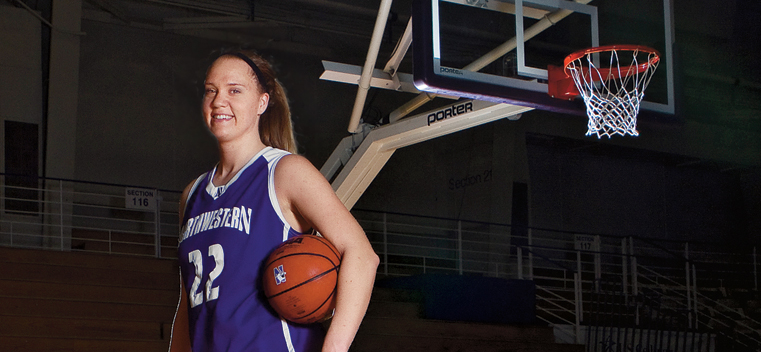 Photo by Ray Whitehouse (J12)
Amy Jaeschke
Story Tools
Share this story
Hometown:
Wilmette, Ill.
Major:
Communication studies
Favorite hangout: The women's basketball team locker room. It's really where all the meaningful relationships I've had have been built.
Turning points at Northwestern: Making it to the NIT Tournament in 2010 — that was my whole goal. I wanted to turn the women's basketball program around.
What did the All-America honor mean to you? I am so grateful to be on a list with so many accomplished women's basketball players. It reflects all the help and support I have received throughout my basketball career.
What has Coach Joe McKeown meant to you? He's definitely meant a lot to my development, not only as a player but also as a person. He's helped me accomplish a lot of the goals that I've had here at Northwestern. I can't thank him enough for that.
What's next? Trying out for the Chicago Sky [a Women's National Basketball Association team] and then possibly playing somewhere in Europe. 
Dream job: To play for the Chicago Sky. I have been in Chicago my whole life, and it would be an amazing opportunity to represent the area where I  grew up.
Favorite Northwestern tradition: I really like during the football games right before the fourth quarter when they do the "Put your hands in the air."
Favorite form of social media: Twitter. I just recently joined. I've never been that good at keeping up with what's going on in the world, so I follow organizations like CNN and ESPN, and it really helps me get outside the Northwestern bubble and learn about the world.
Something that few people know about you: I can solve a Rubik's Cube. And last year I went skydiving. It was the coolest experience ever. I got scared when they opened up the door, but actually jumping out was really calm. It's a very slow descent once the instructor pulls the parachute.