Dental School
---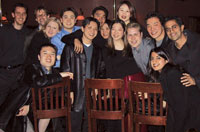 Dental School alumni, pictured at their midwinter reunion, are staying connected through the alumni association.

Dental alumni renewed their bonds at the annual Chicago Dental Society Mid-Winter Reception last February. More than 175 gathered at the Cru Café and Wine Bar in the city's trendy River North area.

Though the Dental School is no longer accepting new classes, NUDS, the Northwestern University Dental School alumni association, remains active. For more information on the group's events, log on to the NAA Web site at www.alumni.northwestern.edu/clubs and proceed to the NUDS site.

In other news the Odontographic Society of Chicago, an affiliate of the Institute of Medicine of Chicago, awarded Lee Jameson, dental alumni board member and dean emeritus of the Northwestern University Dental School, the William P. Schoen Jr. Memorial Teaching Award for his innovations in dental education and his dedication to students.