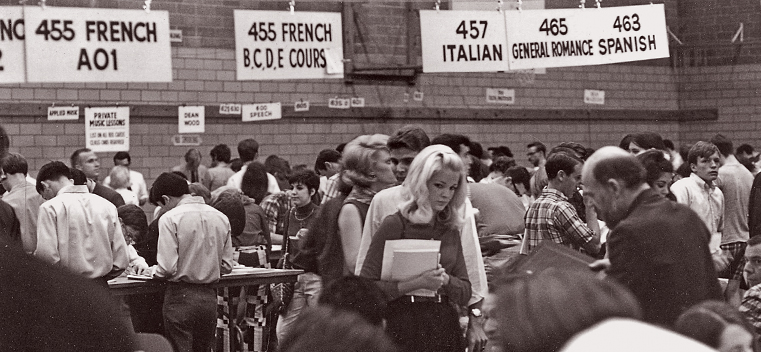 Students navigate chaotic class registration at Patten Gymnasium in 1969. The University held registration in Patten in the late 1960s through the mid-1970s. In the 1950s registration was held in Cahn Auditorium, and in the 1940s students lined up across Deering Meadow for registration in Deering Library. This image was featured in the Cuts & Grinds photo history of Northwestern. Photo courtesy of Northwestern University Archives.
Then: Hail Caesar
Story Tools
Share this story
The image above was featured in the Cuts & Grinds photo history of Northwestern. Read more about the archival image project.
Tell us what you think. E-mail comments or questions to the editors at letters@northwestern.edu.
Ever wonder about those strange designations we use throughout Northwestern to identify alumni of the various schools of the University? See the complete list.
On a fall day in 1969 Paul Kent (WCAS71, KSM79) and hundreds of other Northwestern students piled into Patten Gymnasium — not for sport or exercise but for the chaos that was class registration.
After waiting in a line that stretched out the door, the history major was eager to finally register. Inside the gym, Kent remembers, it was every man for himself. Students raced anxiously to their school's section, clutching meticulously filled-out registration cards — completed in ink as stipulated in the detailed, two-page registration instruction booklet that even included maps.
One hapless work-study student from the registrar's office was given the task of crossing closed classes off the gigantic, handwritten list in front of the stressed and increasingly irritated crowd. First-year students with dismal registration times, assigned alphabetically by last name, sat on the gym floor and wept.
Despite students' frustrations, the antiquated paper registration system lasted until the late 1990s, when Northwestern finally switched to a computer-based system, just before Kent's eldest daughter, Christine Kent Frisch (WCAS04, L08), started her freshman year. (Kent's other daughters, Larah Kent Tannenbaum [WCAS06, L11], Katharine M. Kent [KSM12] and Coleen C. Kent [SESP12], also graduated from Northwestern.)
Even with new technology, the registration process caused some angst. Jaci Casazza joined the University in 1999, the year that the Computer Assisted Electronic Student Access Route, or CAESAR, registration was implemented.
Though the system had undergone rigorous testing prior to its launch, it collapsed after being overloaded by excessive simultaneous registrations. Casazza, now the University registrar, said that the registrar and information technology staffs worked tirelessly through that night to finalize schedules for every last frazzled undergraduate.
Later, as the registrar staff worked out the system's kinks, a group of disgruntled students painted the Rock with the poignant statement "CAESAR sucks." Registrar and IT staff members took a photo beside the Rock as a reminder of "the dark days," Casazza said.