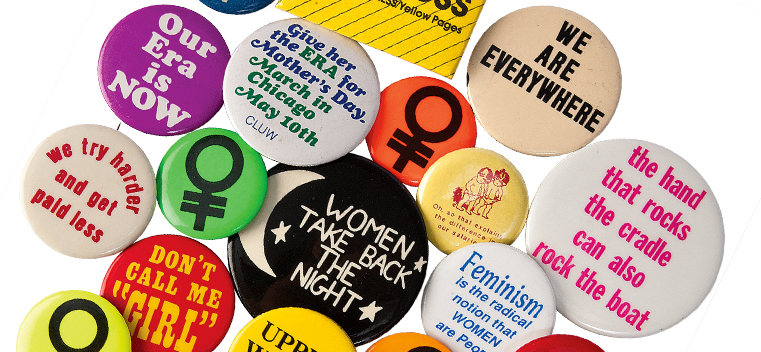 The Femina Collection, one of the largest second-wave feminist collections in the country, includes buttons from the 1960s to the 1990s. The collection also includes serial publications, political pamphlets and books from the women's liberation movement. Photo by Gary Gantert.
Collections: A Woman's World
Story Tools
Share this story
Tell us what you think. E-mail comments or questions to the editors at letters@northwestern.edu.
Ever wonder about those strange designations we use throughout Northwestern to identify alumni of the various schools of the University? See the complete list.
When Linda Blair Miller (J66) joined the Seattle chapter of the National Organization for Women in the early 1970s, she was quickly pressed into service as a wordsmith. She created buttons and posters that were sold to support the chapter's activities. She  produced two posters — including one that featured Israeli Prime Minister Golda Meir with the words "But can she type?" — that are now part of the Smithsonian Institution collection.
One of her buttons, "it was a man's world," found its way into the Femina Collection at Northwestern's Charles Deering McCormick Library of Special Collections.
The Femina Collection includes some 200 buttons from the feminist movement's second wave, which drew inspiration from the antiwar and civil rights movements and focused on sexuality and workplace equality, among other issues, in the second half of the 20th century.
Special Collections curator Scott Krafft describes the buttons as "counterculture activism," ranging in topics from abortion and stewardess rights to the Equal Rights Amendment and celebrations of women. "They were produced in mass quantities, so none of these buttons are necessarily unique," he said, "but it's a significant collection, and it complements some of our other button holdings from the same era, dealing with topics such as gay rights, union rights and antinuclear activism."
Miller, who now lives in Leesburg, Va., participated in the civil rights movement, the feminist movement and recently the gay civil rights movement. She says the feminist buttons remind her of "the most important and satisfying things I've done in my life."