PROJECT SURVIVAL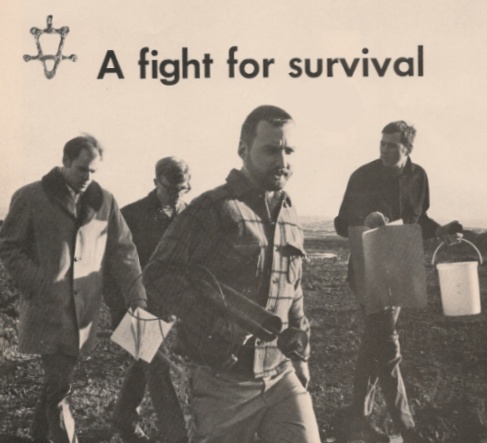 Members of Northwestern Students for a Better Environment, Northwestern Alumni Magazine, 1970. (left to right: John Stegeman, Casey Jason, Jim Reisa, Warren Muir)
Project Survival was a student-led event, held on January 23, 1970. This extremely successful "teach-out" was planned, organized and carried out by Northwestern Students for a Better Environment.

The introduction to the transcript of "Project Survival," published by Northwestern University, 1970, sums up their motivation and objectives:
"PROJECT SURVIVAL is the result of the determination of a group of students and faculty members at Northwestern University to work toward an acceptable and stable habitat for [humankind] on earth. Its purposes are to initiate, sponsor, and encourage the study of environmental problems, and to disseminate information about them. It is our hope that, through cooperation with other such groups, to turn the nations of the world and their citizens toward ecological sensibility and responsible action."