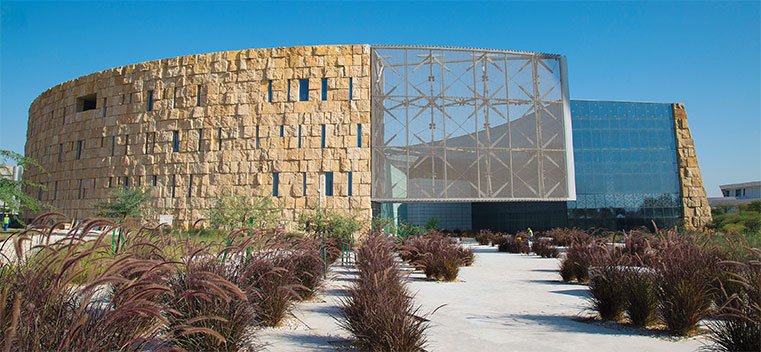 NUQ's New Home
Story Tools
Share this story
Tell us what you think of the magazine in a short online survey by Jan. 31, and you'll be entered to win an iPad.
E-mail comments or questions to the editors at letters@northwestern.edu.
Find Us on Social Media
Northwestern University in Qatar's new headquarters offers modern media teaching and production facilities and a platform for creativity.
Rising into the desert sky, Northwestern University in Qatar's striking new building provides a state-of-the-art home for NU-Q's journalism and communication programs in Doha. The 515,000-square-foot building was designed by renowned American architect Antoine Predock to embody architectural elements from Qatar's landscape and local culture.
The building, which has earned LEED Gold certification, includes an events hall that is also the largest soundstage in the region; a projection theater, which features a 4K (ultra high definition) cinema and 7.1 Dolby surround sound; three production studios, each fitted out to serve a specific purpose; an audio studio; and a 4K mastering room, which is equipped to completely edit a digital cinema–quality film.
On the outside of the building, overlooking the main entrance is a large LED media-mesh screen — the Saif Tip. Saif means "sword" in Arabic, and the location of the screen resembles two swords about to meet. Inside the building is a three-story media wall with multiple screens that will work with the Saif Tip in providing information through videos and images.